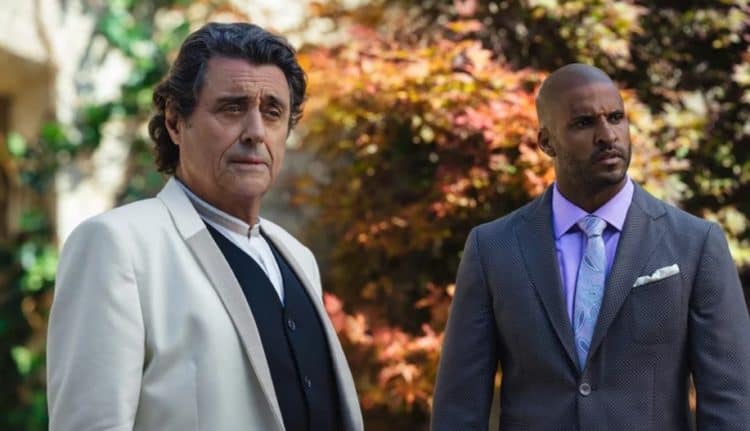 Take a moment to let the excitement flow through you on this one since a lot of us weren't certain if this was really going to happen even though it was announced quite a while ago. American Gods season 3 was spoken of but thanks to the pandemic and to the fact that showrunners were being cast off in the first two seasons it was kind of uncertain just how things were going to go and if we would even get to this point for a while. But now that we're here people are probably going to have to recap the second season to remember what happened since if anyone recalls, Wednesday went on the run, Shadow ended up on a bus with a new name, or at least a new ID card, and Mr. World had started off a chaotic chain of events that made it appear that Wednesday and Shadow were murderers at large. In short, the new gods are currently winning since the old gods don't have much of an answer for their current schemes and are forced to go into hiding or possibly submit to the rule of the new gods, as Bilquis thought to do at one point. But if there's any indication that the old gods are just going to sit things out and call it square, then people might not have read the book or aren't reading between the lines, because this battle is just heating up, and with the knowledge that Shadow now has of his parentage and the world beyond the world that he knows, it's bound to happen that things will become even crazier in due time.
Here are a few things that we'd like to see in American Gods season 3.
5. The truth of the connection between Shadow and Mr. Wednesday.
We already know that they're father and son, but it does feel as though there's more there, something that we're not being made privy to just yet. Wednesday has shown himself to be more than a little cunning and deceitful over the course of two seasons and if anyone reads up on the Odin of old Norse mythology they might learn that Ian McShane isn't too far off the mark. Grimnir, The Hooded One, Wotan, however a person wants to know the deity, has been portrayed in a few ways in pop culture, but one thing he definitely is shown to be in myth and folklore is a rather grim and deceitful deity no matter that he's a powerful ruler and protector. It'd be great to see a new depth open up between the two individuals.
4. How many more gods are entering the fray?
If you'll recall, Orlando Jones doesn't appear to be coming back, so if Anansi or Mr. Nancy does return it would be under the guise of a different actor. But while the old gods were reluctant at first to do anything it does feel as though they're still largely divided and have not set themselves into attack or defensive mode just yet. But if there are new faces coming to the show then it could possibly mean that we'll get to see more divine faces that will add themselves to the fray and as a result, more mythology that will need to be explained at some point. But in a fight against someone called Mr. World it couldn't hurt to bring in a few more players.
3. Who will Marilyn Manson be playing?
It would appear that Manson is playing a Viking death metal frontman by the name Johan Wengren and that he'll have ties to Wednesday, but this is about all that's really being said about the character at this point. We know that Pablo Schreiber's character Mad Sweeney had connections to Wednesday and he knew very well that the old god was a trickster and a hustler. But what we didn't know was the depths of Mad Sweeney's character until later one when he'd been rolling around with the corpse known as Laura Moon for a while. It doesn't sound as though Pablo is coming back, but there will be a few other new faces.
2. Will Laura Moon actually kill Mr. Wednesday?
These two characters really don't like each other but have played nice in the past, kind of, for the sake of Shadow. But now that it would appear that Laura has Gungnir, Odin's famous spear, it could be that her mission to take Wednesday down is going to send her on a collision course with the god that couldn't come at a worse time since not only is he in the middle of trying to survive and possibly win a war, but he's also the kind of god that could possibly make her second go-around at life even more miserable thanks to his connection to Shadow.
1. The final showdown, of course.
If you haven't read the book I won't spoil it for you but the hope is that things will follow that course more or less, since an epic brawl for all would be kind of fun to see as well. But when it comes to gods going to war and laying waste to each other one can imagine that many would see it as the coming apocalypse since the power each one of them wields is great enough, as legends say, to lay waste to entire countrysides, if not more.
Who else can't wait for this to happen?