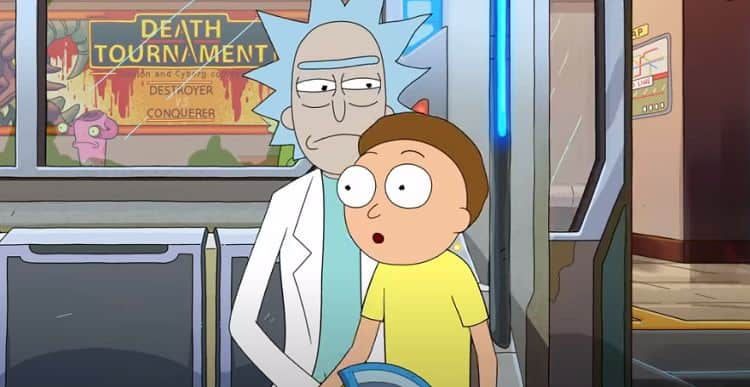 In its 5-season run, Rick and Morty have had plenty of adventures among the stars, but they've yet to reveal the titular characters' zodiac star signs. This hardly means we can't speculate! So, turn on your interdimensional cable, and help me round up which Rick and Morty character fits each star sign.
Aries – Beth Smith
Aries, don't act surprised. Beth Smith is the embodiment of your superiority complex, mixed with a deep love for the people you care about. Beth is competitive, stubborn, and passionate; she doesn't let anything stop her from achieving her goals (Uhm hello, she put herself through vet school with two young children). She's a low-key baddie, just like you, and doesn't have to flex on everybody to prove it. Go on with your bad self!
Taurus – Summer Smith
Much like Summer, Taurus, you're consistently the most reliable person in your life. You're ride or die for the people you love, and you've got a streak for adventure. Summer shows us the positive and negative sides of Taurus; both her unshakeable charisma and her self-centered nature. She will catch hands for anyone any time, which is very Taurus, but her temperament can cause issues. While insecurities might creep up in your mind sometimes, remember that you're an icon, Taurus!
Gemini – Morty Smith
Gemini, at your core, you are conflicted. Your attitude and moral compass are consistently being challenged by the duality of your own sign. Morty, who is consistently unsure of his decisions, is the perfect representation of Gemini. He's emotionally invested in his adventures, open with his feelings, and can flip on a dime. He can go from awkward teen boy to alien-slaying space hero in record time. Much like you, Gemini, Morty has a young spirit, often leading with his heart instead of his head.
Cancer – Mr. Meeseeks
Two words, Cancer; people pleaser. You're intensely loyal, and often won't leave relationships until they've erupted into flames. Much like our dear Meeseeks, you can forget about your own purpose without the ability to serve others. You're an undying friend, positive influence, and a little bit of a drama queen. But you can't help it, people just love telling you tea! You might think you're replaceable sometimes, but you're one of a kind, Cancer.
Leo – Mr. Nimbus
From the moment you enter the room, Leo, eyes are drawn to you. You're a natural leader, scene-stealer, and fashion icon; much like Mr. Nimbus. While he's credited as Rick's arch nemesis, Mr. Nimbus isn't all that evil. He's the King of the Ocean, and he doesn't let you forget it. You're not shy about how much you rock, and just like Mr. Nimbus, you can't help that you're an icon! While your ego can get in the way, it often does more good than harm, so keep shining bright, Leo!
Virgo – Bird Person
There's no denying it, Virgo, you can be intense. You're a hard worker, devoted to family, and hold your values close to you. Much like our friend, Bird Person, you can become a prisoner of your own mind, avoiding conflict and pain at almost all costs. You're prone to insecurity, but don't let that stop you, Virgo. Just like Bird Person, you're a unique character, that consistently brings new dimension to every situation.
Libra – Mr. Poopybutthole
Libra, you're naturally likable. Many gravitate to your others-before-myself mentality and social charisma. Much like Mr. Poopybutthole, you're a tried-and-true friend with the ability to balance the larger personalities around you. You might think that you're a minor character in the grand scheme of things, but your role is the most important! And while you might not be the loudest, you often get the last word (go watch all of Mr. Poopybutthole's post-credit scenes).
Scorpio – Squanchy
This can't come as a surprise, Scorpio. We don't know much about Squanchy, and it's the air of mystery that pegs him as a Scorpio for me. He's outrageous, a little dark, and unfazed by the world. There's not much you haven't seen, Scorpio, and you don't apologize for being your true authentic self. Much like Squanchy, you're a wild ride, and the rest of us are just hoping to keep up with your antics!
Sagittarius – Jessica
Much like Jessica, Sagittarius, you have an uncanny ability to float in and out of social circles. You can hang with the coolest crowds or the most relaxed kickbacks. You can be the center of attention, or keep it low-key, it all depends on what mood you're in. You're a baddie, but you don't have to show off. People love your charisma and charm, and just like Jessica, you couldn't care less about what they think of you.
Capricorn – Evil Morty
Evil Morty isn't all that evil, and the Ricks only consider him to be evil because he sees the world for what it is. You're intelligent, meticulous, and blunt, with no time for anything fake. You're not afraid to be an original, and you have 100 plans for every situation. Much like Evil Morty, you can play the long con, and consistently aim for your peak. Keep bossing, Capricorn!
Aquarius – Rick Sanchez
Aquarius, you're the definition of a rebel. You aren't afraid to march to the beat of your own drum, even if that road is lonely sometimes. Much like Rick, you're emotionally unavailable, and you find it hard to communicate with the people you love most. You can become obsessed with what others think you can't do, but don't let the chip on your shoulder block your intellectual view. Your gift is originality, so don't ever abandon it!
Pisces – Jerry Smith
Outside of his obvious downfalls, Jerry Smith is a family man, who loves his wife and kids. He's addicted to being the victim, but he's an underdog when he succeeds. He's an emotional rollercoaster, much like you Pisces, who feels everything under a magnifying glass. While Jerry may seem lame on the surface, he's got an endearing heart, and he always protects the ones he loves (when he can). You're a total sweetheart, who wouldn't hurt a fly!
Tell us what's wrong with this post? How could we improve it? :)
Let us improve this post!