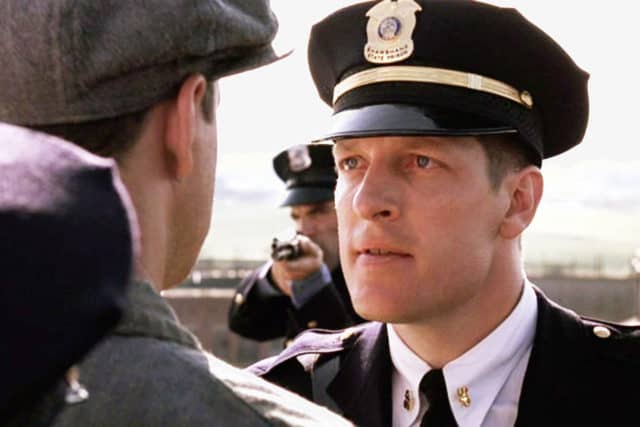 You've all seen prison guards in movies at this point, at least several different ways too if I'm guessing right. They're usually pretty tough and don't take a lot of lip off of the prisoners but a lot of them are either fair and upright in how they deal with the prisoners or they're seen as corrupt and ready to toss a guy off a roof just for asking if he trusts his wife. You could say that prison guards need to have pretty thick skins to do what they do and you'd be right. They need to be tough as nails in some regard to deal with the people that make their job necessary.
But there are certain things that Hollywood shows that real life guards aren't allowed to do.
5. Guards aren't allowed to beat on the prisoners.
In the films you can typically see a guard walk out of range of a camera with an inmate and then tee off on them, or do it in full view. In the movies they know they can get away with it because that's the way the system works. In real life all guards are held strictly accountable for their actions and can be brought up on charges if they are guilty of any misconduct.
4. Guards tend to be carefully screened before being placed in prisons.
You really don't want someone that's mentally or emotionally unbalanced running a prison or being in charge of other human beings. These are the type of people that could cause a riot or create a real stir in a prison just by being their sadistic selves. Guards are carefully selected and given at least a few tests before and during their tenure to assess their mental health and well-being.
3. Prisoners aren't so firmly against the guards.
Once again in the movies the guards are seen as the enemy. They aren't meant to be friends or even buddies but the prisoners at most prisons have the understanding that prison guards are just men and women doing their job and aren't all that bad. It's a very 'go along to get along' kind of deal within a prison. So long as no one messes with anyone else things tend to remain at a neutral stance.
2. Prison guards aren't all trim and fit.
It's advised to be in good shape depending on the prison a person is working in. Some are housing more violent offenders than others and the guards need to be able to respond quickly and without hesitation. Being in shape is a good thing as a prison guard but a lot of them are either new and not in superb shape or have been there and know how to act but are still a little soft around the edges.
1. This is not the first choice of career for a lot of people.
There aren't a lot of people that will state in their letter about growing up that they want to be a prison guard. It's a thankless job really and is usually a second or third choice option for those that can't get the position they want elsewhere.
Movies make it look like you could stomp a mudhole in a prisoner and walk it dry as a guard. That's not even close to the truth.