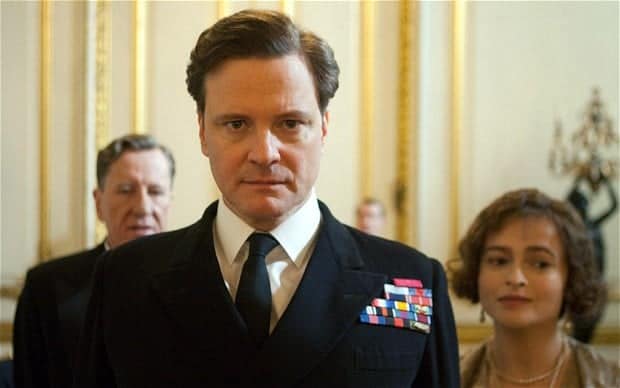 The King's Speech is a bit dry in spots but is kind of a nice surprise really when you get to watching it. Now if you know nothing about English politics it might seem a bit boring here and there, but if you keep in mind that it's about a man with a serious speech impediment, a very important man, a man that would be king to a country one day, then you might be able to get into it just a little bit more. This man would have to give addresses to the entire country in a strong and very decisive voice, and unfortunately when the movie gets going he has a horrible stammer that would make him seem weak and less than capable of commanding attention in a room by himself, let alone a country. But thanks to his speech therapist he is able to not only give the public address he needs to in the country's time of need, but is also able to gain the confidence required to perform his duties moving forward.
It's worth watching just to see the back and forth between Colin Firth and Geoffrey Rush.
10. King George VI died from complications stemming from lung cancer.
This is curious because in the movie Lionel Logue,. his therapist, says that smoking is quite bad for his voice. The king smoked quite a bit, mostly due to stress it is believed.
9. The writer asked the queen mother to write this story about the king.
She insisted that he not write the story while she was still alive as the memories were too painful. The writer respectfully followed her wish.
8. Paul Bettany was the first choice for King George VI.
He declined as he wanted to spend time with his family. Later on he regretted not taking the role, but at least he had his priorities straight.
7. Colin Firth sought out his sister to help develop his stammer.
His sister was also a speech therapist, he was attempting to develop the stammer and figure out the treatment for it.
6. Rush was given the script in an unsolicited manner.
It was stuck in his mailbox with a note apologizing for the manner in which it was given to him.
5. Helena Bonham Carter's grandmother was a good friend of Winston Churchill.
Not a lot of people can make this kind of claim concerning such an important historical figure, so that's pretty impressive.
4. The king's speech in the movie is shortened a bit.
A few sentences are shortened and some are taken out of the original speech completely.
3. After abdicating the throne, the duke and duchess of Windsor were banned from the UK.
The queen believed that the duke had unfairly foisted the responsibility of being king on her husband and resented him for it.
2. The film got an R rating due to the line of profanity that was used in an attempt to cure the king's stammer.
The F-word was used repeatedly while in therapy, which was an interesting part of the movie really.
1. Some contend that Colin Firth did not look anything like King George VI.
After looking at old pictures he really doesn't, but the movie was still enjoyable.
You might get a kick out of it if you just watch it.