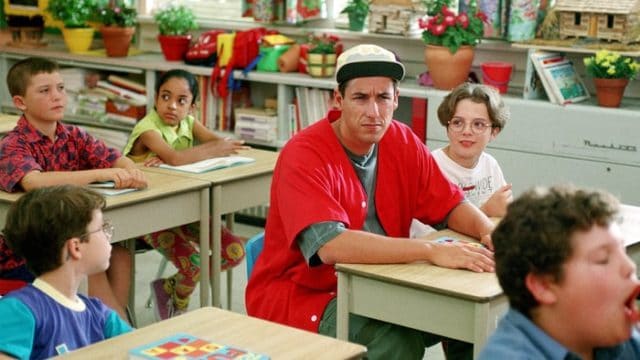 There are a lot of things that Hollywood seems to take for granted when it comes to teachers. While the industry is fairly faithful at times there are still moments when they either gloss over something or are a little too lazy when it comes to really nailing down the particulars. Teachers are people believe it or not and since they are a part of the human race they're not the perfect individuals that are presented in film but they're also not the tyrants that they appear as in other instances. In many cases they'r just hapless individuals attempting to get through their day without going berserk on any one kid.
Trust me, I've talked to enough teachers to know that the thought does run through their heads now and again.
5. Teachers don't really like seeing kids outside of school.
They see kids all day long, from the start of school to the end. While some of them might actually like seeing their students now and then a lot of them become the master of disguise when they happen to see any student that they might even think they know. It's not so much that they don't like kids, it's just that spending the day with other people's kids doesn't mean that they want to see them outside the school walls.
4. Teachers do care what kids think of them.
Despite the heavy layers of sarcasm and the biting, witty comebacks that some teachers use as a shield to hide their feelings they really do care what their students think about them. Think about it, they're with a bunch of little people that can say things that are absolutely soul-crushing without any thought as to why those words hurt so bad. They have to have some sort of defense against it, but that doesn't mean they stop caring.
3. Teachers loathe standardized tests more than the students.
Standardized tests are a bad joke wrapped up in a layer of hypocrisy and served up at the most inconvenient time for any educator. They take away from regular school time, create added stress in a student's life, and put their education behind just enough that teachers have to catch up with their lessons to make sure their students are still learning. Oh, and they tend to pigeonhole a student's potential in a way that infuriates educators and parents alike.
2. Teachers will not get physical with students when reprimanding them.
There's a reason I'm showing Billy Madison clips so often and it's because they make my point pretty clear. Teachers in elementary school are never supposed to get physical with kids unless in extreme cases when the child is about to hurt themselves or another person. Even then the force used has to be done with care so as to avoid hurting the child. This clip is kind of an exception since Billy is a kid in a man's body.
1. Teachers like field trips more than they let on.
Of course they love field trips. It's a way for the kids to burn off energy and learn at the same time. If not for field trips, which do require funding and permission slips, teachers would have no other recourse but to take the kids out onto school ground at least and do whatever it takes to use their surroundings to educate the kids.
Hollywood gets teaching sometimes, but other times it stretches the truth a bit too far.