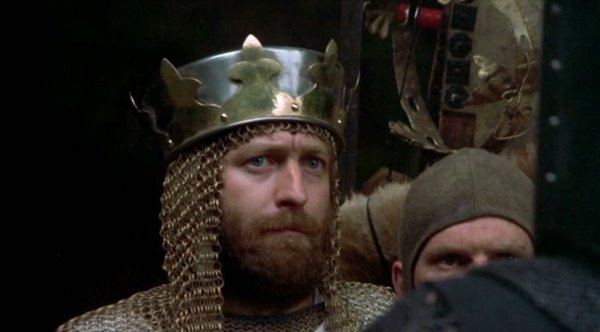 Very few movies ever really nail the character of a king of any country since there's always something that's up for interpretation in a historical biopic or action movie. A completely fictional king, someone that never existed in history, is far easier to deal with since they don't need to be historically correct in any way and anyone that doesn't like the character can say whatever they want. But those kings that are shown throughout various movies tend to take on very similar traits that become kind of hard to deal with since the idea of being king is to be beholden to the people even as one rules over them with, hopefully, a kind and wise hand that seeks justice when necessary and equality at all other times for one's subjects. Obviously, this isn't how history has gone quite often since equality has rarely been a concern of many people. But the reality of being king is that it's not too different from being president, apart from the manner in which a person finds themselves with the crown atop their head and the country in their hands. Kings aren't immune to scorn and rebellion if that's what anyone is thinking, much like a president.
Here are a few things that movies get wrong about kings.
5. Some kings were unnecessarily cruel. Only if they didn't want to rule for long.
It's true, some kings throughout history were quite cruel to some of their subjects, but these were poor examples of royalty and very poor examples of kings since one thing about being the ruler of a country is that one needs to look out for their people. If a king doesn't protect their countrymen then it doesn't take long for resentment to build and the people to think about rebelling since, royalty or not, kings are human, as are their protectors, and a well-run rebellion can crush just about any king given time and opportunity. While some kings might have been cruel, they didn't last long without the love of the people.
4. Many kings were uneducated tyrants. Yeah, no.
Not all royals were as wise and intelligent since they might have very well brushed off their lessons thinking that they didn't need them. But on average, the royals have been quite educated since they can afford the best tutors, the most in-depth lessons on life and the world around them, and anything else they might need. The wisest and most intelligent rulers were those that took their studies to heart, if not always serious, and learned from both history and their people when it came to ruling their territory. A wise king was often intelligent, experienced, and knew better than to push their people too far.
3. Kings just want to drink and hunt. Well, yes, but that's not everything.
In many kingdoms, alcohol was in fact a very common thing to be seen as one of the king's favorite pursuits, and a good hunt was definitely something that many kings enjoyed. But affairs of state and seeing to the needs of their people were also important, as was the expansion of their territory, which in turn led to many other needs that they needed to tend to. And let's not forget military matters, a king needed to know just where his armies were needed when the moment arose, and also had to know at least enough about warfare to understand how his resources were being used.
2. People could trust their king implicitly. That's kind of funny really.
Kings weren't always tyrants, but they were smart enough to know how to tell people what they wanted them to hear as well. Kings were human beings and still are, which means that they're not perfect and aren't meant to be since they're going to be moody at times and unreliable at other times. The thing about expecting a king to always be wise and just and noble, or to be a tyrant and untrustworthy and incapable of ruling competently, is that one is at that point leaning heavily into stereotypes that only describe a small part of a person.
1. A king who wasn't a warrior couldn't be respected. Not really, many kings didn't lead from the front.
Quite a few kings didn't fight from the front actually since the fact that a king could receive the finest training didn't mean that he would be a tried and tested warrior. Plenty of kings have been brilliant tacticians but never set foot in the same muck as their soldiers. While the feeling among some is that a king that would lay their life down for their soldiers is more honorable, it's also considered foolish by a lot of people since a king's safety was often thought to be far more important than almost anything, meaning that he would be well-secured on the field of battle, no matter if he was in front or in back.
Real kings were complicated enough without Hollywood stepping in.