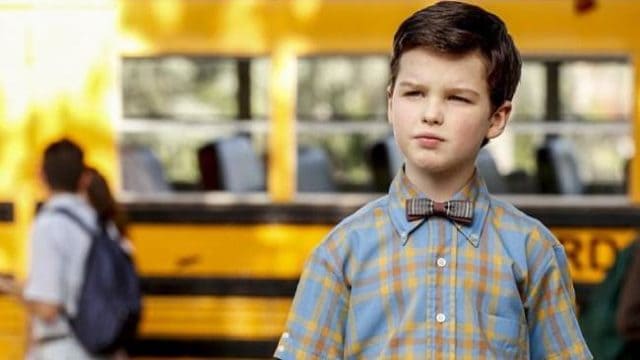 Since his appearance on Little Big Shots with Steve Harvey, little Iain Armitage has produced results that are anything but little. He has definitely made a splash in Hollywood. There is no doubting that this little guy has talent, and he is going to definitely get his chance to prove it. Sources have revealed that CBS has given the green light to Young Sheldon, which will be a spinoff of the Big Bang Theory. Ian will have the challenge of playing the 9-year-old version of Sheldon Cooper. This is no small order when you consider the fact that Jim Parsons, who has won a Golden Globe and four Emmys as the adult version of this character, has spent years developing what people know about this character.
Well, the fact that CBS has given the go ahead signals that the people at the top believe that he has what it will take to make it happen. In order to familiarize you with this young star, we decided to share five things you didn't about him:
1. He is An Online Theater Critic
That's right, little Iain has a knack for breaking down theatrical performances. He is so in tune with it that his parents decided to upload one of his reviews to YouTube over three years ago, when he was only 4-years-old. He now has over 5,000 subscribers and growing. Some of the reviews that Iain has done include How To Succeed in Business Without Really Trying, Hairspray, Rocky and Mrs. Miller Does Her Thing. It is his Theatrical Reviews that earned him a spot on Little Big Shots.
2. His Father Once Played Boy George
Yes, acting runs in the family. Euan Morton, Iain's father, who is a native of Scotland, has actually appeared in three Broadway productions – Sondheim on Sondheim, Cyrano de Bergerac and Taboo. It was in Taboo that Euan played the role of Boy George, the famed British music artist of the 1980s. During this time there was even a rumor that Euan and Boy George were having an affair – something he thought was hilarious.
3. Iain's Grandfather Was Connected to the Valerie Plame Scandal
Iain's mother is producer, Lee Armitage, and his grandfather is Richard Armitage. While Richard was serving as the deputy Secretary of State under President George W. Bush between March 2001 and February 2005, he was directly involved in the Valerie Plame affair scandal. It is reported that it was Armitage that told the journalist, Robert Novak, about the identity of Ms. Plame – something that was classified information at the time.
4. Iain Started in Big Little Lies
Actually, Iain made his acting debut on an episode of the famed TV series, Law & Order: SVI. But it was on HBO's Big Little Lies that the young star made his first major splash, alerting the world that he was here to stay. In Big Little Lies, Iain was cast alongside Reese Witherspoon, Nicole Kidman and Shailene Woodley. Now for an 8-year-old that is a rather impressive line up to work with. When asked, what makes him successful, he replied, "my best tool is my imagination.
5. He is Up for a Movie Role
Iain is set to star in a movie called The Glass Castle alongside Brie Larson. The Movie will be directed by Destin Daniel Cretton, who also worked with Larson in Short Term 12. Other actors of note in the movie include Naomi Watts and Woody Harrelson. The movie is based on a memoir written by Jeannette Walls and it is focuses on her being reared in poverty, and the unconventional methods used as a part of her upbringing.
Tell us what's wrong with this post? How could we improve it? :)
Let us improve this post!