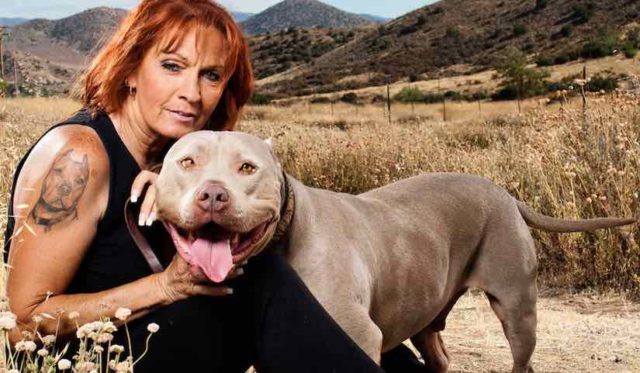 Tia Torres, star of Pit Bulls and Parolees, is not the woman you might think she is. Sure, she seems tough. She hires parolees, after all. She seems rough. She rescues and trains pit bulls, after all. Assuming that she is rough and tough doesn't do her justice, though. She is those things because she's lived a life which required it. But, she has a great sense of humor about life and hard luck. She's learned to adapt and make a go of what life brings her. It's been a lot of trouble, and a lot of hard work.
She started out with wolfhounds discarded when they were no longer fashionable. She's been married a few times to abusive men. Her third husband, Aren Jackson, gave her the idea for hiring parolees, because he was one. She was drawn to him because he looked like a vampire, and Tia has a vampire fetish. They were married dressed as vampires eight months after he was released from doing 14 years in prison.
She agreed to Animal Planet's Pit Bulls and Parolees because her non-profit organization needed the money. As the show's popularity increased, so did the number of pit bulls the shelter acquired. The number of adopted dogs is in the hundreds and the costs of supporting the Villalobos Rescue Center has risen from about $25 thousand per month to about $80,000 per month since Tia and her family moved to New Orleans, Louisiana. Tia is a tough, sweet and witty woman who's not afraid to take on in depth interviews. Here's a few things she's divulged during them:
Tia joined a gang because they were wearing zoot suits.
Tia was in a stage of what she called teenage rebellion and boredom. She grew up in a middle-class family but her stepmother and father parented in completely different styles. Her stepmother raised her with a disciplinarian style and her father had what she called "Just the opposite". She found a downtown Los Angeles nightclub, and discovered the zoot suit-wearing gang members. She had always liked the music and 1940s era, and decided to hang out with them.
Tia was a truck driver in the Army for 6 years.
Tia had been involved with the gangs for a while, and had escaped being shot several times. Tia decided that she would join the Army. She tested so high on her entrance exams that the recruiters asked her if she wanted to attend medical school. But she told them she was only interested in boys, and asked where she could meet the most. She ended up in truck driving school training for the infantry.
Tia was invited by the city of Los Angeles to become a youth gang counselor.
The program was designed to help gangs work through their conflicts peacefully. Tia would go into the neighborhoods to talk with the parents of gang members. They also offered counseling to help keep gang members in school.
Her pit bull Duke saved her from a Rhode Island Red rooster attack.
The rooster belonged to her ex-husband, who loved the pet. But the rooster was totally mean. Tia lived in a trailer on her ex-husbands property. She had moved out of their 4,000 square-foot house with her children because he was drinking, cheating and verbally abusive. His rooster took to attacking her regularly. One day, the rooster flew into her hair and she fell to the ground screaming. The rooster was clawing at her face when Duke pulled the rooster off her. The rooster died that day. A tattoo of Duke's paw eventually covered up the one Tia had of her ex.
Tia's first movie as a professional animal trainer was filmed in Sri Lanka.
It was an adaptation of The Jungle Book called Mowgli's Story and she was hired to train wolves. She said that of all the things she has done, it was the most amazing. After that, she continued in the movie industry working with pit bulls on rap videos, training black cats for Sabrina the Teenage Witch, and more. The job training black cats led to many black cats being dropped off without notice on her doorstep. She ended up with 19 black cats as pets.
Tell us what's wrong with this post? How could we improve it? :)
Let us improve this post!