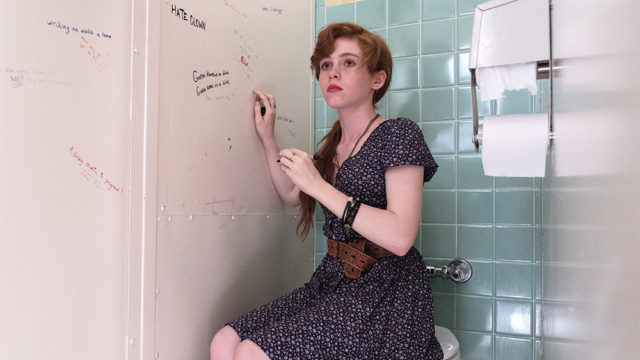 Sophia Lillis is an American actress who might be familiar to those who watched It: Chapter One as the person who played Beverly Marsh. She is expected to reprise the role in the upcoming It: Chapter Two, but the latest news is that she has been cast as the younger version of the main character on Sharp Objects as well, which is a HBO mini-series that is expected to see release in the summer of 2018.
Here are five things that you may or may not have known about Sophia Lillis:
Born in Crown Heights
Lillis was born in a neighborhood called Crown Heights. Said neighborhood can be found in the center of the borough of Brooklyn, which should be familiar to most people in the United States as one of the five boroughs that make up New York City. It is interesting to note that the people who live in Crown Heights come from a wide range of backgrounds, which is something that provides it with much of its current character.
Took Classes At the Lee Strasberg Theatre and Film Institute
Given her current age, it is perhaps unsurprising to learn that Lillis started acting at the age of seven. She has taken classes at the Less Strasberg Theatre and Film Institute, which is a well-known acting school that can be found in Manhattan. Like its name suggests, it was founded by Lee Strasberg, who was for creating method acting and then promoting the practice in the United States, with the result that it has had an enormous impact on both American theatre and American film.
Became Interested in Acting Because of Her Stepfather
Speaking of which, Lillis became interested in acting in the first place because of her stepfather, who is a photographer as well as an indie filmmaker. As a result, Lillis started acting at the age of seven because her stepfather chose her to play a role in a project that he made for his film class, thus putting her on the road to becoming a professional actor.
Best Know for It
Currently, Lillis's most famous role is in It, which saw her playing Beverly Marsh, whose abduction by the titular monster prompts the Losers to confront it in its lair. Since It is technically It: Chapter One, it should come as no surprise to learn that Lillis will be reprising the role in the upcoming It: Chapter Two, which will consist of scenes with the characters as adults as well as flashback scenes of the characters when they were still children.
Chosen to Play Young Camille Preaker in Sharp Objects
Lillis's latest role will be a younger version of Camille Preaker, who is played by Amy Adams on Sharp Objects. For those who are unfamiliar with that name, it is an upcoming HBO mini-series that will be centered around a crime reporter named Camille Preaker, who is returning to her hometown to look into two murders, which is something that will force her to confront her own personal demons in the process.
Tell us what's wrong with this post? How could we improve it? :)
Let us improve this post!