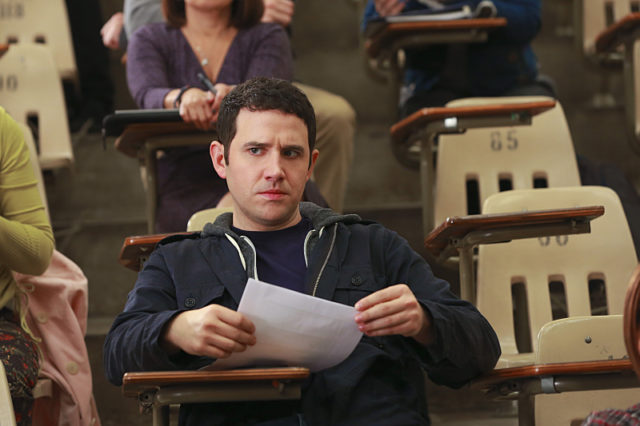 Some may know Santino Fontana as Greg Serrano from Crazy Ex-Girlfriend. Others may have recognized his voice as that of Prince Hans in the popular Disney film Frozen; one of the highest grossing films in Disney history. He's an actor with significant Broadway stage credits. Most notably, he portrayed one of the three ages of Moss Hart in Act One.
He's also a singer; the first guest invited to perform with the Mormon Tabernacle Choir for three times in one year. His performance as Prince Topher in Cinderella was loved by the fans, both for his acting and his beautiful singing voice. Not only that, but his bride, Jessica Hershberg, had played Cinderella. The two wed in 2015. Life has been good for Santino Fontana. He seems to be a great guy who deserves the best. Here's a few bits of trivia about this top tier actor and musical star:
He wore a step counter and discovered he ran a mile and a half in one performance of Act One.
He also nearly ran into a steel pole backstage while trying to get from one scene to another. His dresser, Lauren, put the step counter on him for one show to see how many steps he made during the performance. The production was complex for theater, which required him to navigate his way around a very large set, with multiple moving sections. He had to run up and down stairs constantly. Fontana said that all the running represents the "energetic force" that his Moss is.
He played a turkey for Thanksgiving when he was in preschool.
He dressed up in a white plastic bag for the role, and the feathers were made from paper. He put on a show in his garage. He coerced all his family and friends to join in the show. He sang the turkey song, "Gobble, gobble, gobble, I'm in awful trouble". It was only assumed that his turkey died at the end of the show, but nobody really went into that part of the story very far. He also was the Gingerbread Man for Christmas and he wore a brown plastic bag for that costume. He still wonders why nobody told him to take off those dangerous plastic bags. He started in theater early, but he also played baseball, too.
He directed a production of Hamlet while in college.
It said that the chance to direct was amazing. Also amazing was that he portrayed Hamlet when he was 23. It's unheard for any actor to play Hamlet at such a young age, which is more often played by seasoned actors. He said that for some reason, nobody ever told him no, and when they did, he managed to work around the "no" until he was given the opportunity to do what he enjoyed.
He said he grew up in a very small town, and for that reason, he was given many lead roles. He played Jesus in Godspell, Joseph in The Amazing Technicolor Coat, and Seymour in Little Shop of Horrors. But of all of these school year roles, he felt his performance in Whatever Happened on the Way to the Forum was his best. He said he stole bits of Nathan Lane's comedic character, and that gave him success.
He had a Jerry Seinfeld night at his parent's house every Thursday night for years.
Fontana said he could repeat paragraphs of Seinfeld lines by memory. He had tons of fun imitating Seinfeld's voice and one serendipitous day, he happened to be sat across from Jerry Seinfeld at the Brooklyn Diner. He didn't have the guts to say hello to Seinfeld. He still wishes he had the courage to do so. It was an incredible lunch, though.
He hopes that one day there will be a ride at Disneyland with his Prince Hans voice in it.
He said he recorded for Frozen for five days. He was paid in 2011 for his work in the studio recording his voice, and many would think that he made much more money for the job than he did. But, he said money comes and goes. What he thinks would be awesome is if his recorded voice could be used as part of a Disney ride. He figures that would be the best payment of all.
When Fontana interviewed with Paul Wontorek on Show People, he said that looking forward 20 years he would like to continue acting for as long as possible. He also said that life is short and he may take a look at other pursuits in life. The two joked about Fontana eventually becoming a gym teacher.
Whatever Fontana decides, it's obvious from fan posts on social media that this Tony-nominated, award winning actor is loved for his easygoing nature, easy sense of humor, gifted singing voice, consummate musicality and show-stopping showmanship. What's next for Santino Fontana? He and his wife are part of the entertainment on the June 19, 2017 Fran Drescher Cabaret Cruise around the New York City skyline to benefit CancerSchmancer.org.