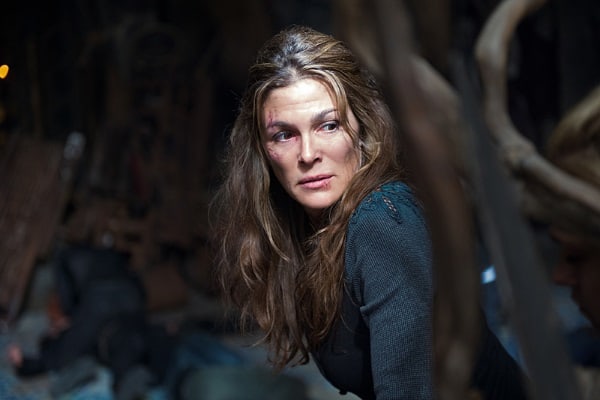 Paige Turco is a veteran actress who has a very extensive resume in Hollywood. At the age of 51 the actress is still considered a bombshell and her beauty generates a lot of attention, as well as unfortunate rumors. Turco was born in 1965, but her career in acting did not take off until the 1980s. While the actress has had a rather extensive career, she is still best known for her role as April O'Neil in the Teenage Mutant Ninja Turtles franchise. She's currently on the CW show The 100.
As with any actress that garners the attention of Turco, there are plenty of things that are hidden under the surface that most people are completely unaware of. Sit back as well reveal five things that you didn't know about Paige Turco.
1. She Has an Extensive Background In Classic Dance
There is no arguing with the fact that Paige Turco has mastered the craft of acting, which is no easy feat; however, it seems that she has as uncanny knack for mastering things. As a young girl she studied ballet, and had aspirations of becoming a classical ballerina. She even performed as a soloist for the New England Dance Conservatory, the Western Massachusetts Ballet Company and the Amherst Ballet Theatre Company. Her Career was ended due to a severe ankle injury.
2. She Was on Guiding Light
Only true soap opera fans will remember Guiding Light, one of the original daytime soap operas. Guiding Light gave Turco her first opportunity on the small screen in 1987. Turco would use the opportunity to create the exposure she would need to move on to greater opportunities. She would also use the show as a training stage to hone her craft as an actress.
3. She Worked With Real CIA Operatives
When Turco landed her role in The Agency in 2001, she actually worked with real CIA operatives to prepare for her role in the series. It is this type of commitment and work ethic that make Turco such a great character actress. She researches and immerses herself into her characters. It is this type of commitment that allows Turco to work consistently.
4. Despite Gay Rumors, Turco is Married
There have been a number of rumors that have circulated throughout Hollywood and beyond surrounding the sexuality of Turco – with many of them suggesting that the actress is gay. However, sources report that she is a devout catholic and that she is married to actor, Jason O'Mara, and the two have a son, David. While some will still argue that all of this really doesn't prove anything, that is all we have to go on at the time and the chances of a coming out tweet are not likely forthcoming.
5. She Once Quit a Production Because of Nudity
It is obvious that Paige has invested a lot in her acting career, and while there are many people who will do just about anything to push their careers along, Paige has proven that she has boundaries that she is simply not willing to cross. According to a source, the actress walked away from the film, Bright Lights, Big City, mid-film. It seems that the film changed directors mid-film, and the new director wanted her to do several nude scenes which she wouldn't.