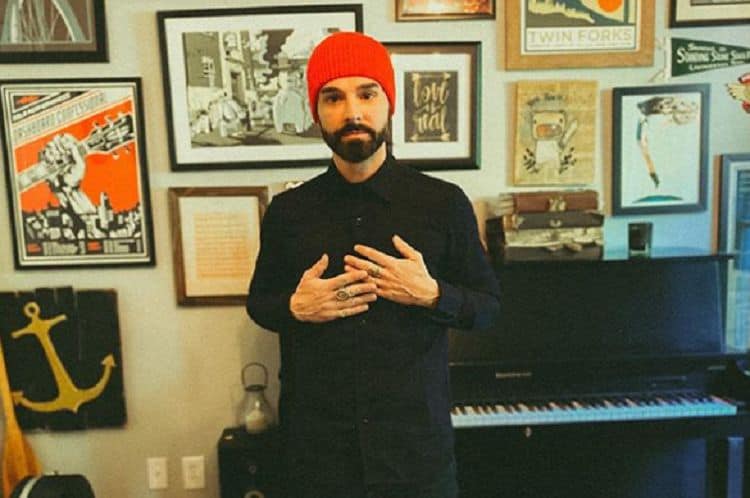 Chris Carrabba is not only a guitarist and lead singer, but he also is a songwriter for three bands. His passion for music dates back to his teenage years when at 16, he began playing the guitar and joined a band. However, pursuing a musical career was the farthest thing from his mind until he was motivated to take a leap of faith. Now, he is grateful that his songs are well received by fans, and he is humbled that they have such a profound impact on the audience. If you love Dashboard Confessional, then you must be yearning to learn more about Chris, and here is all you need to know.
1. He believes in having a selfish standpoint in his songwriting process
Whenever Chris is absorbed in writing his music, he does not allow any distractions, including any commitments he had made, to interrupt the process. Therefore even when he agreed to go out with you for drinks, he will take a rain check. For him, he has learned to be selfish when writing his songs because the lyrics speak to him, and interrupting the thought process would do a great injustice to his songs.
2. The songs with which he connects most
When he talked to GQ, Chris expressed how strange it is that the songs he barely spends time on seem to have a lasting connection with both him and his fans. Although some songs take weeks to come together and he believes they should be better received, those he only spends a couple of hours on appeal more to his audience.
3. He prefers going all out on his songs
Chris would rather have either an excellent or terrible song because a merely good song will keep nagging him. All the same, he appreciates the bad songs he has recorded because, without them, he would not have pushed himself towards improving his craft. Still, despite the effort he put in those awful songs, Chris does not have any particular affection towards them.
4. He wrote a song for his wife long before he married her
Chris fell desperately in love with a girl during his youth, and even though he was not sure they would end up getting married, only a song could best describe the feelings he had. Consequently, Chris wrote "Hands Down" because he knew that girl would remain special to him in his entire life. Well, luckily for him, destiny has ensured that he will die a happy man since he married that girl.
5. He never thought music would be his career
Most people prefer to turn their passion into business ventures, but Chris did not have that mindset. Instead, all he knew was that playing music in basements or clubs in America as a teenager was something he would enjoy doing. However, he does not have any regrets for getting the drive to play music first before thinking of turning it into a career. According to his interview with All Access Music, he believes that had he first developed the skills, he would currently be employed and only strum the guitar after work.
6. Why he got the nickname "Sodapop" from his family
Rock music demands a lot of energy, and while it can be draining for most rock stars, Chris does not break a sweat trying to keep his audience entertained. He has always had so much energy that even his family found the ideal nickname to describe him: "Sodapop." Chris explained that the name came from "The Outsiders" because, besides the secondhand clothes he wore that made him look like sodapop from the movie, he also shared the character's energy. Chris best describes his behavior as shaking a soda bottle and then taking the top off. That excessive energy has not faded with age; hence his performances never wear him out.
7. What inspired him to write "Crooked Shadows?"
As a musician, Chris gets to be on the road most of the time tiring, and at some point, it adversely affected his relationship at home. Although, as he told The Seeker that he married an independent woman, and they do well even when apart, transitioning to being together after a long time can be difficult. Therefore he once came home, and they decided to go out for coffee. Despite walking hand in hand, they could not have been further apart emotionally than at that moment. When Chris looked up, he saw a crooked shadow, and it perfectly explained how he was feeling at that particular moment hence the title of the song.
8. He wanted to become a teacher
Since Chris enjoyed playing music but did not want to pursue it professionally, he wanted a job that would allow him to go on tour. As a result, he settled on teaching since, during school holidays and summers, he would have more than enough time in a year to do what he loved. Additionally, his love for children influenced his decision to become a pre-school teacher and an aide for children with special needs. He even wanted to climb the ladder of success hence studied to become an elementary school teacher, and before long, he had been promoted to the director of a school. It took the intervention of his boss to tell him that even though he loved teaching so much, his heart lies in music; thus, Chris switched professions.
9. He surrounds himself with those who are better than him
They say if you want to fly like the eagles, you must stop hanging out with ducks. Chris has always had the urge to have those better than him in his circle. That need stems from his teenage years; when he joined his first band, he was the youngest and did not feel like he was good at anything except writing. Still, the band accepted him as a member, and the fact that they were more skilled musicians allowed Chris to learn and get to their level.
10. How he gets to be a good performer
Although Chris admits that he pushes his voice too hard, he also has to take care of it through a rigorous schedule. Besides having to give up sugary foods, the musician ensures he can perform well by having a one-hour warm-up session before any show. Then when on stage, it does not matter how many shows he has lined up in the next days; he focuses on that particular show and gives it his all.
Tell us what's wrong with this post? How could we improve it? :)
Let us improve this post!