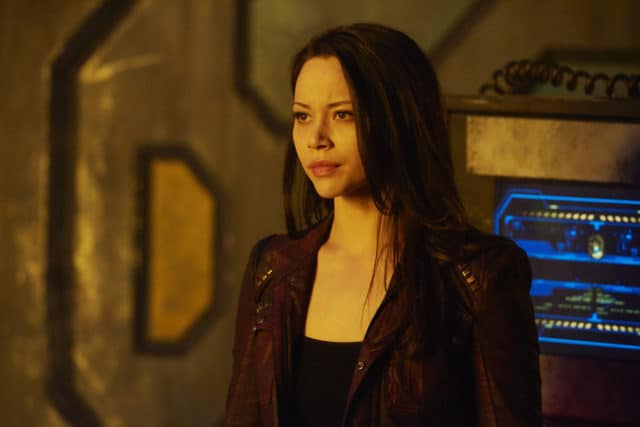 Well, while fans in the United States are getting used to the fact that American Idol is gone forever, or for at least the foreseeable future, the Canadian fans are still celebrating the show's alumni in Canada. One person who is still riding the currents of momentum created by their idol victory in the 2005 season winner, Melissa O'Neil. Melissa was the first Canadian female winner of Canadian Idol. She is an also actress who is known for her role as Two/Portia Lin on the television series Dark Matter.
While Melissa has done well with sustaining her singing career and building her acting career, there is still a lot that many fans don't know about the Canadian-born star, so we decided to give you five things that you didn't know about Melissa O'Neill.
1. Before Idol, She Worked At a Daycare
Time flies by so fast that it has been twelve years since Melissa won the 2005 season of Canadian Idol and found herself thrust into stardom. With that much time having passed, it is easy for fans to forget that before she joined Idol, she was an average kid from Canada. She was actually working at a daycare when she auditioned for Canadian Idol. Fortunately, she was good enough to get invited on the show and the rest is history.
2. She Actually Has a Chinese
While no one can write it or say it. Melissa has a Chinese name that was given to her by her maternal grandfather Ming Pao. We haven't been able to find out exactly what the name means, but it is something dear to her because it was personally passed on to her by her mother's father. Who knows, maybe one day she will work it into her stage name. Then again, maybe not.
3. She Actually Forgot the Words to Her Song on Idol
What many people may not remember is that during the elimination rounds of the show, Melissa actually forgot the words to a song she had chosen, but by the time that happened, she had already impressed the judge with her vocals, and so they passed on her to the round of 32 where she once again shined through like a diamond and the rest is history. Before finally coming through to win, she struggled in the top 10 and the top nine, where she was in the bottom three both of those weeks. But we know how the story ends.
4. She Followed Up Her Win with a Single That Debuted at Number One
We all know several Idol winners, whether in the United States of Canada, that did not fare well after winning the contest. Fortunately, that was not the case for Melissa. Shortly after winning the contest, she was contacted by the Canadian Prime Minister, Paul Martin, who congratulated her. She would go ahead to release her first single, Alive, which debuted at Number One.
5. She Has Also Appeared in a Feature Film
While many of you may be aware of the fact that Melissa stars in the television series, Dark Matter, you may not be aware of the fact that she has already appeared in her first feature film. She starred as Brandi in the 2010 film, Broken Hearts, where she played a real mean and disliked person. Well, it seems that her acting career is definitely on the rise, and her vocals are still impressive, so the sky is the limit for her right now.