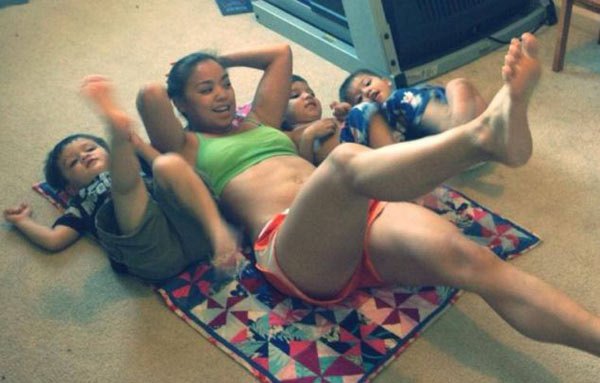 One of the most controversial figures in the fitness scene is undoubtedly Maria Kang. The infamous blogger first came into the public light when she released an ad in 2013 for her No Excuse Mom movement. It featured her in a bikini, alongside her three kids, emblazoned with "What's Your Excuse?" Many people saw the ad as quite offensive, perhaps even fat-shaming other mothers for not being in perfect shape like Kang. And she was far from apologetic — she released a "non-apology" shortly after people began to complain, reinforcing her position on the subject.
Recently, Maria Kang was at it again. She posted another No Excuse Mom ad, with a similar set-up. This time, she had "What's Your Reason?" written across the top of the photo, eliciting similar negative responses from her page followers. Many people dislike Maria Kang due to these messages, regardless of their intent. However, most of her haters don't really know Kang on a personal level. Before you decide whether you are in Kang's camp or not, you should read through this article to learn about Five Things You Didn't Know about Maria Kang.
She Helps the Underprivileged
Back in 2007, Maria Kang founded Fitness Without Borders. Fitness Without Borders is a non-profit company that focuses on helping community leaders to develop a fitness plan for the children in their neighborhoods. The company works primarily in lower-class or underprivileged neighborhoods, ensuring fair access to fitness information for all. At one point, Kang even hosted her own free weekly exercise classes in the park.
She Is a Beauty Contest Winner
When Kang turned 16, she entered her first beauty contest the Miss Philippines Sacramento competition. She won easily, and went on to win several more contests (including Miss Petite Teen International, Miss Bikini California, and Miss Philippines USA). Anyone who participates in a beauty contest likely cares greatly about their appearance — and clearly, Kang is no exception.
She Struggled with Bulimia
Maria Kang developed an eating disorder in her 20s, and her weight began to fluctuate dramatically. She struggled with the disorder for many years, but eventually was able to overcome it when she became pregnant. She found the "true purpose" of her body — childbearing — and stopped abusing it via disordered eating.
She Never Uses Consultants
Though Maria Kang is particularly concerned with her image, she doesn't ever hire image or social media consultants to design her posts or content. Despite speculation to the contrary, even her "What's Your Excuse?" and "What's Your Reason?" images were her ideas alone, regardless of their viral status. She has never used an agent, a PR agency, or anyone else when she contributes to her online presence.
Her Workout and Diet Are Flexible
Though she was at one point very inflexible regarding her workouts, her time as a mom let her loosen up a bit and place fitness at a lower priority. She still finds time to maintain her figure and health, but it is no longer the first thing she thinks about when she wakes up in the morning. Plus, she doesn't deprive herself when it comes to her diet — she highly recommends practicing acceptance of unhealthy foods. Kang says that one unhealthy decision won't completely ruin a person's day, and certainly won't remove them from the path to health and a nice figure.