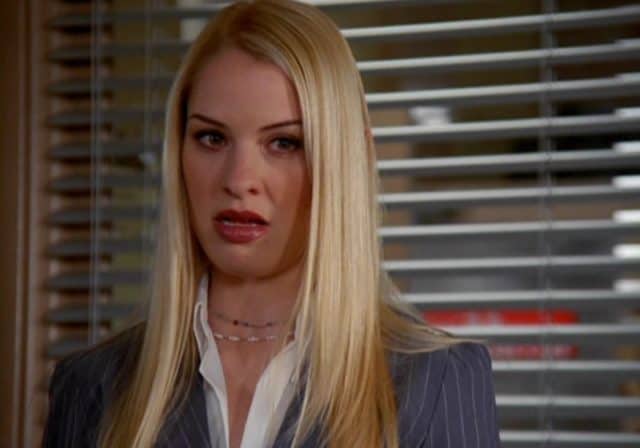 Leslie Erin Grossman is a Hollywood actress who has experienced significant success over recent years. While most of you will recognize her as Meadow Wilton in American Horror Story: Cult, she also played the role of Mary Cherry on the TV drama Popular, which aired on the WB network. Additionally, she played Lauren on the WB Comedy series, What I Like About You. While you may recognize the face and you a likely familiar with a few of her accolades there is a lot that you do not know about this beautiful actress who will turn 46 on October 25.
We decided to share five facts that will help you become a bit more familiar with Leslie.
1. She Has a Thing for Real Housewives of Dallas
When we think of Hollywood actors and actresses, we often think about their work and performances, but we rarely consider the fact that they take in entertainment as well. Based on a recent tweet by Leslie, she is really into the latest Real Housewives spinoff, Real Housewives of Dallas. She tweeted that American is sleeping on Real House Wives of Dallas, then follow with JUSTICE FOR LEANNE! It seems that she is not only into the show, it captivates her.
2. She Also Knows How to Use Social Media to Promote Her Brand
Social media platforms have come a very long way in a short period of time. When sites like MySpace first popped up, it was all about people socializing and connecting with other people, now with the rise of platforms like Facebook, Twitter, Instagram, and Pinterest, just to name a few, social media has literally changed the marketing and branding landscape, and Leslie understands this, often tweeting about her next episode and interacting with her fans. She knows how to promote and build her brand.
3. She Has the Passion for Performing Coursing through Her Veins
Some entertainers get the performing bug late in life, while others are discovered and thrust into the limelight. For Leslie Grossman, the desire and passion to perform started early for her. As a young girl, she was cast on the show Kids Incorporated and she would later attend the Crossroads School for Arts and Sciences, where she directed live plays. She launched her professional acting career while she was a senior in college.
4. She Has Yet to Tap Her Potential in Film
While Leslie has an expansive resume when it comes to television, she has only appeared in seven films since 1998. I am not sure if this is by choice, or if the right opportunities simply have not presented themselves. Although most people are not aware of this, actors who work consistently in television make a very good living doing so. It does not always come with the prestige associated with "film," but the financial stability is something to be appreciated. Leslie has not made it clear whether she will place greater emphasis on film in the future, but it would be nice to see how she tackles the challenge.
5. She Was Written into Popular
In 1999, Leslie audition for two roles in the television series, Popular, that of Sam McPherson and Nicole Julian. Although she did not land either of those roles, she impressed the producers so much that she was literally written into the show as Mary Cherry. This speaks volumes of her talent and charisma as an actress. At 45, I am suggesting that there is still a lot more to be seen by this talented and beautiful actress.
Save