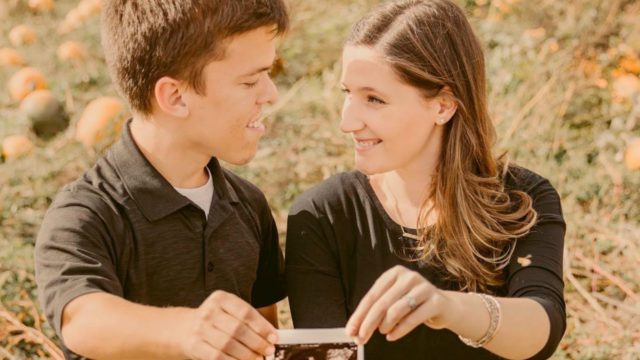 With all the recent excitement in the news over Tori and Zach Roloff's gender reveal party, fans of the Little People, Big World were in for a treat when the gender of their baby was revealed on the season premiere. At the right moment, the crowd did a countdown, and blue balloons spilled out of the box Tori and Zach opened together. It was a moment to remember for the couple and their family and friends.
Tori has been Zachary Roloff's sweetheart for seven years. They dated for just over four years, and then Zach proposed to her in 2014. They were married in 2015, and now that their baby boy is due soon, she is on maternity leave.
Tori is an intelligent young woman who shares her love for Zach and their life with the world, taking to Instagram to post frequent updates on the progress of her pregnancy. She has posted more than 1,300 posts for her 3,000 plus followers; keeping them updated on the most precious things in her life.
She is really Victoria Elizabeth Patton Roloff
Everyone now knows her as Tori. She has been a Kindergarten teacher for two school districts since graduating from college. She worked at Woodland Public Schools from 2013 to 2015 and then at Beaverton School District until her maternity leave. She adores her work as a teacher of Kindergarten children, and her classroom is filled with creative and inspirational decorations. When her maternity leave began, she posted Instagram photos of her classroom of "Kinders" she said she would miss very much while on leave.
One of Tori's favorite hobbies is calligraphy
She says she is enthralled and obsessed with it. She knows how popular it is currently. She also enjoys making things for the house and creating beautiful things. She loves anything "do it yourself". Her creative abilities are seen in the handmade items which fill the couple's home with a feeling of warmth and welcome. She also has posted photos of adorable crafted decorations for her classroom. A marvelous, quirky turkey made with wooden rulers as feathers filled her Kindergarten classroom window. But, the most important recent calligraphy projects Tori undertook was announcing her pregnancy to Zach. He said that he saw her practicing calligraphy on her notepad. On the last page was the exciting handwritten announcement!
She encouraged Zach to wear Mickey Mouse ears during their honeymoon at Disney World
Zach really didn't want to wear them. But, he did it for her. He wore classic black ears and she wore white ears for one Instagram photo in front of Walt Disney's statue and Cinderella's castle. Then they both wore a variety of Micky ears when taking photos with Disney character friends. One thing is certain…their fans are correct when they call the couple cute.
Tori met Zach at the pumpkin patch on the Roloff Farm. Tori was a teenager, and she was annoyed that he didn't ask her to his 21st birthday party. But four and a half years later, they were married on the Roloff Farm.
Tori played tennis in high school
She thought it would be fun to teach Zach a sport for a change, rather than him always teaching her. She said that she was "pretty impressed" with his tennis skills. They dropped their dog Sully off at Amy's house so they could spend time on the tennis court. She said that playing tennis had been a good time in her life, and she wanted to share that with Zach. During their tennis lesson, Zach held his own, and cheerfully grumped around the court, commenting on the difficulties of encountering regulation height tennis nets, and the energy it takes to run around the court with shorter legs. He's precious in his willingness to tell it like it is, and Tori's objectivity and playfulness complements his sense of humor.
Tori wanted to have a poppy seed wedding cake
She thought it was "kinda country-ish". Zach said he thought she was pretty stubborn about it. They went to a wedding cake tasting at a bakery. At first, he really pushed his point when he countered Tori's enthusiasm for the flavor by comparing it to common poppy seed muffins. After trying out the poppy seed cake, Zach said he was surprised that it was as good as it was. He described the flavor as "unexpected". He agreed to have it in the wedding cake. Tori sealed the deal by asking him for a fist bump.
With Tori expected to deliver any day now, it's no surprise that the media has been posting all sorts of news about the concerns she and Zach have over the health of their baby boy. Recent reports mention that the baby seems to be smaller in size than average, but the couple will not know if their son shares Zack's genetics or not until the baby is born.
But, the news also has shown photos of the immaculate and artistic nursery prepared for Baby Roloff's arrival. The couple painted the nursery walls with mountains in honor of the mountain views seen from the Roloff Farm in Hillsboro, Oregon. They also have hung wooden toy miniature vintage planes from the nursery's ceiling. It's a welcoming space for the soon-to-arrive first Roloff grandchild. They are also deciding what their son's name will be. Zach seems to prefer traditional names, while Tori is the one more interested in less common ones. She obviously adores her husband, and has embraced her role as wife and soon to be mother. She's a lovely, feisty woman and perfect partner for Zach, and that's something spectacular.
Tell us what's wrong with this post? How could we improve it? :)
Let us improve this post!