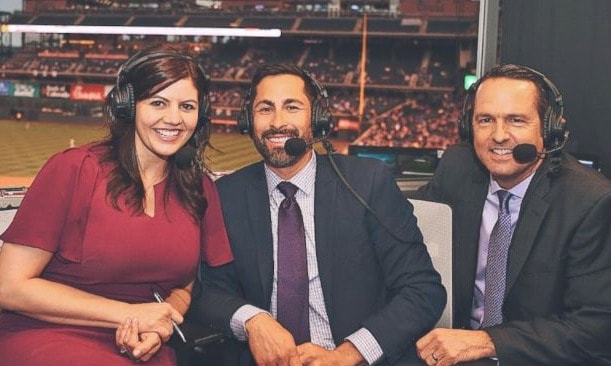 Jenny Cavnar is a name that perhaps a lot of hardcore MLB fans would know, or not. It all depends on how deeply one gets into the game that would determine if they know this woman or not. But whether they do or not she's manage to cement herself in history at this point since she became one of the first and only women to participate in a live, play-by-play broadcast of a professional MLB game. That's something that hasn't happened in some time and hopefully it could be something that might happen again if women are interested.
It could be high time to integrate more women into men's sports.
5. She's been serving as a game analyst for the MLB for 12 years.
This gives the feeling that Jenny has been a baseball enthusiast or nut for a good part of her life since spending twelve years of her existence in the sport is a lot of commitment and dedication to her job. It almost makes a person feel that she would be able to rattle off details of various games and players that many other fans might not even know unless they looked it up to confirm said facts. She is an analyst after all.
4. Cavnar has been a pregame TV host for the Colorado Rockies since 2012.
So she's spent about half of her time as an analyst back home with the Rockies where she wanted to be it sounds like. That's pretty cool since the goal of many people is to first love what they do and then possibly love where they're doing it. Of course the number one and most important goal is to get paid, but the passion is definitely a big help towards getting a job that provides such a thing.
3. She got to do a play-by-play for the Oakland A's vs. Colorado Rockies game.
The last time this happened was in 1993 so it's been a while since a woman got to call a play-by-play live game, which makes it historical and very cool to hear about since it could be a sign that things are changing. Women are after all just as capable of doing what men can do so long as they know the game and can talk about it at length while calling every play as it comes in. It takes someone that loves the game, and she fits the bill nicely.
2. Jenny was the captain of her lacrosse team.
This goes to show that she has a lot of dedication to what she does and the ability to take charge when she needs to. You don't just make the title of captain on a high school team because the coach decides to show you favor. You have to earn that distinction in many cases, and obviously she knows how to earn her spot in the world of sports.
1. She's also an advocate for Family Tree.
This is a foundation that helps those that have suffered domestic abuse. Just seeing that she has something to do with this indicates that she's a very altruistic and compassionate person.
She's a special type of lady to be sure.