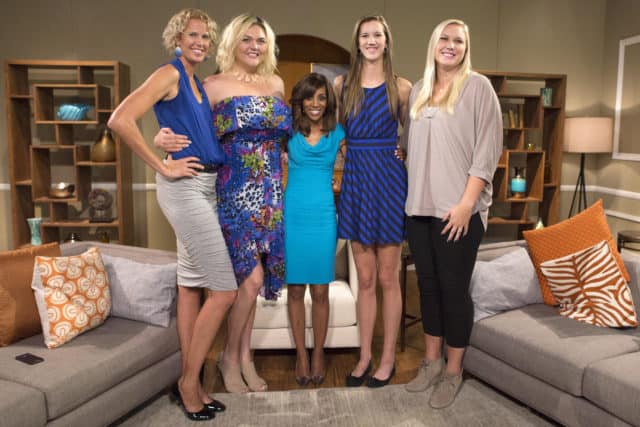 'My Giant Life' is a reality television series on TLC that features women who are all over six feet and six inches tall. It follows their daily lives and looks at the difficulties they experience on a day-to-day basis within society and in relationships as well as highlighting many positive aspects of their lives. The first season of this series premiered on July 14, 2015, and consisted of six episodes. The second season had eight episodes and was first aired on June 7, 2016. The original cast included Haleigh Hampton-Carvalho, Lindsay Kay Hayward, Colleen 'Coco' Smith, and Nancy Mulkey. In the second season, Nancy was replaced by a woman called Katya. The series returned for a third season on September 18, 2017, with some new stars of the show. Here are five more things you might not know about 'My Giant Life'.
1. Lindsay Kay Hayward is the Tallest of the Women Featured
Obviously, all the women featured are extremely tall and that is why they are starring in the series. However, it is Lindsay Kay Hayward that can boast she is the tallest woman of the series. In fact, at 6 feet 9 inches, she has been awarded the Guinness World Record for the tallest actress in a leading role. In addition to her appearances on 'My Giant Life', Lindsay is also a professional wrestler who uses the ring names Aloisia and Isis the Amazon.
2. Alicia-Jay is a 36-Year-Old Virgin
Alicia Jay, one of the new women featured on this season of the show, has opened up about the fact that she is still single and a virgin at the age of 36. She has said that this is a personal choice and she made a big life decision at the age of 16 to wait until marriage before embarking on a sexual relationship. The only reason she is still a virgin is that she has yet to find the right man to marry.
3. Katja Has a Much Shorter Wife
Katja was the New York-based replacement for Nancy in season two. At 6 feet 8 inches tall, Katja towers over her wife, Julia, who is just 5 feet 2 inches in height. Despite their height difference, the couple lives the same life as a couple of a similar height and season three shows them trying for their first baby together.
4. Krista is a Life Coach
Krista is another of the new women featuring in season three. When she joins the show, she already has a thriving business as a life coach. Viewers will see her move in with Lindsay during the third season and she also attempts to launch a career as a comedian.
5. There Have Been Highs and Lows in the Viewing Figures
Since the launch of 'My Giant Life', the series has had many highs and lows in viewing figures. The first episode of season one had 1.682 million viewers but this figure gradually declined throughout the season. This made the first episode the most popular of the series. In the second season, the viewing figures dropped further to an all-time low of 0.828 million viewers for episode two of season two.
Save