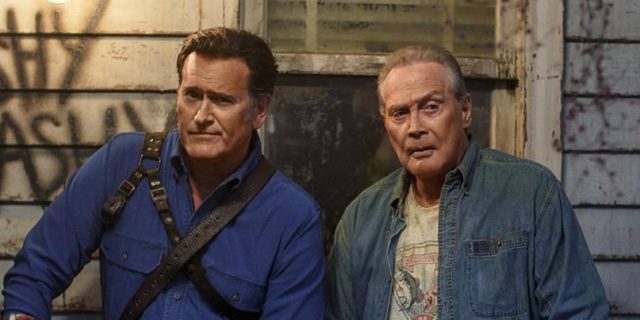 The Evil Dead franchise remains popular in the present, so it should come as no surprise to learn that there has been a fair amount of interest in a fourth movie for some time. However, when Sam and Ivan Raimi were making a sequel, they were unsure about how they were going to get the funding needed to make a movie, which is why they decided to make a TV show instead. The result is Ash vs Evil Dead, which is a TV show on Starz that is still centered around Ash Williams but set 30 years after the events of the Evil Dead movies. So far, it has had two seasons that have met with a positive response, which is why there is now a third season in production at the moment.
Here are some of the things that we know about Season 3 ofAsh vs Evil Dead:
Might Not Be Released Until 2018
The last two seasons of Ash vs Evil Dead were released in the fall, so a lot of people were expecting similar release for Season 3. However, a statement from Bruce Campbell who plays Ash Williams suggests that this might not be the case because Starz is looking at making some changes to its lineup. As a result, while this is no more than said individual's personal speculation, it is possible that Season 3 will not be broadcast until the first quarter of 2018, though it is not impossible that it will still start being broadcast sometime in the fall.
Looking at the Bigger Picture
On initial inspection, Ash Williams might not seem like a particularly impressive figure, seeing as how he is a stock boy at the Value Stop who lives in a trailer. However, it is important to note that he is not just someone who has fought supernatural monsters on numerous occasions and come out on top but also someone who was prophecized to do so. While this has not been explored too much in the past of the Evil Dead franchise, Season 3 ofAsh vs Evil Dead will be using it as a chance to explore the broader setting of the TV show in further detail. Something that should please fans who have always wanted a better look at the bigger picture of the setting.
The Last Showrunner Is Out
The last two seasons of Ash vs Evil Dead were headed by Craig DiGregorio. Unfortunately, DiGregorio has left the TV show, meaning that Mark Verheiden of Battlestar Galactica and Daredevil fame will be stepping up in his place. This departure happened because DiGregorio came into conflict with Rob Tapert, who is a long-time producer for the Evil Dead franchise. In brief, DiGregorio wanted a more comedic tone for the TV show whereas Tapert wanted something more serious in tone. As a result, when their clash resulted in a finale for Season 2 that was not to DiGregorio's personal preferences, he decided to leave instead of continuing to put up with Tapert's oversight. This is unfortunate because of DiGregorio's success with the first two seasons of the TV show, not least because it remains to be seen whether his successor will be as capable.