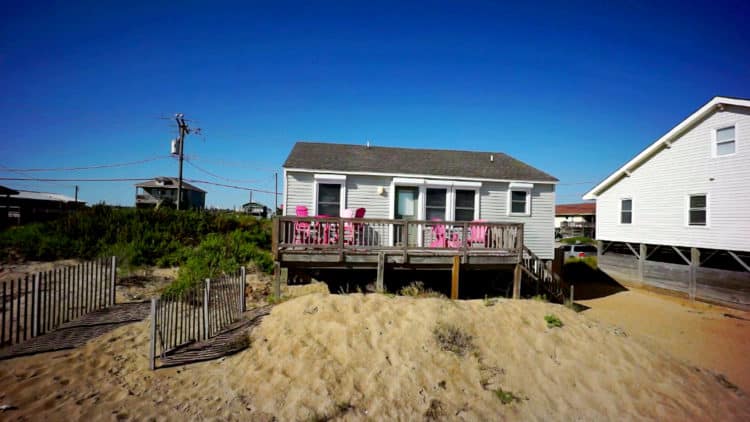 HGTV shows us a lot of programming that evokes realty envy. Perhaps, no other show on the network makes us want to move than Beachfront Bargain Hunt. For most people, having a beachfront property means millions of dollars–but not for beachfront bargain hunters. Over the years, the show has proven time and again that it's possible to have the beachfront property of your dreams. You just have to be open to relocate and willing to look hard. Beachfront Bargain Hunt has been around since 2013; and after 24 seasons of beautiful properties and ocean views, here's how the show has evolved over the years.
When the show first aired in 2013, the first season had a total of 13 episodes. Beachfront Bargain Hunt continues to have at least 10 episodes per season. HGTV has been airing two seasons per year since it debuted, and that has amounted to roughly 200 episodes in total. This means that the amount of properties that have been featured on the show adds up to triple the episode number. It's unimaginable to think that there were that many reasonably priced beachfront properties out there–and even more.
Beachfront Bargain Hunt has also showcased a variety of locations over the years. HGTV has gone from east coast to west coast, highlighting areas such as the Carolinas, the coastlines of Texas, Florida, California, and so forth. We've also seen plenty of beach house styles that are all equally desirable. From Cape Cod and colonial homes to coastal cottages and beach ranches, Beachfront Bargain Hunt has covered them all. There have been remarkable modern homes on the show, and there have also been cozy traditional ones. We've also seen a good amount of high-rise condominiums that are right on the water. Depending on location and on budget, we've seen some beachfront homes that were selling for as low as a couple hundred thousand dollars.
After a couple of years of successful showings, Beachfront Bargain Hunt got a spinoff: Renovations. Like a few other HGTV shows, the Renovations spinoff features Beachfront Bargain homes that were purchased originally. It's a great treat for fans to be able to see some of the homes renovated after being purchased. One particular episode featured an Ocean City beachfront townhouse that needed a total renovation. When it comes to buying beachfront properties, sometimes it's truly the location that matters. Homes could be updated and renovated as needed, but it's difficult to find the location that has the perfect beach view. Views of the water could be different from area to area. You might want a property that has flat white beaches, or you might prefer mountain views with your ocean. No matter what the preferred view might be, buyers don't always get the dream home to match with the dream location; however, the home is easier to change. Beachfront Bargain Hunt: Renovations has shown us some remarkable renovations in the few seasons that it's been around.
For both Beachfront Bargain Hunt and Renovations, John Beach has performed the narration for each episode. John Beach has been narrating shows since the mid 2000s. If his voice sounds familiar to you, that's because it is. John Beach has actually done a few of HGTV's shows, including Island Hunters, Lakefront Bargain Hunt, and Lakefront Bargain Hunt: Renovations. He's also narrated for other networks and shows including Discovery Channel's Legend of Croc Gold and Edge of Alaska. He's also worked with CNBC's Restaurant Startup among a few other shows in other networks.
In more recent years, we've also seen HGTV partner with online furniture retailer Joss & Main. The partnership happened for the Renovations series. Joss & Main was contracted to provide buyers with the kind of furniture and decor they might want for their newly renovated homes. The collaboration can actually be seen on TV, as Joss & Main furnish the featured homes while filming. One advantage fans can get from watching Renovations is the chance to get ideas on how to furnish and decorate rooms appropriately, especially if you're living in a beach home already or simply wish to create more beach vibes in your current home. Joss & Main's curated collections will suit any style.
On an interesting note, a woman that was featured on one of the episodes of Beachfront Bargain Hunt actually got her throat diagnosis through the show. This article talks about the story of how one fan of the show spotted an unusual lump on a woman's throat on TV. Amazingly enough, the fan happened to be a medical doctor, and the woman on TV was just an unassuming buyer. Dr. Erich Voigt knew he had to say something about what he thinks he might've discovered. He reached out to the woman–Nicole McGuinness–through Facebook, and the rest was history. Coincidentally, McGuinness was on the HGTV show to celebrate her cancer recovery. The discovery of her cancer on the show was sheer luck, as McGuinness ended up getting treatment for her cancer afterwards.
Beachfront Bargain Hunt is a highly watched HGTV show that doesn't seem to get old at all. If anything, more and more people are tuning in to the show because of the peace and calm brought on by all the beach views. With Renovations already on rotation, we could easily see other typical HGTV spinoffs come into play for Beachfront Bargain Hunt. There's always the possibility of seeing a "Where Are They Now?" spinoff in the future of the show or even a more elaborate international version. There's already a Lakefront Bargain Hunt spinoff as well, so it wouldn't be surprising to find a mountain view, riverside, city, or any other location bargain hunt spinoffs. But for now, we're just enjoying all the beach views and ocean sounds on Beachfront Bargain Hunt.