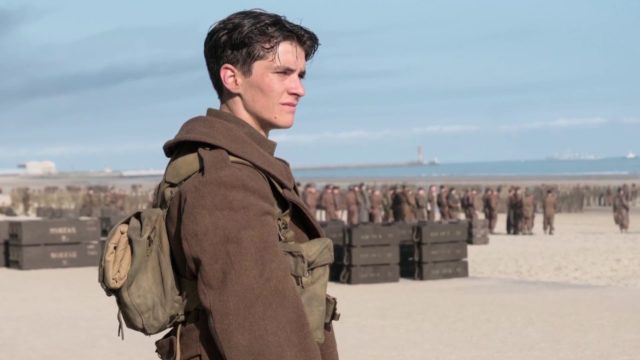 Fionn Whitehead is an up and coming young actor from London, England. He made his debut into acting in the UK TV series, 'HIM', which was aired on ITV and shown over three 60 minute episodes. His most recent work is taking the leading role of Tommy in the war film, 'Dunkirk'. The movie premiered on July 13, 2017, and was released in both the United Kingdom and the United States on July 21, 2017. The film is written and directed by Christopher Nolan and Whitehead is also joined in the movie by 'One Direction' singer, Harry Styles. In 2016, Whitehead was filming for 'The Children Act' alongside Emma Thompson. As this is also set to release in 2017, it looks like a good year for this young actor.
In addition to this information about his work, here are five things you didn't know about Fionn Whitehead.
1. He Started Acting in His Teens
Like many people who make it in movies, Fionn Whitehead started performing in his teens. He already knew by this point in his life that this was the career path he wanted to follow. At the age of just 13, he was already picking up new acting skills as he began acting at The Orange Tree Theater. To further develop his acting talents, he went on to enter the summer course at the National Youth Theater while he was studying at Richmond College.
2. He is Named After an Irish Folk Legend
Fionn is a rather unusual name so you may have wondered why his parents chose this and what it means. The word Fionn means blond, white, bright or fair. However, Fionn Whitehead's parents named him after a character in Irish mythology rather than for his hair color, although his surname matches well with his forename. Fionn mac Cumhaill was a mythical hunter warrior, according to Irish folk tales. The hunter-warrior is a the center of many different legends and is so-called because his hair turned prematurely white.
3. Fionn Comes from a Family of Performers
Fionn comes from an artistic family that enjoys music and the performing arts. In fact, his father Tim Whitehead is a professional jazz musician. A talent for performing and a love of the stage must run in the family. Whitehead's parents have encouraged him in his career, even when he wanted to become a breakdancer when he was growing up.
4. He Was Discovered While Washing Dishes
While he was an aspiring actor, he worked in a coffee shop in the Waterloo area of London to make ends meet. During his breaks and when he had time off, he would go to every audition possible. He got his big break when he won the lead role in 'HIM'.
5. Working on 'Dunkirk' Was a Surprisingly Secretive Experience
Whitehead has commented on his experiences of working on 'Dunkirk' and said it was a very secretive experience. Until the first day he arrived on set, he didn't even know the plot let alone who was cast to work alongside him. Throughout production, this secrecy continues with the cast being ordered not to leak details of the movie. One aspect of the filming that isn't a secret is that Whitehead and co-star have had a 'bromance' and become firm friends.