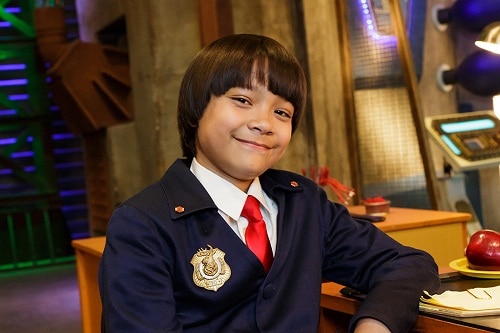 Filip Geljo is the star of the children's series "Odd Squad." He appears in a recurring role as Agent Otto. In addition, he appeared in the role for the movie that came of with the same name. He's great at showing his brains and that he excels at being a special agent, but here are five things that you didn't know about him.
1. He's an educator
Filip is doing his part to help educate younger children through "Odd Squad." The show is filled with action to make it entertain so they'll want to watch it, but there is a lot more to it than that. It's funny, but it is also a PBS KIDS series that receives funding from the US Department of Education. The funds are given through the CPB-PBS Ready to Learn Initiative. One of the main focuses of the program is to help youngsters in building their math skills and the target ages are between five and eight. This is a show that parents can feel good about letting their kids watch.
2. Geljo is just being himself on the show
When you're watching Agent Otto, you're getting a good dose of the real personality behind the character. Filip Geljo said that when he's playing the role, "At times I'm not even acting." He further shared that he is Agent Otto wherever he goes because he is very much like the character that he portrays in real life.
3. He's as good at math as his character
Filip doesn't need to rely on a script in order to solve math equations on the show. It's there for him, but he is perfectly capable of doing it all on his own. Math is his favorite subject in school, so it is something that he really enjoys doing, so if you're a fan of Filip Geljo or Agent Otto, and you want to be just like him, you'll study your math.
4. His father is a famous actor
Filip began his role as Agent Otto at the tender age of 12, but this is no surprise as he comes from a family of actors. His Father is Jasmin Geljo, a Bosnian-Canadian actor who is best known for his role as Ryjin on "Cube Zero." He has also appeared in "The Sentinel," "Assault on Precinct 13" and "Land of the Dead." Felip's famous father is a veteran actor who was born in 1959 in Sarajevo, Bosnia and Herzegovina. Filip is his only child and it looks as though he is following in the footsteps of his father by becoming an actor.
5. He is set to appear in "Avatar 2"
Filip Geljo is advancing in his career as an actor. At the age of just 15, he is already working in a major film in the "Avatar" franchise. Yes, he will appear as one of the blue people. Sources have revealed that he will make his appearances in the next two sequels that are set to come out beginning in 2020. He'll earn $150,000 for playing the role, but in addition, if an "Avatar" video game is made, he is also contracted to earn an additional $5 thousand a day if he decides to do any voiceover work for the game. This shows that his career is just beginning to take off and the "Avatar" contract is a big step towards stardom for the youth. Accepting this role may well be Filip's breakthrough opportunity because the films are set to be major at the box office.
Save