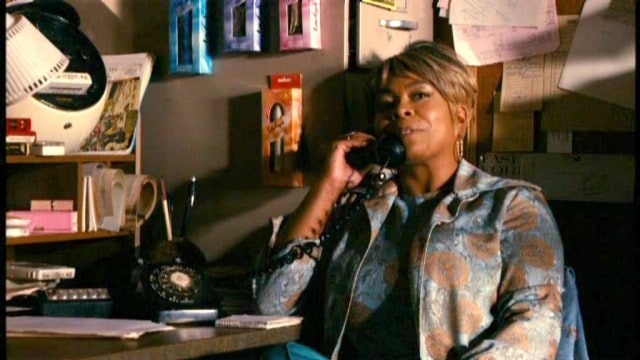 One thing that I have learned through the process of learning about the world of entertainment is the fact that the best entertainers, actors, singers, and comedians are not necessarily the biggest names on the marquis. For instance, when it comes to acting, a lot of the most talented actors decide to grind out their careers on stage, never seeking the exposure that being behind a camera provides. While there is a sacrifice in the way of celebrity, this choice leaves the individuals with more of their personal lives in tact.
One actress that fits that mold is Esodie Geiger. While she has definitely been behind the camera, she cut her teeth on the stage and that is where she has the most notoriety. With Esodie having several new projects, including Good Guys with Gund, Making a Killing and Those Who Wait, either in post-production or completed, her name will become more well-known in the coming months.
In order to familiarize you with this beautiful and talented actress, we decided to share a few little-known details about her.
1.She Starting Acting at Age Five
Although it was not a paid gig, Esodie entered her first acting role at the age of five where she played [easyazon_link identifier="1577681983″ locale="US" tag="tvovermind00a-20″]Little Red Riding Hood[/easyazon_link]. It was clear after that moment that the acting bug had bitten her. There are some instances in which a person doesn't develop the passion for acting until later in life and then there are those times in which the natural flow of talent literally dictates what you will become before you can even understand what is happening, and that is the case here, acting chose her, she didn't choose acting.
2. She Is Not Afraid of the Camera
While Esodie is a seasoned stage actress, she is definitely not afraid of the camera. In fact, she has more than 20 films to her credit. She has definitely been seasoned by her work on stage, but her talent and range allow her to hit her marks in front of a camera and never miss a beat. While her stage career can be traced as far back as the 1980s, her film career took off in the 1990s, and she has worked consistently behind the camera since then.
3. She May Be a Late Bloomer
To make the postulation that the fact Esodie has spent so much time in the entertainment world and not become a household name is a reflection of her talent and star-appeal would be a mistake. I may simply be that she is a late bloomer or that she is finally being given the opportunity to step outside of the box that people tend to put actors and actresses in. She is starting to land more significant roles that will garner significantly more attention — it likely that her time has come.
4. She is Focused and Committed
Sometimes a person is simply in the right place or they know or meet the right person at the right time, and the next thing you know they are the next big star. Sometimes they parlay they current endeavors into an opportunity, much in the way that singer, rappers, and models find their way in front of the camera. Let's not forget that Mark Wahlberg and Will Smith were both rappers before becoming successful actors. In Esodie's case, she took the more direct and committed route, she earned a bachelor of arts degree in theater.
5. She Views Driving as a Notable Skill
When asked to list her skills on a resume, she once listed the fact that she has a drivers license. Of course, this was before she earned her degree in theater, so, she did not want to leave the area Black and the driver's license was the only license or certificate that she had at the time. It sort of goes to show just how creative she can be when something of significance is on the line. Well, one thing is for sure, she has plenty of things she can enter into that skills box now.
Save
Tell us what's wrong with this post? How could we improve it? :)
Let us improve this post!