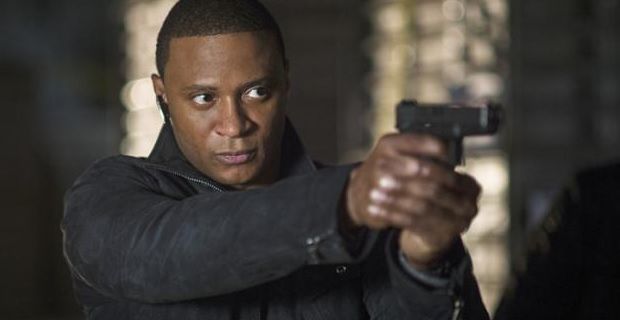 What fans often forget when watching their favorite actors perform is that they are only witnessing the end product many hours of hard work. Finding success as an actor is not like a math equation, where having the right combination of looks and talent results in immediate success. Instead, to land a prominent role, many actors have to toil away for years on end. This was the case for the rising star David Ramsey, who can be seen in Arrow, which was renewed for a sixth season in January.
In addition to Arrow, Ramsey can be seen on The Flash, and Blue Bloods. With starring roles in three prominent shows, his stock is certainly rising among fans and critics alike. As his fame grows, fans may be surprised to learn just how long he has been working in show business. In addition, fans will likely want to know more about the person behind the characters. Here are five of the most interesting facts about the emerging star David Ramsey.
5. His big break was a long time coming
Fans of Ramsey may wonder why it took so long for the actor to find success. He is talented, handsome, and has an incredible presence on screen. However, finding success was not an easy road. He spent many years toiling away, landing only small supporting roles. It was not until 2008 that he got the attention and praise that he deserved with a role in Dexter.
Ramsey has stated that as years went by without much success, he began doubting himself. He got by thanks to the support of his parents who consistently told him that he would make it if he persevered. Luckily for his fans, he was wise enough to listen to his parents.
4. He hopes to branch out from acting in the future
This may be surprising to hear, given that he has a tremendous amount of momentum behind his acting career at the moment. However, Ramsey has been clear to say that he loves acting and will continue to perfect his craft. That being said, he has aspirations to bring his talents behind the camera at some point.
After working on shows like Arrow and The Flash, Ramsey has come to appreciate how these productions are receptive to frequently using new directors and producers. He has stated that while acting is his primary focus, he will one day begin directing and producing.
3. David Ramsey Net Worth
Today, Ramsey is a force to be reckoned with on television, appearing in three highly popular shows. As such, it is no surprise that he has earned himself a considerable personal fortune. In 2017, Ramsey's net worth is estimated to be around $4 million. While the bulk of this wealth has been earned through his recent work, Ramsey has also benefited from a long career. Most fans are not aware of how long Ramsey has been earning money through acting; his first appearance in a movie was in 1987.
2. He is well educated
Given his success as an actor, it might be easy to assume that Ramsey was one of the thousands of actors who moved to LA as soon as possible, forgoing any post-secondary education. However, this is not the case. After high school, Ramsey attended and earned a degree from Wayne State University. Fans will be delighted to learn that in addition to his acting talents, he is also a highly intelligent individual as well.
1. He is an expert martial artist
Knowing how to fight is essentially a prerequisite for the type of career that Ramsey has enjoyed. In addition to starring in some action-packed shows like Arrow and The Flash, Ramsey even once portrayed Muhammad Ali. One of the reasons why his performances in these types of productions are so authentic is the fact that in real life, Ramsey knows how to handle himself.
The talented actor holds a black belt in jeet kune do, a versatile martial art founded by Bruce Lee. As well, he has trained kickboxing under the legendary Benny "Jet" Urquidez. He has also trained in boxing and tae kwon do.
Final Thoughts
Aside from watching their performances, one of the most exciting aspects about a rising star is finding out who they are in real life. With Ramsey, fans will be delighted to see that he is hard working and dedicated, as he persevered through many years in obscurity to reach the fame he enjoys today. As well, he is more than just an actor; his diverse background includes mastery in several martial arts and earning a university degree. He is the perfect case study for people who are struggling to see success despite their talent and hard work. By staying true to himself, Ramsey has shown that if you are diligent and committed to a dream, success will eventually come.