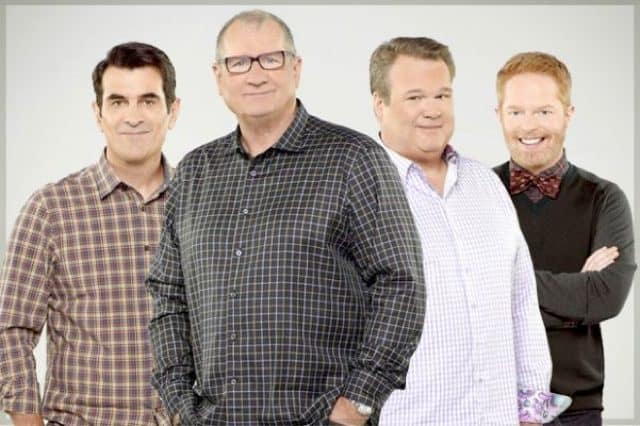 A spicy Latina. A paranoid and flamboyant redhead and his equally neurotic sister. Al Bundy as a closet salesman. No, we're not talking about a bizarre high school reunion. We're talking about the award-winning dynamic that makes up the cast of ABC's Modern Family.
Since the show premiered in 2009, it's been nominated for 25 Screen Actors Guild Awards, 18 Writers Guild of America Awards, and 12 Golden Globe Awards. With an average of 4.5 million people viewing and recording the sitcom, it's pretty obvious that the world considers Modern Family part of their family.
And we can't get enough of the men that make up these 3 dynamically different families. The nerdy Phil Dunphy, the jaded and sometimes angry Jay Pritchett and the flamboyant Cam with his quirky partner Mitchell. Each character brings their own unique element to the cast and into our homes.
Let's take a look at what makes these men so darn likable.
Phil Dunphy
Not only is Phil a complete geek, but he seems oblivious to the fact, which only adds to his charm. Whether Phil's practicing his magic or fiddling with the newest tech gadget, he fully embraces his nerdiness. A gymnast in college, Phil's love of aerial acrobatics never faded. He even flirted with the idea of going to trapeze school, which prompted his adoring wife Claire to surprise him with a trapeze team as an anniversary gift. Phil has an irrational fear of clowns and is cursed with clumsiness.
A father of three, Phil is the type of dad that endlessly embarrasses his children. He shares a unique bond with his son, Luke who entertains and indulges his father's ridiculous behavior. Like most dads, Dunphy is protective of his daughters, Alex and Hayley. A doting husband, Phil adores his wife Claire and spoils her only when he's not annoying her. But, she's clearly smitten by his charm and finds his awkwardness endearing.
Phil also knows what makes a good real estate agent. In one episode, he explains that he's not just a real estate agent, but in fact a REALTOR® – a member of a national association that follows a strict code of ethics. Like most things in Dunphy's life, he takes his role as a real estate agent – I mean REALTOR® = very seriously.
Whether he's showing a house, tripping over himself, or running from clowns, who can resist this goofy guy?
Jay Pritchett
The quintessential "sugar daddy" Jay's character may be known best as the husband of Gloria (Sofia Vergara) and the owner of Pritchett's closets and Blinds. Fans instantly recognize Jay's character, played by Ed O'Neill, as Al Bundy from the crude and infamous Married with Children series.
O'Neill brings the same grumpiness to his Modern Family role, but with a more likable aspect. Jay is the father of Claire (Phil's wife) and Mitchell, and step-father to Manny (Gloria's son). In more recent years, Jay and Gloria welcomed a baby boy named Joe. Prior to meeting Gloria, Jay was married to the mother of his children, DeDe, for 35 years.
Jay loves golf, his dog Stella, and discussing his service in the Vietnam War. Jay has a tough exterior and often gets flustered and frustrated by his children's tedious behavior. But beneath his tough exterior, Jay is a good-hearted man. This can be seen most often during his interactions with his kids.
Mitchell Pritchett
The eldest son of Jay Pritchett, Mitchell is a lawyer with a flaming red beard and personality to match. Mitchell is a high-strung lawyer that expresses OCD behaviors. His personality is balanced by his life partner and husband, Cam, who is much more laid back.
Mitchell shares a close relationship with his sister, Claire, and is a dedicated adoptive father to his Vietnamese daughter, Lily. Mitchell's sometimes hard exterior is attributed to the lack of affection his father, Jay, showed growing up. Though Jay can be somewhat uptight and unaccepting, he is surprisingly supportive of Mitchell's lifestyle.
Mitchell is a perpetual people pleaser and avoids confrontation at all costs. He carries himself with professionalism in both his demeanor and dress. Though he and Cam disagree on many things, their open lines of communication and grossly different personalities complement each other well. Mitchell loves his daughter and his family, often going above and beyond for them.
Cameron Tucker
Cameron Tucker might be one of the sitcom's most recognizable and memorable characters. Because of his big and bubbly personality, it's hard not to take notice of this high school football coach, substitute teacher, and overachiever. If his flair for theatrics doesn't get him noticed, his role as Fizbo the clown most certainly will.
Cameron met Mitchell after guessing his rendition of Casablanca at a character party. Cam's over-affectionate personality compliments Mitchell's uptight role, but also creates conflict at times. Cam possess an overwhelming need to help people, even if they don't welcome his services.
Cam's dramatics aren't limited to the stage. Cam has several rivals throughout the show's career including a bowling rival (Martin Sherman), and Todd, a stubborn bag boy that constantly crushed Cam's produce with heavy cans – seemingly on purpose. Cam can be recognized by his slightly overweight stature and his patterned dress shirt often cuffed at the sleeve. Cam is a perpetual people pleaser and has a hard time accepting if someone doesn't like him. But with such a lovable personality, how could anyone not?
The Hits Keep Coming
As Modern Family enters its 9th season, fans have watched these men, along with their families, change and grow over nearly a decade. We've been there as Jay retired from the closet business, passing the torch to Claire and Phil branched out on his own as a REALTOR®. And we've been lucky enough to watch Cam and Mitchell raise Lily from an infant into a beautiful young adult. Every character has their own unique personality and tendencies that we love and adore and we can't wait to see what the rest of season 9 has in store.