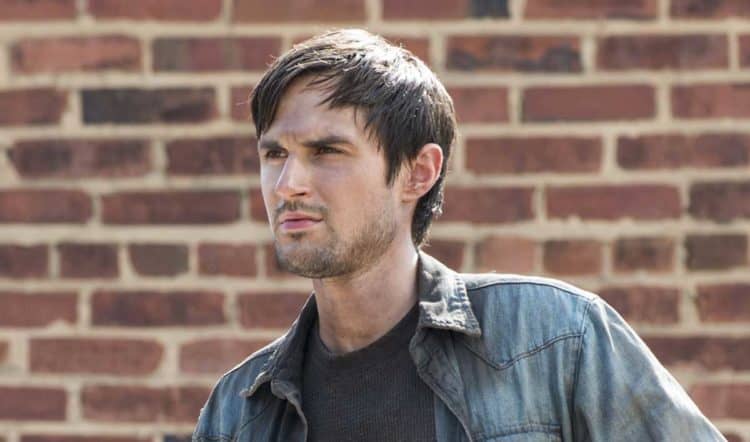 Andrew J. West is a an American actor who is proving his talent in Hollywood. It didn't take Andy long to get noticed after moving to Los Angeles from Indiana. Best known for his roles on "Greek" and "The Walking Dead", Andrew J. West is currently working on the hit ABC series "Once Upon a Time". The talented actor has been able to segue from roles as the bad guy to the good guy easily.
Here are 5 things you didn't know about Andrew J. West.
1. He's from Indiana
Andrew James West was born in Merrillville, Indiana on November 22, 1983. As a kid he and his friends would write and film sketches, but he never dreamed of becoming an actor. It was in college that he began to take an interest in acting. Andy was studying at the University of Indiana where his roommate was a film student. He helped his roommate write short films and starred in them. Eventually he started acting in the University theater. Andy didn't major in film but graduated with degrees in Philosophy and Anthropology, but he did catch the acting bug and moved to Los Angeles to pursue his newfound dream.
2. Early career
While working as a waiter at a small Los Angeles Italian restaurant, Andrew J. West began auditioning. He got a couple of commercial roles and acted in short films including "The Last Night", "Onionhead", "Cinco de Mayo" and "Walter". When he got the role of Max in "Privileged" in 2008 Andy thought he'd made it and immediately quit his restaurant job. He describes himself as young and naïve at the time and soon realized that "Privileged" wasn't his big break. His break would come though. He got the role of Fisher on ABC's "Greek" the following year and worked in the recurring role pretty steadily. Andy describes his time on "Greek" as exciting. He was working with talented young actors who didn't have much experience, just like himself. He says he learned a lot about acting on the set of "Greek".
3. He's married to Amber Stevens
Andrew J. West met his future wife on the set of "Greek". They wed in 2015. The LA born Amber Stevens is the daughter of radio personality Shadoe Stevens and model Beverly Cunningham. She is currently starring in the series "Ghosted". She and Andy have enjoyed growing together in their acting careers. Although they must spend time apart while she films in LA and he films in Vancouver the couple appreciate that they are both doing great in their acting careers and able to work on great projects.
4. He played a great villain
At one point Andrew J. West was concerned that he would be typecast as a villain. The All American Midwesterner got the role of the cannibal Gareth in the AMC hit "The Walking Dead". He appeared in the fourth season finale as seemingly good Samaritan Gareth. He was hired on for the fifth season which showed Gareth to be anything but a good Samaritan. "The Walking Dead's" Steven Gimple said he hired Andrew West because of the way he used his eyes and smile. He could be the seemingly good guy providing shelter for the survivors of the zombie apocalypse one minute and with the same smile become the sadistic angry survivor who wants revenge. Andrew J. West won the Saturn Award for Best Guest Starring Role on Television for the role of Gareth. In his next role West played a Satanist cult leader in the Freeform horror series "Dead of Summer".
5. Once Upon a Time
Andrew J. West has redeemed himself as a good guy in his current role as Henry in ABC's "Once Upon a Time". The modern day prince charming woos Cinderella in the popular series. Andy's wife says the character is much more close to the real Andy's personality. She adds that the nice guy is always focused and driven. While he appreciates his diverse roles, Andrew J. West is happy with all of the experiences he has had and that he has quickly become a steady actor. He worked as a guest star in several series including "Bones", "Castle" and "Nip/Tuck" and is happy to have found successful work as a steady actor. Andrew J. West proves that a talented actor can transform into any character even with a look in his eyes and a mysterious smile.