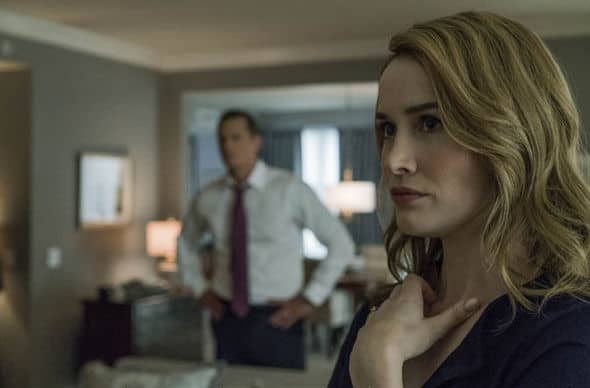 Dominique McElligott is not what you would call a well-known actress unless you're a big fan of the independent film scene. Even then she hasn't starred in a truckload of films or TV roles and has kept a modest amount of fame that allows her to be recognized but not placed on superstar status. This isn't to say that she's not worth the title. In each role she gives a great deal of herself and is easily one of the more talented women in Hollywood, though it is tough to find her work at times. She's played the role of very strong, independent women that have a very direct way about getting what they want out of life, but her characters have also been decidedly feminine in a way that suggests while her will is strong her physical strength is not always that much of a concern. Somehow though this gives her a very rounded presence as an actor.
She's not so strong as to be overbearing but she has a quiet sense of force to her that makes her stand out.
5. She appears primarily in independent films.
As I said she is more into the independent film scene and is not seen in the mainstream films all that much. At times however many actors have decided to go this route either by personal choice or to just get away from the hustle and bustle of the mainstream experience for a while. It can allow them to focus more on their craft and less on the demands of so many others that are itching to take up their time.
4. She was in Hell On Wheels.
She got to show her inner strength as Lily Bell, a surveyor's wife and eventually a surveyor in her own right for the railroad that was moving towards the Rockies. Lily was a survivor of an Indian attack and after losing her husband stuck close to the railroad. That wasn't much help however since by the end of the second season she was strangled to death by the character known was The Swede.
3. She was in House of Cards.
Many people saw Hannah Conway as a well-deserved partner to Will Conway in season 4 of House of Cards, and for the most part she was. Her role was to keep the family together while Will was campaigning and to provide a suitable foil for the Underwoods, who were extremely shady and lacked the type of passion the Conway's had. But she could be just as mean underneath all that sweetness.
2. She's an Irish actress.
Dominique hails from Dublin, Ireland. Honestly you can't really hear it in her voice, her accent is so spot on. But there seem to be a lot of actors coming from overseas that have managed to mask their original accent and acclimate to what film and TV are demanding of them. Some are better than others and Dominique is perhaps one of the best that's come along in a while.
1. Her filmography isn't that extensive yet.
She's had a few very good roles but for having started in the early 2000's she still doesn't have an extensive resume just yet. It could be that she doesn't want to take things too fast which would be wise for most individuals, or it could be that she has other priorities that need tending to. Either way she's a joy to watch when she is there.
She might be one of the actors you only get to see every once in a while. That could work for her career though.
Tell us what's wrong with this post? How could we improve it? :)
Let us improve this post!