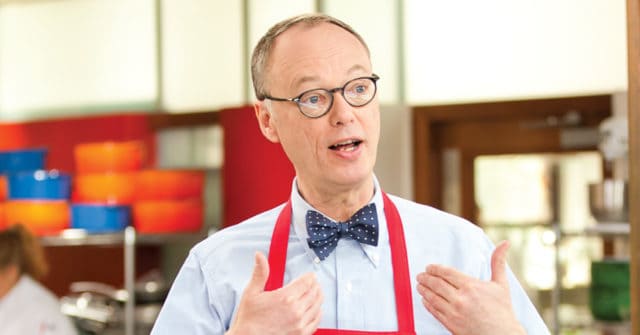 If you are a fan of cooking and are looking for some new dishes and tips on how to prepare them then "America's Test Kitchen" may be your cup of tea. The popular television series has been running for seventeen glorious seasons. Food fans have been tuning in for years and the show is as popular today as it was in the first successful season. Here are five things that you didn't know about the hit cooking show.
1. It leads the pack in popularity
The fact that the show is in its seventeenth season gives us an idea of its popularity. Google users have given it the thumbs up in a recent survey conducted that shows 92% of the respondents like this television show. The IMDb rating is a solid 8.5 out of 10 and TV.com gives it a 6.9 out of 10 which are well above average ratings. If you haven't tuned in yet, you don't know what you're missing out on.
2. Host Christopher Kimball was fired from the show
Many fans may be wondering why Christopher Kimball, who hosted the show for 9 seasons left. According to Kimball, there was an attempt to negotiate a new contract but it failed. In essence, the 65 year old host was let go because of this age and replaced with a younger host. This type of thing happens often in corporations and when the financial stakes are high. Boston Common Press is the parent company of the show and it was upon taping of the 16th season in 2015 that the situation occurred. The company alleges that they attempted to negotiate a deal with Kimball, but he has a different version of the events.
3. Boston Press sued Kimball after firing him
When Kimball left "America's Test Kitchen," he started a new venture that he called "Milk Street Kitchen." It featured a magazine with the title "Milk Street," and was published in the late fall of 2015. Boston Press filed a lawsit 39 pages in length that alleed kimball was illegally using trade secrets and customer lists. They further asserted that he had a financial responsibility to his old company because he and his family were stockholders. Kimabll denied any wrong-doing and stated that all of his actions were legal and transparent and that the lawsuit was little more than a "publicity stunt."
4. Christopher Kimball took 15 employees of the show with him
When Kimball was fired, he didn't leave "America's Test Kitchen" alone. Although Boston Common included the complaint that he stole the staff from the company, short of kidnapping, you can't steal a person. If they leave of their own volition, perhaps thee was some dissatisfaction with the management to begin with.
5. "America's Test Kitchen" is still an amazing program
While there may be some fans of Kimball who think that he was treated unfairly by the parent company, this doesn't take away from the quality of the show. In the high stakes corporate world there are constant issues and even though people may disagree about who was right or who was wrong, ATK is still an amazing show that presents useful tips, cooking methods and techniques and the content is delivered well.