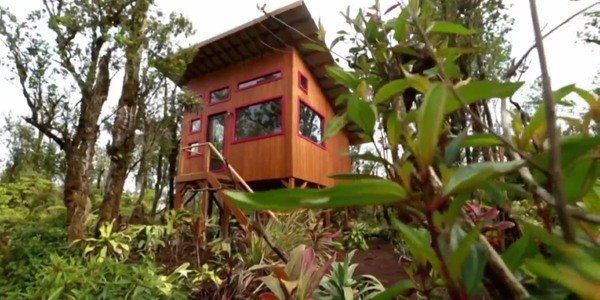 When most people think of purchasing a home, more space is usually one of the biggest motivating factors. There are lots of people out there, however, who are actually looking for the exact opposite. Over the last several years, tiny homes have become increasingly popular and many people are looking for ways to downsize. Tiny homes may be small, but they can pack a serious punch in terms of comfortability and amenities. As their popularity has grown, naturally several networks have decided to create content centered on these little homes. While there have been quite a few shows about tiny houses on the air, we've narrowed down the list to some that you should definitely check out. Here are five solid TV shows that focus on tiny houses.
1. Tiny Luxury
Living in a tiny house doesn't mean that you have to give up all of the comforts you enjoy. The DIY Network's Tiny Luxury is one of the newest shows about tiny houses and is here to show you just how lavish life can be in a very small space. During each episode, husband and wife home building duo, Tyson and Michelle Spiess, will build a tiny home from start to finish. This allows viewers to see the process and the final product. Many viewers will find themselves in awe at some of the things that are possible in these very small spaces.
2. Tiny House World
Some people may think that the recent tiny house craze is only an American thing, but that isn't the case at all. Tiny House World puts an interesting spin on the typical tiny house show because it takes viewers all over the world. Viewers will get to see tiny houses in other countries as camera follow home buyers who are looking to downsize. The show offers an interesting perspective on how the tiny house market and tiny house design varies from place to play. If you're looking to learn about tiny houses and travel the world all while sitting on your couch, this could be the perfect show for you. Full episodes of Tiny House World can be seen for free on FYI.
3. Tiny House Nation
Similar to Tiny House World, Tiny House Nation also involves traveling, however, the show focuses on different places within the United States. According to the show's description "hosts, John Weisbarth and Zack Giffin, travel across America to show off ingenious small spaces and the inventive people who live in them, as well as help new families design and construct their own mini-dream home in a space no larger than 500 square feet." Although 500 square feet may not sound like much space, viewers will be surprised to know just how much can be done in that space. Even if you don't live in a tiny house, you may get some ideas on how you could better organize some of the smaller spaces in your home.
4. Tiny House Expedition
Tiny House Expedition is unique because it's not backed by a major network. The show is actually exclusive to YouTube, but it's gotten a huge following. Since 2014, the channel has gotten more than 26 million total views and the numbers just keep growing. While it doesn't have traditional episodes the way other shows do, Tiny House Expedition provides lots of entertaining and educational content about tiny homes. This channel is a great resource for people who are really thinking about making the move to live in a tiny house.
While other shows focus on the fun and aesthetically pleasing aspects, Tiny House Expedition also digs into the practical aspect. Viewers can get information on different regulations about tiny houses and other things that will be useful when starting your own journey. Even if you don't have any interest in living in a tiny house, but simply want to learn more about them, Tiny House Expedition will provide you with some great content.
5. Tiny House Hunters
As you may have been able to guess by the name, Tiny House Hunters is a show that focuses on people who are looking to purchase tiny homes in a format similar to the original House Hunters show. All the homes featured on the show are 600 square feet or less. One of the cool things about Tiny House Hunters is that it allows viewers to get an idea for the endless possibilities that tiny houses offer and about how much people can expect to spend. Unfortunately, Tiny House Hunters hasn't had any new episodes since 2017, but it's still a great show to check out if you're interested in learning more about the tiny house buying process.