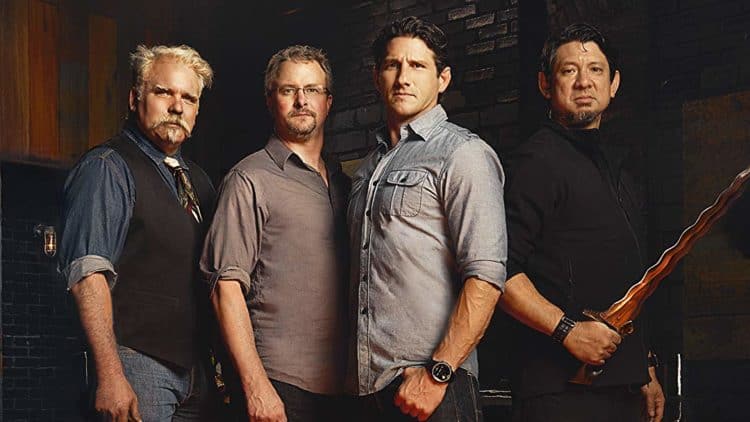 Forged in Fire may be a reality TV series, but it's in a very different league to most. Instead of turning the camera on a gang of talentless 20-somethings desperate for a career in showbiz (as has been the want of most reality TV shows since the genre was invented), Forged in Fire provides a showcase for the skills and talents of some of the world's finest craftsmen. Created and hosted by Wil Willis, the show is a heady combination of excitement, education, and artistry, detailing the rich history of the bladesmiths tradition while setting the stage for its best artisans to fight over the title of champion smith. Although a competition at heart, the camaraderie between contestants is a joy to watch, while their final creations are things of beauty. If you can't get enough of Forged in Fire, you're sure to love these top five shows.
FaceOff
Like Forged in Fire, FaceOff abandoned the traditional, drama heavy side of reality TV shows to concentrate on the skills of the contestants instead. The show, which sadly ended in August 2018 after 13 seasons, pitted a group of prosthetic makeup artists against each other to see who could create the best prostheses. In season one, the eventual winner left with US$100,000 and a year's supply of makeup from Alcone. In season two, the grand prize changed to US$25,000 of makeup, $10,000 and a Toyota Camry Hybrid; by season three, this had upped to a Toyota Prius v, US$25,000 of Alcone makeup and US$100,000 cash prize, along with the chance to be a guest lecturer at the "Make up for Ever Academy" in New York and Paris. Season 4 offered the same, but with the 2013 Fiat 500 replacing the Prius V. Actress McKenzie Westmore served as host, while the contestant's creations where critiqued by a lineup of professional special effects makeup artists including television and film makeup artist Glenn Hetrick, Academy Award-winning makeup artist Ve Neill, creature designer, and director Patrick Tatopoulos, and creature and concept designer Neville Page. Over the course of its 7-year run, it also welcomed a range of guest judges and "famous faces" from the industry, including Brian Grazer, Kevin Smith, Paul W. S. Anderson, Greg Nicotero, Rick Baker, Doug Jones, Len Wiseman, Gale Anne Hurd, and Marcus Nispel. Superbly entertaining and engaging, the show is a must-watch for anyone looking to enjoy some seriously creative people showcase their amazing skills.
The Great Pottery Throw Down
Sure, it's not got the knives and blades of Forged in Fire, but for viewers who like to watch master craftsmen showcase their art, The Great Pottery Throw Down is a treat and a half. Modeled after the likes of the Great British Bake Off and The Great British Sewing Bee, The Great Pottery Throw Down sees potters compete through a series of challenges to see who will be defeated, and who will survive elimination to be named the champion. As they go about their work, we witness the same mixture of joy, satisfaction, frustration, and heartbreak that we see on Forged in Fire, making it clear the contestants are there to prove their talents, rather than forge a new career in showbiz. Despite being canceled by the BBC in 2018, the show will return for a 3rd season on Chanel Four in 2020, with Melanie Sykes stepping in to replace Sara Cox as host.
Deadliest Warrior
If you tune into Forged in Fire for the weapons, the excitement, and the great retelling of history, you'll love Deadliest Warrior. The show, which ran for three seasons between April 2009 and September 2011, offers a thrilling blend of excitement, history, and weapons. Each episode begins by introducing two types of historical or modern-day warriors: over the course of the episode, we discover more about the history, culture and fighting philosophies of the depicted warriors, as well as learning about the weapons they preferred (and witnessing practical demonstrations of their use). Using various tests, a team of experts pits the weapons of each opposing warrior against the others, with their effectiveness then determining which warrior is the "deadliest". Entertaining, educational and engaging, Deadliest Warrior is a guaranteed winner with fans of Forged in Fire.
Junkyard Challenge/ Junkyard Wars
Like Forged in Fire, Junkyard Challenge (known as Junkyard Wars in the US) revolved around the premise of pitting contestants (albeit in teams rather than as individuals) against each other in a series of challenges. Each week, two rival teams would be tasked with creating a machine using only those items found in a scrapyard. Granted, the "scrapyard' was unusually well-stocked, but watching the teams struggle to create an inspired piece of kit out of what was essentially garbage (and in less than a day to boot), made for inspired viewing. The series ran for 11 seasons in the UK, before being exported to the US for a further 5, Emmy award-winning seasons in 2001.
Skin Wars
It may be less 'masculine' than Forged in Fire, but Skin Wars is no less entertaining. Each hour-long episode sees body painters from around the country compete for the chance to win a $10,000 cash prize and the honor of being named champion body painter. Hosted by actress Rebecca Romijn and featuring a line up of judges that include Craig Tracy, drag queen RuPaul Charles, and multi-disciplinary, contemporary artist Robin Slonina, the series unquestionably has a more lighthearted vibe than Forged in Fire, but the contestants are no less serious about their art, or less talented…and if you're in any doubt as to how challenging body art can really be, just you try creating a work of art on a moving canvas. By the time each season reaches its finale, the creations of the finalists are enough to take your breath away. While its third and final season broadcast back in 2016, all seasons are now available on Netflix, giving you the perfect opportunity for some serious binge-watching.RuPaul Charles
Tell us what's wrong with this post? How could we improve it? :)
Let us improve this post!