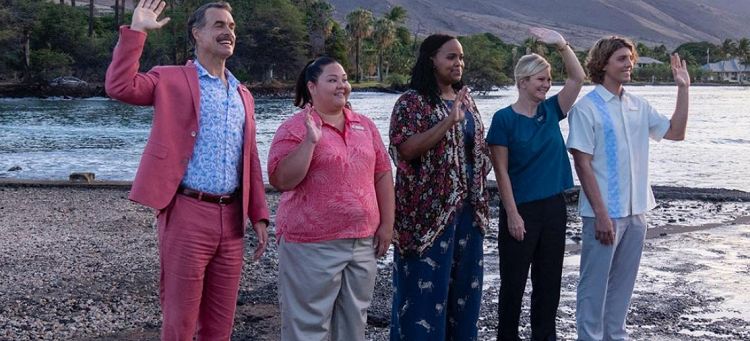 "The White Lotus" is currently the #1 show among all the series on HBO Max this season, so it's no surprise it was recently announced there will be a Season Two of the show. The first season was set at an upscale Hawaiian resort, and followed the guests and employees over the course of one week. According to the official description, "As darker dynamics emerge with each passing day, this biting six-episode series gradually reveals the complex truths of the seemingly picture-perfect travelers, cheerful hotel employees, and idyllic locale itself.​"
The show is a social satire that was created, written, and directed by Mike White, of HBO's "Enlightened." It focuses on the very big differences between those with the money to stay at this exclusive resort – what they believe they're entitled to, how they treat others, and what they expect from their vacation – and the employees who work at the resort. It's an upstairs-downstairs show like Downton Abbey, but much darker and at the same time, wickedly funny. You also find out pretty quickly that the week ends with someone dying. Who died, how, and how things got to that point is the focus of the rest of the season.
It's been described as nice and soapy, but with a serious and sincere heart. It definitely prods at a lot of social issues and puts characters (and maybe the audience) in uncomfortable situations where they must ask hard questions of themselves. So, what's in store for Season Two?
1. A New Location
We don't know where Season Two will be set, but HBO said the show will leave Hawaii "and follows a different group of vacationers as they jet to another White Lotus property and settle in temporarily amongst its inhabitants." White has said in the past that he wanted to do more than one season and wanted to set each one at a different resort around the world. It certainly opens the door to more cultural and class conflict among characters, which is a fascinating, driving element of the show. White has tossed out a few location ideas in past interviews also, telling Entertainment Weekly, "We would go somewhere different because there's no way we could be able to afford the Four Seasons in Maui. So, yeah, it would have to be The White Lotus: Kyoto or something. Which would be fun too, because we could get into culture clash ideas and stuff like that." Then again, he also told TVLine, "We have had discussions, but it remains unresolved. It would… be a different hotel, like, say, The White Lotus: San Tropez or something."
2. A New Cast
Since the new season is following a new group of vacationers, they will obviously be played by an all-new cast as well. Season One stars Murray Bartlett, Connie Britton, Jennifer Coolidge, Sydney Sweeney, and more. Additional cast members include Steve Zahn, Lukas Gage, and Molly Shannon. So far, there has been no information about who the new cast will include. White did say that perhaps some of the characters in Season One would be come back to play the same characters, but nothing definite has been announced yet.
3. A New Set Of Problems
Season One delved into a lot of issues, many of them a result of the stark difference in the social class of the characters. Wealthy vacationers who feel entitled to have their every whim accommodated and the people who must accommodate them definitely leads to some tense situations. Some of the wealthy visitors go beyond simply demanding the hotel's amenities, though. Jennifer Coolidge is getting great reviews for her turn as a depressed woman who comes to the island to scatter her mother's ashes, but develops an emotionally one-sided relationship with the spa manager who doesn't have the option to bow out.
4. New Awkward Situations
Fred Hechinger plays the son of a married couple in Season One who is obsessed with his phone. HBO describes him as "Mark and Nicole's son, Quinn is a socially awkward gamer who experiences the wonder of nature for the very first time." In interviews, Hechinger has talked about his role in "The White Lotus," and about White's ability to bring out awkward, awful things…and then keep pushing.
"Mike [White] is this incredible combination as a writer and as a director on set, which is that he's sort of unflinching in terms of the cringe of it. He will twist the knife to the furthest degree. He's ready to see—most people would cut there, but what happens after? And what happens after that? And what happens after that? Because in life we do not have the convenience of edits, you know? So, often I'm in the middle of an interaction, I'm just like, 'Oh no, what did I do?' And you can't go to the next scene."
"You have to stay in it and endure whatever is happening, or however you've made this person uncomfortable or you feel uncomfortable or whatever it is. And I just think he's really unflinching with the cringe of it, but he has a lot of compassion for the characters and so I think that yields a certain empathy as a director to also see the story through their eyes."
5. A New Chance To Shine
Season One of "The White Lotus" is, as we mentioned, the number one new show on HBO Max. It's also been growing week-over-week for the entire show, which is always the goal of course, but doesn't necessarily happen. Will Season Two be just as compelling as Season One?
We certainly hope so.