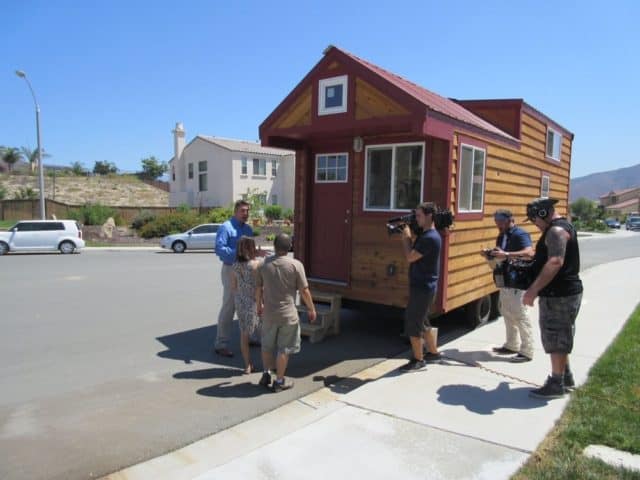 Before the housing market burst in 2008, just about everyone was buying a home. Houses (or McMansions) were being built on a grand scale, with walk-in closets the size of a child's bedroom. Property buying shows featured yuppie couples who would never settle for less than five bedrooms and twelve-foot ceilings. Every member of the household had to have their own bathroom and crown molding was a must. Then due to the economy crash, people were rethinking the concept of "home". Perhaps less really was more? One show that features this trend is HGTV's Tiny House Hunters. The show is entertaining and informative.
Here are a new real estate lessons you can learn from this show.
5. Portable is Cool
One of the couples featured on Tiny House Hunters live in Cocoa, Florida, a town that has had its share of hurricanes and tropical storms. What better way to evacuate than just tow your home out of the approaching weather system? You can keep yourself and your home safe at the same time by just rolling out of danger.
4. Cash Not Credit is King
As the prices are so low, it's feasible to just pay for the home outright. No interest rates to worry about, no hoping for approval. The downside is that many banks will make loans on tiny homes as they are considered mobile homes. In many cases, these home are bought by families who have sold a larger home and will be investing the proceeds into their new tiny abode. Unlike the former real estate show where people shop with a figure on paper, it's the cash in the pocket that counts.
3. Land Not Included
The cheap price of these tiny houses almost makes the viewer forget that that land is not included. So, compare a $35,000 tiny house on its own to a $75,000 fixer upper on a quarter acre of land and you see the difference in what you get for the money. So, you buy the house but the question is where to put it. The show makes this fact crystal clear. Thank goodness some contestants on the show can rely on mom and dad to have a plot of land where they can set up their tiny home. There are new tiny home communities springing up, just like mobile home parks, only trendier.
2. Don't Get Hung Up On The Little Things
Often, these tiny homes, like regular houses, can be remodeled or even built to specifications. Things like colors, and pull out furniture can be modified. Some things, however, cannot be changed. If you really can't live with your kitchen sink over your toilet, it's best to look at another model. As usual on the show, couples spar over rugged industrial vs. fairy tale cottage home plans.
1. Price Fluctuations
It's not where the tiny house will sit that matters, it's where it's sold. On the west coast, the same style tiny house can go for more money than if you shop in the midwest. The style you crave also still matters, no matter the size– if you want something out of this world like a designer yurt or homey adobe, you will pay more for a custom home than a little cottage on wheels.