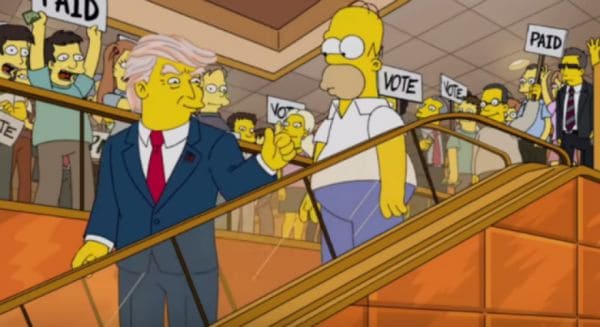 To be fair The Simpsons have predicted a lot of things that might happen in the future so it's kind of easy to say that eventually they would get a few of them right. Speaking in probabilities the more times you throw an idea in the metaphysical pool the more likely it is that one will eventually take hold and come true. A few of these are just a little eerie though, especially number 1. A few of them seem like they might have been issues that finally came to light that weren't really noticed right away while a few others might have been practices for ages that just now got noticed. But then there's at least one that seems like it might have been almost prophetic in its appearance.
Fate does seem to have a weird sense of humor.
5. Horse meat
During an episode in which Principle Skinner angers the superintendent, I know pick an episode, it's revealed that the lunch lady likes to prepare the lunches with pieces of horse taken out of a giant can. About nine years later it was found out that certain companies in France, Sweden, and the UK were using horse parts in their frozen burger patties.
4. The baby translator
When Homer's long lost and forgotten brother Herb, played by Danny DeVito, creates and invention that allows people to understand what their babies are saying he makes his fortune all over again. In 2015 a machine was created to allow parents to understand their infants' needs when it comes to their diapers and when they need to be changed.
3. Murdering snakes
Whacking day was a pastime in Springfield that allowed the residents to whack live snakes as a part of their heritage on a certain day. In 2013 and 2016 Florida hosted the Florida Python Challenge in order to let people start clubbing Burmese pythons that had invaded the Everglades and were in danger of taking over in great numbers. It was just about as barbaric but in some ways necessary.
2. Siegfried and Roy tiger attack
The show didn't use the exact names of the famed animal trainers but the act was pretty much the same. The mauling on the show however took place in 1993, but the real mauling of Roy Horn by one of the pair's performing felines took place a decade later and left him with partial paralysis after the savage attack severed an artery. That's just spooky.
1. Donald Trump in office.
This one is disturbing for it's implications alone since the episode in which this took place took the Simpsons to an alternate reality in which Donald Trump was the POTUS. He didn't have orange skin at that point and was still fairly respected in some circles but seeing it now versus then it's still somewhat creepy that the Simpsons would run such a program and 17 years later it would be the truth. So is that the problem? Are we living in an alternate reality after taking a wrong turn somewhere?
I'm sure a lot of people would like to think so.