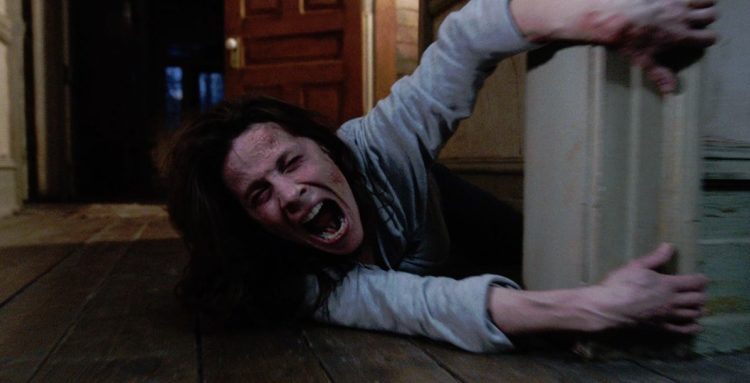 Horror cliches have been overused for so many years now that people come to expect them within every last horror movie that they watch. Those that pull away from these cliches tend to be ostracized simply because people can't cope without seeing the same thing happen over and over again. There's a bunch of them, but I'll only be focusing on some of the most important those that are seen in just about every horror movie ever made to some extent. Chances are you'll recognize most if not all of them and could possibly agree that they are used extensively and to such a degree that you can almost predict when they're going to happen. Yet for all that we continue to watch horror movies because we love the adrenaline rush and the escape into the dark, dangerous unknown that lurks just beyond the shadows.
Here are just a few of the most overused cliches in horror movies. Honestly, there's a lot of them.
5. Women will always fall down when they're running.
Feel free to laugh at any of these because you know they're true. There could be a flat, level, dry, easygoing terrain that stretched for miles in front of the female victim or protagonist in a horror movie and she's still going to trip. Now tripping over something in the woods while running through it on a dark night or slipping in the entrails of your murdered boyfriend or friend or a random stranger might be one thing, but no matter what women don't seem to look down that much at where they're running. Guys seem to just stand their ground and get chopped to pieces or killed in some other grisly way, but women seem to have exert some energy on the way out, or on their way to an escape. Maybe that balances it out since women on the average seem to be smarter than men in horror movies. They're trying to get away, but the cliche just HAS to trip them up.
4. Adults are no help at all.
I think Will Smith said it best when he coined the phrase "Parents just don't understand". If you expand that to "Adults don't get it" then you'd arrive at this horror cliche. Adults seem to feel the need to doubt, to reason, and to try and explain things in horror movies so often that you have to wonder if common sense is even a prerequisite for being an adult in a horror movie. Take this scene for instance, instead of running like the devil's on his tail along with his students, this professor seems to want to remind Jason just how valuable he is. Seriously? Whack the guy with the machete and run guy. Your student's had the right idea, JUST RUN.
3. Sex is a very bad idea.
It's probably disappointing to not see a clip here but hey, we're not the kind of site. But you can easily imagine a lot of sex scenes in movies, right? And how did most of them turn out? Not good? Sex is a huge release when you're feeling stressed, scared, or otherwise uneasy, but if you're already feeling that way then getting your freak on should probably be the last thing on your mind. Unfortunately in horror films this is one of the classic setups since it leaves the unwitting partners completely vulnerable and not at all ready for the serious buzzkill that comes when a pitchfork or a machete bursts through your partner's body. Yeah, that'd kill the vibe pretty quick.
2. There's an order to who's going to die.
Final Destination finally put an exclamation point on it as far as who was going to die next, but this formula has been in play for a long time now. Usually the most annoying people will die first or close to last, it all depends on just how annoying they are and how important they are to the plot. But you can rest assured that there is a definite order in which people are going to die in a horror movie. Some just spell it out for you in order to get you through the ghastly scenes that are about to happen.
1. People are simply too stupid.
The one thing that you can count on in any horror movie, more than anything, is that people are going to do and say stupid things. Oh what's that? Is it something that looks like it could be a problem or possibly lead to a dangerous set of events? Cool let's mess with it! That seems to be the premise of a lot of horror movies. That, or the belief that when weird things start happening that there's no need to panic or run about like frightened little sheep. People don't think in horror movies, that's just a not a part of the film that people want to see. And when it does happen it tends to lessen the role of the antagonist quite a bit.
Cliches are kept in horror movies for a reason, we might feel lost without them. Honestly thought that sounds like a much more interesting journey.