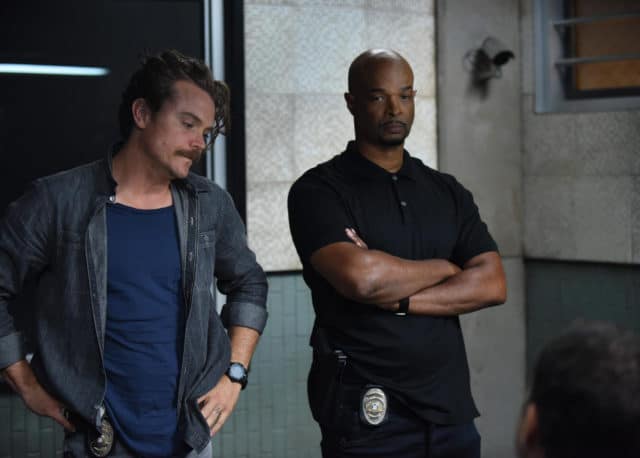 Lethal Weapon is a highly-rated buddy cop show from Fox. It premiered in 2016, and was recently renewed for a second season that started in September of last year. The show is based on a film series of the same name and a similar plot. Lethal Weapon follows the exploits of two Los Angeles Police Department officers, Roger Murtaugh and Martin Riggs. The leading roles are taken up by Damon Wayans and Clayne Crawford, respectively. The show has received mixed-positive reviews, with many critics panning the tired formula. However, the charisma and chemistry of the leading actors more than makes up for the mediocre writing.
When you're watching a show like Lethal Weapon, it is useful to get back to the roots of the police genre. Whether you are after a comedy show, or something a little more serious, there are a few old shows out there that you'll probably like if you like Lethal Weapon. So, without further ado, let's go over five of these old police shows.
Sledge Hammer!
Sledge Hammer! is a satire that was produced by New World Television. It made it two seasons on ABC, airing from 1986 to 1988. The show stars David Rasche as Inspector Sledge Hammer — an absurd caricature of the "loose-cannon" stereotype. Everything he does is completely over the top, to the point of absurdity. He's also quite chauvinistic, obnoxious, and crass — and always manages to find himself in all sorts of predicaments.
Sledge is partnered with Dori Doreau, an intelligent and sophisticated woman who is tough, agile, and a great shot. She always finds herself saving Hammer from the various situations he winds up in. Sledge Hammer! had some pretty great reviews from critics, but suffered from low ratings. It eventually died off due to this — a great loss for buddy-cop enthusiasts everywhere.
Miami Vice
This show is a bit more serious. Miami Vice was a buddy-cop show set in… well, Miami. It ran for five seasons on NBC from 1984 to 1989. The show starred Don Johnson and Philip Michael Thomas as Sonny and Rico, two undercover detectives working at the Metro-Dade Police Department. This show drew heavily on New Wave culture and music, and made use of a distinctive Art Deco style in its presentation and transitions. This helped the show to stand out. In addition, the show epitomized (and even invented some of) 80's culture. Miami Vice was incredibly popular — and it may even be getting a reboot from Vin Diesel and Chris Morgan, sometime during 2018 or 2019 on NBC.
21 Jump Street
You may have heard of 21 Jump Street if you watched the 2012 reboot of the old show. The original was a police procedural that aired from 1987 to 1991 on Fox, with a total of 103 episodes. 21 Jump Street focuses on the endeavors of youthful cops that investigated high schools and colleges for crime related to various hot-button issues. The show would always include some sort of moral message as well. 21 Jump Street helped to spark Johnny Depp's career. It was also a huge hit, with incredibly high ratings. Of course, it also inspired the 2012 reboot and the 2014 sequel, 22 Jump Street. The original show is definitely worth checking out — it's an awesome experience to see how these things began.
Police Squad!
This cult classic was a spoof of police procedurals. It starred Leslie Nielsen, and was quite comedic. It made extensive use of sight gags, non-sequiturs, and a little wordplay. It is most famous for the deliberately anachronistic 'In Color' subtitle on the main credits. Another famous formula used was the end-of-the-show "freeze frame". In reality, the actors were merely standing still while other things went on around them (a convict escaping, for example). The show only ran for six episodes. However, it spawned The Naked Gun series, so it lives on in some respect. Either way, you should definitely check out the original Police Squad! It is a wonderful spoof, and a great look at where the comedy interpretations of these types of shows began.
Get Smart
This show isn't really a cop show, but it is in the same vein. Get Smart is a comedy television series that satirizes the secret agent genre of films and shows. It premiered in 1965, and ran for 5 seasons until it was cancelled in 1970. The show even generated some phrases that have made their way into the common vernacular — such as "the old ______ trick" (fill in the blank with whatever fits the situation). The show has been given a lot of recognition, including being considered a notable show "for broadening the parameters for comedic television" (according to the Museum of Broadcast Communications). Get Smart also inspired several films, season revivals, and spin-offs.