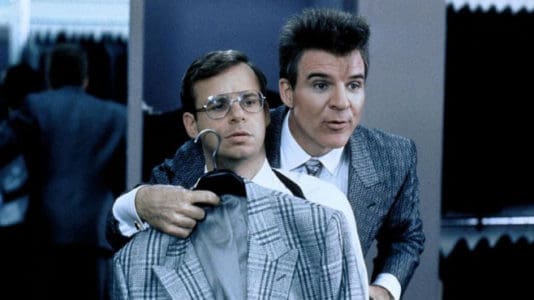 Steve Martin is undoubtedly one of the most legendary actors still around and despite the fact that he doesn't do nearly as much as he used to, in terms of movies, he's still one of the many individuals that people love to talk about since he's been funny and dramatic throughout his entire career. It's kind of hard to say which is more effective since he can intermingle the two with such skill that a person might be laughing and then ready to cry or empathize with his character in the next second. Some of the comedy that he's done has been a little low-brow but it's been hilarious all the same since his timing and delivery are near perfect and he's worked with some of the funniest people in the business. Thinking that anyone could forget him in anything is kind of difficult, but there have been movies that he's been in that might have slipped past a few people simply because they weren't considered to be funny enough or didn't perform well at the box office for one reason or another. It's never been a lack on his part since Martin has managed to shine in everything he's done to some extent. But there are times when people might forget, and it's usually because they forget the movie itself.
Here are a few movies you might have forgotten seeing Steve Martin in.
5. And the Band Played On
This movie was likely one of those that Martin didn't get a lot of credit for since he had a smaller part and the overlying subject was so dire that trying to focus on anyone, in particular, that wasn't front and center with every other scene was next to impossible. The AIDS epidemic that started to spread decades ago was a terrifying time for a lot of people since a lot of folks didn't know what it was, and as such, it spread fear far and wide, particularly of gay men. One might not want to believe that anything in the movie is accurate, but the fear and paranoia were a little too real since this is how people act in the face of such medical horrors.
4. The Big Year
If you didn't think that bird watching was a serious hobby this movie will definitely disabuse you of that notion. Three men that know of each other and their shared love for birding pits them against each other so that they can have a Big Year. What this means is that they're attempting to sight over 700 species of birds, and while two of them end up having their Big Year and still holding on to something else in life, the third loses his wife in the process and is left alone by the end of the movie, wistfully looking at couples as he wonders what could have been. It's kind of silly, but worth a watch.
3. My Blue Heaven
Who would have thought that Steve Martin could play a gangster so well? Okay, so he's over the top with the act, but that's kind of the point since it's a goofy movie with Rick Moranis and Joan Cusack and it's a lot of fun. When Vinnie, played by Martin, has to move to a small suburban town thanks to Witness Protection, he finds that it's not exactly to his liking. Between being bailed out of trouble by the FBI and finding new ways to scheme with a bunch of his former mafia buddies, who he thought were dead, Vinnie ends up settling into the 'burbs quite nicely, but it's not quite as easy at it sounds.
2. The Prince of Egypt
Let's just put it out there, the Pharoah's priests were jerks. But between Steve Martin and Martin Short, there was a lot of material that was unloaded and it was pretty good considering that it was important, but not a main part of the movie. Their ability to match Moses', who was played by Val Kilmer, supposedly magical tricks with their own is quite nice, and their singing was pretty good. As one can imagine, being that this was based on the story of Moses, once the ten plagues arrived the two priests were kind of out of options after a while as they found that they couldn't counter God's wrath.
1. Little Shop of Horrors
This is a stretch to be certain but it's not hard to think that people forgot that Martin was in this remake since Audrey II and Rick Moranis dominated the show quite a bit, and Bill Murray did his part as well. But the dentist, oh the dentist, if anyone forgot this guy then they need to give this movie another watch since his part was one of the best in the movie since he was an unrepentant jerk and even better, he was one of Audrey II's victims.
A good Steve Martin fix is always good for the soul, and the laughs.