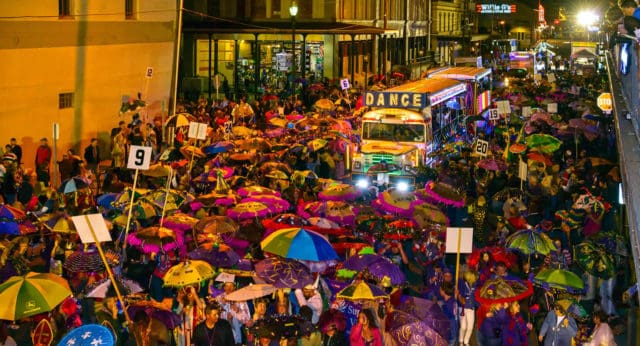 New Orleans, The Big Easy, is definitely a town that likes to party. There is such a rich historical culture within its streets as well however that thousands of people will travel thousands of miles to experience it. The city is a melting pot of French, African, and American cultural influences that collide to create a harmonious setting that has an around the clock nightlife and a tantalizingly good local cuisine. Movies and TV shows alike have done their best to embrace the steady and enticing culture of New Orleans and for the most part a lot of them have been successful.
Here are a few movies that go into good to great detail when speaking of New Orleans and its culture.
5. The Skeleton Key
However dark, however suspect, all legends and myths are a part of a place no matter if they are wanted or not. In the modern day there aren't a lot of people that still believe in the inherent magic or power of hoodoo, but the practice is still very much alive. Unlike it's seen in the movie however hoodoo is not inherently evil. It is all about balance and in many ways mirrors Christianity as it holds onto a good number of the same beliefs. The only issue with hoodoo really is a lack of understanding by those that see it as witchcraft.
4. The Princess and The Frog
This popular Disney cartoon shows the more industrious side of New Orleans as you see that it's a city that never really stops and keeps an around the clock presence as its people come and go. Tiana is a fair example of the average person that has a solid dream in mind but will work like a dog to get it. That kind of spirit is a part of what makes New Orleans great.
3. Double Jeopardy
After being falsely convicted and left to rot in prison for years Libby finally finds out that the man she supposedly killed, her husband, is in New Orleans under an assumed name. Upon finding him and demanding to see her son she is lured to an amazingly beautiful cemetery where she must play a hide and seek game with the boy that she is guessing is her son.
2. Runaway Jury
Aside from being a party town and also being a lot of fun, New Orleans is still a people place. It runs just the same as any other city and its culture is just as diverse. This is shown in the gathering of the jurors for a case against a gun company that is being held liable for the actions of an individual that illegally purchased one of their firearms. While the main characters don't hail from New Orleans, they've very much made it their home as they slip into the culture with ease.
1. Candyman: Farewell to The Flesh
It's kind of surprising to see Candyman in New Orleans, largely because the first movie was set in the Cabrini-Green complex in Chicago, IL. It doesn't matter that much however as the stage is set in the Big Easy for an epic showdown between the hook-handed specter and a woman that won't be easily intimidated as she sets her sights on ridding the world of the Candyman for good.
New Orleans is one of those places that is fun to visit and looks like a fun place to live as well.
Honorable Mention to Interview with a Vampire and The Big Easy
Save