The 2021 drama film The Forgiven, written and directed by John Michael McDonagh, had its theatrical release on the first of July. It is based on the 2012 novel of the same name by Lawrence Osborne. The film stars Ralph Fiennes, Jessica Chastain, Matt Smith, Ismael Kanater, Caleb Landry Jones, Abbey Lee, Mourad Zaoui, Marie-Josée Croze, Alex Jennings, Saïd Taghmaoui, and Christopher Abbott.The film follows the lives of the wealthy couple as they deal with the fallout from accidentally hitting and killing a local boy While the husband is focused on avoiding any legal penalties, his wife becomes obsessed with finding out more about the victim and seeking some sort of closure. As she delves deeper into his life, she begins to see him as a real person, rather than just a faceless victim. Meanwhile, her husband's efforts to cover up the accident gradually drive a wedge between them. Ultimately, The Forgiven is a film about grief, loss, and guilt, and how they can affect our relationships.
The Wrap wrote about the movie, "McDonagh has the right people to find nuance in roles that could feel caricatured: Fiennes and Chastain could locate the humanity in a stone but could also leave us feeling ambivalent about a saint, and they manage to find rich nuance in sly insults, in screaming fits and in everything in between."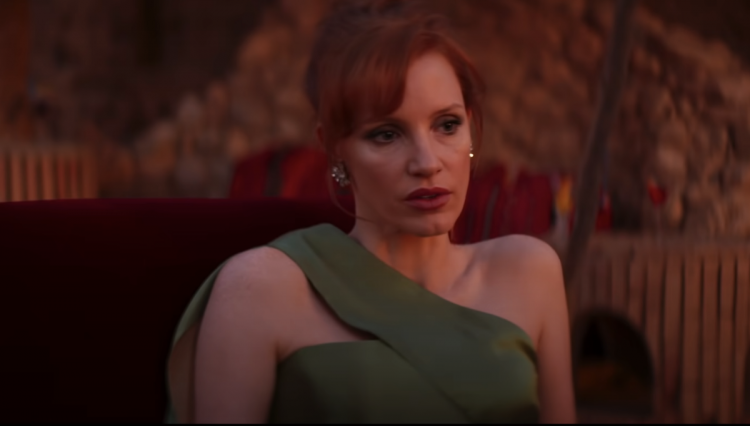 If you were drawn to the plot and themes of The Forgiven, here are five movies that involve moralistic elements, class, and wealth.
Parasite
&ab_channel=IGN
A film that also tackles themes about social classes is the 2019 South Korean black comedy thriller film Parasite directed by Bong Joon-ho, who co-wrote the screenplay with Han Jin-won and co-produced the film. The film, starring Song Kang-ho, Lee Sun-kyun, Cho Yeo-jeong, Choi Woo-shik, Park So-dam, Jang Hye-jin, Park Myung-hoon, and Lee Jung-eun, follows a poor family who schemes to become employed by a wealthy family and infiltrate their household by posing as unrelated, highly qualified individuals. The film explores social inequality in South Korea and has been acclaimed for its direction, screenwriting, acting, cinematography, production design, and themes. Parasite won four awards at the 92nd Academy Awards: Best Picture, Best Director, Best Original Screenplay, and Best International Feature Film, becoming the first non-English language film to win the Academy Award for Best Picture
The Guardian published a five-star review of Parasite and praised several aspects of the film including its direction, performances, and screenplay saying, "Thrillingly played by a flawless ensemble cast who hit every note and harmonic resonance of Bong and co-writer Han Jin-won's multitonal script, it's a tragicomic masterclass that will get under your skin and eat away at your cinematic soul."
The Guilty
The Guilty is a 2021 American crime thriller film directed and produced by Antoine Fuqua, from a screenplay by Nic Pizzolatto. A remake of the 2018 Danish film of the same name, the film stars Jake Gyllenhaal and Christina Vidal, with the voices of Ethan Hawke, Riley Keough, Eli Goree, Da'Vine Joy Randolph, Paul Dano, and Peter Sarsgaard. The film follows a demoted police officer who is assigned to 911 operator duties and receives an emergency phone call from an abducted woman. He finds a way to track the woman and save her as he also struggles to deal with his personal issues.
In a review by Empire, they praised Gyllenhaal's lead performance saying, " He fully commits to Baylor's short-tempered nature from the outset, but there is an undercurrent of desperation that grows as we learn more about his personal situation and Emily's case. As those two narratives converge, so too does Gyllenhaal raise his game, and it's rarely less than gripping to watch."
The Dig
The Dig is a 2018 Irish drama film directed by Andy Tohill and Ryan Tohill from a screenplay by Stuart Drennan. The film was screened at the Toronto International Film Festival and was produced by Brian J Falconer. It follows a convicted murderer Ronan Callahan, played by Moe Dunford who is released from prison with no memory of his crime. After seeing his victim's father, Sean McKenna, played by Lorcan Cranitch, digging on his land, he is forced to help the victim's father, dig for the body. The Dig is a slow-burn film that will keep you on the edge of your seat until the very end.
Despite some plot holes, The Guardian gave particular praise to the performances and wrote, "Yet it's seen through and kept honest by committed performers who don't mind getting their hands dirty: the bristling Dunford, haunted Cranitch and Francis Magee, as the old-school copper on everybody's backs, etch subtly varied models of bruised, bloodied, borderline-toxic maleness."
The Lost Daughter
The Lost Daughter is a 2021 psychological drama film written and directed by Maggie Gyllenhaal (in her feature directorial debut), inspired by the 2006 novel of the same name by Elena Ferrante. The film stars Olivia Colman, Dakota Johnson, Jessie Buckley, Paul Mescal, Dagmara Domińczyk, Jack Farthing, Oliver Jackson-Cohen, Peter Sarsgaard, and Ed Harris. Olivia Colman portrays the main character, Leda, who is struggling to come to terms with her past. While on vacation she becomes obsessed with a woman and her daughter which forces her to confront the troubles of her past. The Lost Daughter explores the complexities of motherhood, grief, and guilt. It is a slow-burning film that builds tension and unease until it reaches its climax.
Vulture published a review of the film and wrote, "The Lost Daughter is an incredible first film, an incredible film in general, but its finest quality may be how very adult it is in its perspective on its characters, as though understanding that empathy can require precision more than it does gentleness."
A Most Violent Year
A Most Violent Year is a 2014 American crime drama film written and directed by J. C. Chandor. The film stars Oscar Isaac and Jessica Chastain with Alessandro Nivola, David Oyelowo, Albert Brooks, and Catalina Sandino Moreno. The film is set in 1981 in New York, which was statistically the most violent year in the city's history. The film follows the story of Abel Morales (Oscar Isaac), the owner of a small heating-oil company who is trying to expand his business. As he deals with the cutthroat world of oil prices and competitors, his trucks start being hijacked. This leads to increased pressure for his drivers to arm themselves, setting off a chain of events that brings violence and danger into Abel's life. Despite the film's title, it is not primarily a violence-driven movie but rather a character study of Abel Morales as he tries to navigate the difficult choices in his life. For fans of crime dramas or movies set in New York City, A Most Violent Year is an excellent choice.
In a review by RogerEbert.com, they commended several aspects of the film, saying, "Chandor's film ultimately has its own vibe, though, which is no small feat considering the heavy legacy it bears. The look and performances carry it. There's outstanding use of New York locations, some cunningly staged moments of suspense and violence, and smart deployment of TV newscasts as a mostly unremarked-upon Greek chorus."