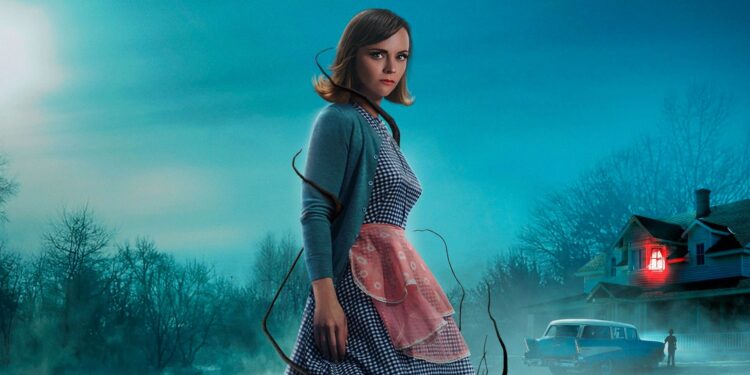 Monstrous is a 2022 American supernatural thriller film directed by Chris Sivertson and written by Carol Chrest and premiered in the FrightFest strand of the Glasgow Film Festival on March 12, 2022. The film stars Christina Ricci as Laura, a mother who moves with her seven-year-old son, Cody (played by Santino Barnard), to a remote home in California to flee from her abusive ex-husband. Still traumatized by her past experiences, Laura struggles to cope and her son believes a mysterious presence is lurking in the lake near their home. Monstrous is a suspenseful and chilling ride that will keep audiences on the edge of their seats. In a review by Deadline, they mentioned how the slow-burn film is worth watching and wrote, "Monstrous is one of those tricky films that plays a little slowly, but invites a second viewing after the pay-off. Nonetheless, it's a quietly thought provoking watch that will resonate with those who connect to its themes." The Wrap also wrote a review of the film with particular praise for Ricci's performance saying, "There's no denying that "Monstrous" is largely a good and clever story. Ricci has a flair for off-kilter performances and does not disappoint with Laura. Even as she presents an outward air that's calm, cool and collected, her eyes betray inner turmoil." Here are our five recommendations for movies to watch if you enjoyed Monstrous.
The Babadook
Just like Monstrous, the 2014 Australian psychological horror film The Babadook also centers on a mother and son relationship. The film is written and directed by Jennifer Kent in her directorial debut and stars Essie Davis as Amelia, a widowed mother who is struggling to cope with the death of her husband and the demonic entity that has taken up residence in her home. Noah Wiseman plays Samuel, Amelia's six-year-old son who is terrorized by the Babadook. The film also features Daniel Henshall, Hayley McElhinney, Barbara West, and Ben Winspear. The Babadook was released to critical acclaim and won several awards, including the AACTA Award for Best Film. The Guardian praised the film in tier review and wrote, "The Babadook is superbly acted. Davis really does look like a sensitive, loving person at the end of her tether, whose emotions have been turned upside down by lack of sleep, and pale, gaunt, goggle-eyed Noah Wiseman convincingly combines being frightened and frightening."
His House
Similar to Monstrous, the 2020 horror thriller film His House involves themes of trauma. It is written and directed by Remi Weekes from a story by Felicity Evans and Toby Venables and stars Wunmi Mosaku, Sope Dirisu and Matt Smith. The film follows a Sudanese refugee couple as they adjust to life in a new country, only to find that their home is haunted by dark spirits. His House is a haunting and atmospheric film that explores the dangers of repressing traumas, and the ways that they can come back to haunt us. In a review by The Rolling Stone, they gave particular praise to the screenplay and lead performances saying, "The screenplay, by Weekes, gets smarter as it rolls along. And the ghouls grow in fearsomeness as they grow in number. Yet for all the movie's flash-effects and clever conceits, actors Dìrísù and Mosaku are its finest element. Mosaku, in particular, has a face and an implacable affect — grief and fear disguised as resignation — that prove to be this movie's best special effect."
The Changeling
The Changeling is a 1980 Canadian supernatural psychological horror film directed by Peter Medak and starring George C. Scott, Trish Van Devere, and Melvyn Douglas. The film is based on the real-life events of John Russell, who moves into a supposedly haunted house in Denver, Colorado after his wife and daughter are killed in a car accident. While living in the house, Russell starts to experience strange phenomena, including mysterious noises and demonic apparitions. The Changeling is a masterfully crafted film that features some truly chilling moments. It is sure to leave viewers both disturbed and captivated. Paste Magazine described the film as rare and wrote, "The Changeling is that rarest of horror marvels: A ghost story that seasoned horror fans may actually find genuinely frightening at times. Part classical haunted house tale, part psychological horror and part detective mystery."
The Night House
Also set in a lakeside home, The Night House is a 2021 psychological horror film directed by David Bruckner and written by Ben Collins and Luke Piotrowski. The film stars Rebecca Hall as a widow who discovers a dark secret about the house her recently deceased architect husband built. Other cast members include Sarah Goldberg, Evan Jonigkeit, Stacy Martin, and Vondie Curtis-Hall. The film follows Beth (Hall), whose husband dies suddenly. Beth begins to experience strange occurrences in the house he designed and tries to uncover the truth about the house and its dark secrets. The Night House is a haunting and atmospheric film that will keep audiences on the edge of their seats. The Hollywood Reporter published a review of the film and wrote, "David Bruckner's supernatural horror about the mysteries she uncovers after her husband's suicide has stylish craftsmanship, good performances, a nerve-rattling soundscape and some of the most terrifyingly assaultive audio jump scares in recent memory."
A Monster Calls
The last one on our list may not be a horror or thriller film but shares similar themes about confronting difficult emotions and also features mother and son dynamics. A Monster Calls is a 2016 dark fantasy drama film directed by J. A. Bayona and written by Patrick Ness, based on his 2011 novel of the same name. The film stars Sigourney Weaver, Felicity Jones, Toby Kebbell, Lewis MacDougall, and Liam Neeson in the lead roles. It tells the story of a young boy named Conor O'Malley caring for his seriously ill mother as he also deals with bullying from his classmates. When a Monster appears to him in the form of a giant tree, Conor begins to understand the truth about life and death. A Monster Calls was very well-received by critics, who praised its visual effects and emotionally powerful story. Common Sense Media praised different aspects of the film in their review and wrote, "Author Ness penned this adaptation of his own novel, which is as poignant as his beautiful book and features brilliant performances by Jones, MacDougall, and Neeson. Director J.A. Bayona is no stranger to depicting intense mother-child dynamics. His 2012 historical drama The Impossible captured a mother and son's fraught post-tsunami journey."
Tell us what's wrong with this post? How could we improve it? :)
Let us improve this post!