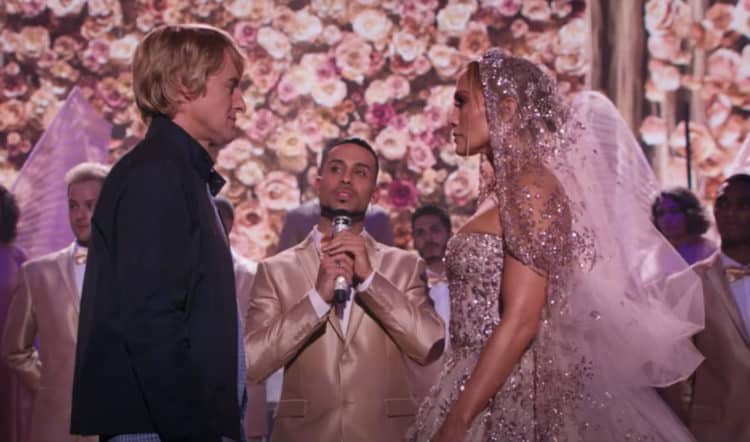 Let's get straight to the point: Marry Me is cheesy and corny, but it's also one of the most comforting movies we've seen this year. The movie stars two Hollywood powerhouses, Jennifer Lopez and Owen Wilson. Both of them are back in their element, starring in a rom-com that doesn't promise anything more than pop songs and cute romantic scenes. Kat Coiro directs Marry Me, who had recently worked Modern Family, Shameless, and It's Always Sunny In Philadelphia. The movie also features Colombian singer Maluma, John Bradley, Chloe Coleman, and comedy superstar Sarah Silverman. There's no shame in admitting that you enjoyed Marry Me. It's a nice movie that provides some comfort and familiarity, despite all of the rom-com cliche packed tightly in its one-and-a-half-hour run time. If you're looking for movies similar to Marry Me, here are our suggestions.
The Proposal
In Marry Me, a pop superstar makes an arrangement with a high school math teacher for a fake on-screen romance. The Proposal pretty much follows the same premise. The movie, which stars Ryan Reynolds and Sandra Bullock, follows an assistant, played by Reynolds, who's asked to marry his boss, portrayed by Bullock, so the latter won't get deported to Canada. Aside from Sandra Bullock and Ryan Reynolds, the movie also features Malin Akerman, Craig T. Nelson, Mary Steenburgen, and the late Betty White. The movie is directed by Anne Fletcher, who previously worked on Step Up, 27 Dresses, and Dumplin! While critics are split about their assessment of The Proposal, almost everyone can agree that it's an easy watch for anyone who's just looking for a lazy rom-com to watch in the background. Richard Propes of The Independent Critic wrote: "Despite borrowing virtually eery rom-com plot device, screenwriter Pete Chiarelli keeps the dialogue crisp and witty, while director Anne Fletcher ("27 Dresses") doesn't try to make "The Proposal" something it's not and ends up with a simple, easygoing and entertaining date flick for couples of all ages."
Maid in Manhattan
If you liked Marry Me, you will love Maid in Manhattan. It's the movie that solidified Jennifer Lopez's status as a rom-com queen. Maid in Manhattan stars Lopez, alongside Ralph Fiennes, Natasha Richardson, Stanley Tucci, and Bob Hoskins. The movie is directed by Wayne Wang. The plot of the movie is as follows: "The story of Marisa Ventura (Jennifer Lopez), a single mother born and bred in the boroughs of New York City, who works as a maid in a first-class Manhattan hotel. By a twist of fate and mistaken identity, Marisa meets Christopher Marshall (Ralph Fiennes), heir to a political dynasty, who believes that she is a guest at the hotel. Fate steps in and throws the pair together for a magical night of romance. When Marisa's true identity is revealed, the two find that they are worlds apart." While underappreciated during its time, Maid in Manhattan is finding newfound fans, 20 years since its premiere. "While it's not the most well-received movie ever, even for a rom-com which critics are usually forgiving of, Maid in Manhattan showed us the unlimited potentials of Jennifer Lopez and how exactly she can shine brighter in Hollywood. Maid in Manhattan isn't her best work — you'd be hard-pressed to think of one you can say is her best work, anyway — but it cemented Lopez's status as one of the most bankable stars in Hollywood," wrote a previous article by TV Overmind, covering the movie's two-decade anniversary.
Win A Date With Tad Hamilton!
Win A Date With Tad Hamilton! is a quintessential mid-2000s rom-com starring Kate Bosworth, Topher Grace, Josh Duhamel, Gary Cole, Ginnifer Goodwin, Sean Hayes, and Nathan Lane. The movie depicts the story of a small-town grocery employee who wins a date with a highly popular celebrity. The twist: the girl's best friend gets really jealous. A review by Behind the Lens wrote that the movie is a pleasant watch since it strikes a perfect balance with its storytelling. "A fluffy confection that's not too heavy, not too light, but instead has a perfectly sweet tone, Win A Date With Tad Hamilton is a perfectly charming way to start the year."
Something's Gotta Give
Another movie to watch if you enjoyed Marry Me is the 2003 movie Something's Gotta Give. Graced by veteran actors Jack Nicholson, Diane Keaton, Keanu Reeves, Frances McDormand, Amanda Peet, and Jon Favreau, this star-studded rom-com directed by Nancy Meyers depicts the story of a 60-something bachelor whose ladies game hasn't quite faded yet. He finds himself dating someone half his age, but then strikes a spark with her mom. Here's the plot of the movie: "When aging womanizer Harry Sanborn (Jack Nicholson) and his young girlfriend, Marin (Amanda Peet), arrive at her family's beach house in the Hamptons, they find that her mother, dramatist Erica Barry (Diane Keaton), also plans to stay for the weekend. Erica is scandalized by the relationship and Harry's sexist ways. But when Harry has a heart attack, and a doctor (Keanu Reeves) prescribes bed rest at the Barry home, he finds himself falling for Erica — who, for once, may be out of his league." A review by Observer praised the movie, writing: "Ms. Keaton projects her wondrously warm personality, and the erstwhile Jake Gittes keeps us entertained with a sense of irony that keeps things from getting too sticky."
Just Go With It
Say what you want about Adam Sandler's movies, but his natural charisma is enough for many to flock to theaters whenever he has a movie out. You can say that for Just Go With It, a movie that premiered in 2011 starring Sandler, Jennifer Aniston, Nicole Kidman, Nick Swardson, Brooklyn Decker, and Bailee Madison. The movie has a plot similar to Marry Me, but instead of the protagonist being a pop superstar dragging a high school teacher to be her pretend boyfriend, he's a plastic surgeon who enlists his assistant to pretend to be his soon-to-be-ex-wife. A review of the movie for The Dispatch, via Rotten Tomatoes, praised the entertaining chemistry between Jennifer Aniston and Adam Sandler, writing:  "Sandler's humor has always been hit or miss, but coupled with Aniston he hits more than he misses."