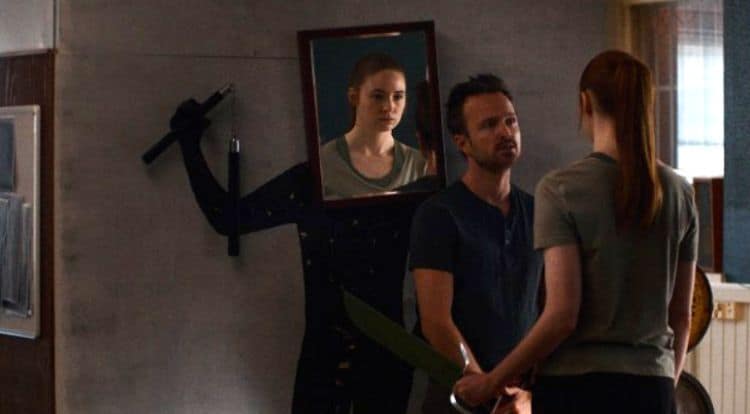 The satirical science thriller film Dual, written, directed, and produced by Riley Stearns, premiered last April 15. The film stars Karen Gillan, Beulah Koale, Theo James, and Aaron Paul. Set in the near future, it follows the story of a terminally ill woman named Sarah who opts for a cloning procedure to save her family from grief. Sarah however recovers and is left with only one choice which is to eliminate her clone in a deathmatch. The film has received relatively positive reviews so far. In a review published by New York Times, they praised Paul's performance in the film saying, "Aaron Paul, playing Sarah's solemn and supportive combat coach, offers by far the most effective performance among a cast devoted to deadpan enunciation and blank stares." Variety also reviewed the film and wrote, "Stearns keeps the surprises coming, as "Dual" skillfully operates on (at least) two levels: There's the superficial thriller plot, which points toward a knock-down, drag-out finale, and there's the more identity-centric subtext, which delivers a different kind of punch entirely." Dual was definitely entertaining to watch and if you're looking for similar movies to watch, here are five movies worth adding to your list.
Us
Just like the film Dual. the 2019 American horror film Us, written and directed by Jordan Peele, starring Lupita Nyong'o, Winston Duke, Elisabeth Moss, and Tim Heidecker, also involves a similar plot. The film follows Adelaide Wilson (Nyong'o) who returns to her hometown with her family. Their quiet stay in the town takes a dark turn when their home is invaded by their doppelgangers. In a review published by The New Yorker, they described the film as "a work of directorial virtuosity." They added, "Peele invests every moment, every twist, every diabolically conceived and gleefully invoked detail with graphic, psychological resonance and controlled tone, in performance and gesture." The Guardian praised Nyong'o's performance in the film saying, "The fiercely charismatic, mesmeric gaze of Lupita Nyong'o holds the movie together, and I have to say that without her presence, the movie's final spasm of anarchic weirdness might have lost its grip. She radiates a force-field of pure defiance."
Swan Song
The premise of Dual is very similar to the plot of the 20121 science fiction romantic drama film Swan Song written and directed by Benjamin Cleary and produced by Mahershala Ali, Rebecca Bourke, and Jonathan King. The film stars Ali, Naomie Harris, Awkwafina, Glenn Close, and Adam Beach. Just like Sarah in Dual, Swan Song's Cameron Turner is diagnosed with a terminal illness and has an option to be cloned to spare his family from grief. Both tackle the same themes about cloning, motivation, and grief but Swan Song digs deeper into the moral aspect of it. The film received generally positive reviews especially praise for Ali's performance in the film. Mahershala Ali earned several nominations including Outstanding Actor at the 22nd Black Reel Awards, Best Actor in a Leading Role at the 75th British Academy Film Awards, and Best Actor in a Motion Picture – Drama at the 79th Golden Globe Awards.
The Guardian commended Ali's performance in the film saying. "Ali is tremendous in a dual role that takes in everything from a beguiling meet-cute with his future wife (Naomie Harris) to a third act consumed by grief and doubt about whether he did the best thing for his family after all." Variety also praised the chemistry between the two lead actors and wrote, "Ali and Harris have impeccable chemistry, making us feel the profundity and stakes of their romantic relationship. Harris is dynamic, turning in work that's filled with depth and dimension. Ali's performance is full of pathos, nimbly negotiating the turns and nuanced facets of his dual role with skill, refinement and open-hearted vulnerability, where we see two clearly, cleverly defined portraits of one soul."
The Art of Self-Defense
If you like the humor of Dual, the 2019 black comedy martial arts film The Art of Self-Defense, also written and directed by Riley Stearns starring Jesse Eisenberg, Alessandro Nivola, and Imogen Poots, is definitely a must-watch. Just like Sarah who trains and prepares for a deathmatch with the help of a combat coach, a young man named Casey learns the art of self-defense by enlisting in a Karate school. In a review by Vanity Fair, they described the film as "a strange, uneven, but ultimately effective satire of masculinity." In the same article, they wrote, "What's intriguing about The Art of Self-Defense is how intricately it weaves the obvious with the merely suggestive. This is definitely, unsubtly, a movie about the endgames of masculinity, and Eisenberg's performance accordingly flirts with outright effeminacy."
Faults
Riley Stearn's feature film debut Faults is a psychological thriller dark comedy film that you'll find entertaining if you enjoyed Dual. The film stars Mary Elizabeth Winstead, Leland Orser, Jon Gries, Beth Grant, Chris Ellis, and Lance Reddick. The film follows a couple who recruit a mind control expert to be reunited with their daughter who has joined a mysterious cult called Faults. In a review by New York Times they wrote, "The performances attain a fine harmony, Mr. Orser's harried, disheveled aspect — sometimes hapless, sometimes honorable — balancing with the often cool, assured bearing of Ms. Winstead, who is the wife of Mr. Stearns and, unsurprisingly, the screenplay's chief beneficiary."
Thoroughbreds
The 2017 American black comedy psychological thriller film Thoroughbreds, written and directed by Cory Finley in his directorial debut, has a similar tone to Dual. It features great performances from its leads Anya Taylor-Joy, who according to Best Psych Books also appeared in another psychological thriller titled Split in the same year, and Olivia Cooke, who popularly worked in Bates Motel. The cast also includes Anton Yelchin, Paul Sparks, Francie Swift, and Kaili Vernoff. The plot follows childhood friends Lily and Amanda who reunite and rebuild their friendship as they scheme together in solving each other's problems. The film has received positive reviews from critics and in a review, by Empire, they wrote, "Dark fun, with performances to savour and a set of references too seldom made in today's pictures, this is a treat. It may peter out at the end, but what a calling card for Cory Finley, and this could be the last outing for its leads before superstardom beckons."