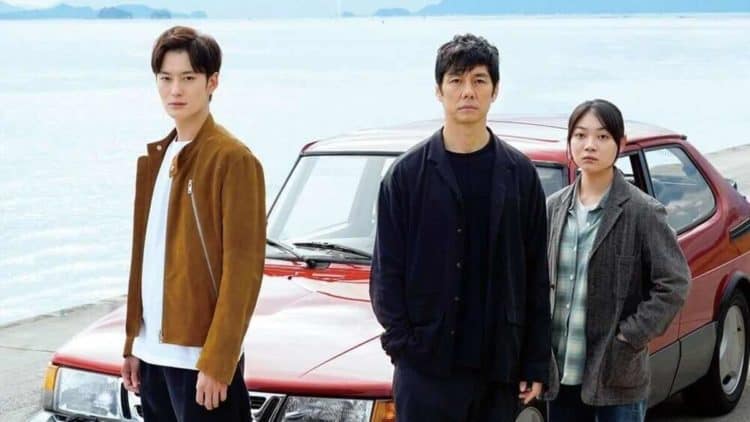 The Japanese drama film Drive My Car has recently won the Best International Feature Film at the 94th Academy Awards. The film was also nominated for Best Picture, making it the first Japanese film to be nominated for Best Picture, Best Director, and Best Adapted Screenplay. At the 79th Golden Globe Awards, the film also won Best Foreign Language Film. The film is co-written and directed by Ryusuke Hamaguchi based on Haruki Murakami's short story of the same name. The film follows stage actor and director Yūsuke Kafuku who is coping with his wife's death while he directs a multilingual production of Uncle Vanya in Hiroshima. While in Hiroshima, he develops a special relationship with his young female chauffeur, Misaki Watari as they both become vulnerable in dealing with love and loss in their lives. The Guardian published a review of the film praising the director's talent in storytelling. "Drive My Car is an expansion of a short story, and perhaps it's true to say that Hamaguchi's storytelling aesthetic here, as in his other films, is a mosaic or choreography of short stories, an archipelago of lives." New York Times also wrote a review giving emphasis on Hamaguchi's ability to evoke emotions in the film saying, "He keeps tears and drama in check, letting emotion seep in after the heavy blow and in the meaningful silences which, like the negative space of a painting, complete the picture." If you savored the ride in Drive My Car, here are five more movies that will give you a similar cinematic experience.
Nomadland
If you found Drive My Car meditative, the Academy Award-winning film Nomadland written, produced, edited, and directed by Chloé Zhao, is definitely a must-watch. Both films tackle themes about loss and the journey toward healing and acceptance. Nomadland is based on the 2017 nonfiction book Nomadland: Surviving America in the Twenty-First Century by Jessica Bruder. The plot centers on Fern, played by multiple Oscar winner Frances McDormand, who is dealing with the aftermath of her husband's death and losing her job and community. She decides to pack her life in a van and travel around the United States as a nomad. The cast also features David Strathairn in a supporting role and real-life nomads including Linda May, Swankie, and Bob Wells. The film was critically acclaimed and won Best Picture, Best Director, and Best Actress for McDormand, from a total of six nominations at the 93rd Academy Awards. Zhao made history as the first Asian woman, the first woman of color, and the second woman ever to win Best Director. Empire gave a five-star review of the film and wrote, "Nomadland is a Springsteen song in movie form, a beautifully rendered tale of what it means to be disenfranchised in America. Life on the road has never been so tenderly captured, politically alive and profoundly moving."
Asako I and II
If you were impressed with Ryūsuke Hamaguchi's style and storytelling, his 2018 Japanese romance drama film Asako I & II (whether asleep or awake)] starring Masahiro Higashide and Erika Karata should be on your list. The plot follows Asako who falls in love with a man named Baku. Unfortunately, Baku disappears from her life, and years after she meets Ryohei who looks very similar to Baku, and falls in love with him. The film garnered several awards at the 40th Yokohama Film Festival winning Best Film, Best Director, Best Cinematographer, Best Actor (Masahiro Higashide) Best Supporting Actress (Sairi Ito), and Best Newcomer (Erika Karata). New York Times published a review of the film and wrote, "The movie will leave you asking, is it actually appalling, or only appalling within the conventional wisdom of romantic drama? The provocation is apt to haunt you for some time after the lights go up."
Happy Hour
Another Hamaguchi film that tackles life experiences and relationships in depth is his 2015 five-hour drama film Happy Hour. The plot centers on the emotional journey of four middle-class women in their thirties who are friends as they reflect on their relationships and personal struggles. The main cast includes Sachie Tanaka, Hazuki Kikuchi, Maiko Mihara, and Rira Kawamura. The New Yorker praised the film in their review and wrote, "Happy Hour," a work of distinctly modern cinema, reaches deep into the classic traditions of melodrama—along with its coincidences and its violent contrasts—to revive a latent power for grand-scale observation through painfully close contact with the agonizing intimacies of contemporary life." Just like Drive My Car, Happy Hour is a lengthy movie but is justified by its content.
Manchester by the Sea
The 2016 American drama film Manchester by the Sea, written and directed by Kenneth Lonergan, tackles similar themes about loss and revisiting the past. The film stars Casey Affleck, Michelle Williams, Kyle Chandler, and Lucas Hedges and follows the journey of Lee Chandler who becomes the sole guardian of his nephew when his brother Joe dies. He is therefore forced to go back to his hometown Manchester-by-the-Sea, where he faces remnants of his past and his new responsibility. Manchester by the Sea earned several awards including Best Actor for Affleck and Best Original Screenplay at the 89th Academy Awards and nominations for Best Picture, Best Director, Best Supporting Actor (Hedges), and Best Supporting Actress (Williams). The Guardian wrote a review and described the general tone of the film saying, "Manchester By the Sea is a sombre and wintry film, and in fact, the sheer arctic chill is what delays the funeral and creates the important, though hardly palliative interval in which the drama can take place and feelings can be worked through, as far as that's possible. It is a movie composed in an inexpressibly sad minor key."
Departures
Last on our list, is another Japanese film that tackles themes of loss in a different manner and also deals with embracing acceptance. The 2008 Japanese drama film Departures directed by Yōjirō Takita starring Masahiro Motoki, Ryōko Hirosue, and Tsutomu Yamazaki tells the story of cellist Daigo Kobayashi. After his orchestra shuts down, Daigo faces a financial crisis and decides to move back to his hometown with his wife where he finds a good job offer which he mistakes for a job in a travel agency but turns out to be a job preparing the dead for their final rest. The film has garnered critical acclaim and won Academy Award for Best Foreign Language Film, a first for Japanese production. It also claimed the grand prove at the 2008Montreal World Film Festival and Academy Prize for Picture of the Year. Roger Ebert reviewed the film and wrote, "It touches on death, a subject of general fascination. There is nothing contrived about its problems; they belong naturally to the narrative. It doesn't drag its feet and bewail fate, but even permits itself some laughter, which is never out of tone. It functions flawlessly."Nomadland