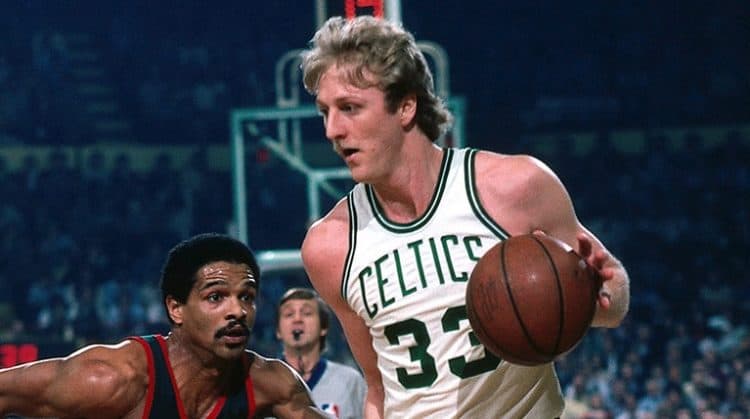 If you're a fan then you're a fan for life in a lot of cases and those that count the Boston Celtics as their team are without a doubt some of the most loyal and in some cases most fanatical of the bunch. This doesn't mean they routinely go crazy for their team and instigate riots against fans of other teams but there's a good reason why Boston natives aren't to be messed with when it comes to their sports teams. Just like anyone else they don't take kindly to someone speaking ill of those teams that have created lasting dynasties in the past or present like the Celtics. Like a lot of basketball fans there are certain movies that Celtic fans might love for various reasons, some more than others considering that a fan generally likes to see someone from their team starring in a movie even if it's out of uniform.
Here are some of those movies that Celtics fans might love to watch.
5. White Men Can't Jump
When you're talking about basketball films this one is kind of a gimme since a lot of people like it and there's no denying the fact. Billy Hoyle is great at street ball and he's great at hustling. It's just that he's horrible with money and he can't turn down a challenge to save his life. That wouldn't be so bad since his ability is enough to carry him through, but when he plays on sheer emotion he gets sloppy and makes mistakes. When he's paired with Sydney however he's one of the best around and there's no stopping the two of them since despite how much they argue and trash talk one another they're still an awesome team.
4. Forget Paris
If you focused only on the basketball scenes you'd miss a lot of the movie but at the same time you'd see why basketball fans love it since the referees never seem to get that much respect from the players who tend to think that calls get missed or made in error. Just like any sport the refs don't get the kind of regard they deserve since the players of course know everything and are bound to be honest one hundred percent of the time. Yeah, note the sarcasm there, but also take note that refs don't get everything right all the time either and are just as subject to make errors as the players are now and again.
3. Uncle Drew
Age doesn't mean much if you can still ball. When Dax needs some help concerning a basketball tournament that's set to make him a lot of money he recruits Uncle Drew, a legendary street baller that insists on recruiting his old team. The only downside is that when Big Fella has a heart attack and Lights is injured on a play, Dax and Betty Lou have to enter the game and Dax has to face off against his old rival, Mookie, who defeated and embarrassed him when they were kids. Thankfully Dax helps to win the game and thereby gains his respect and the admiration of the neighborhood and many others.
2. Space Jam
If not just for the simple reason of being a great basketball movie fans should love the fact that Larry Bird is in this film and is given more than one set of lines to deliver. His Birdness gets to converse with Michael Jordan and Bill Murray during his scenes and is slightly dismissive of Murray's ambitions to join the NBA. You might remember that Bill even held a couple of press conferences stating that he was going to plan on joining the NBA at one point. Obviously nothing came of that but it was a grand joke all the same. The movie however was a big hit and managed to impress a lot of basketball and Looney Tunes fans at the same time.
1. Celtic Pride
This movie didn't really impress at the box office but it did kind of show Celtics fans in a light that was funny but not entirely positive. Jimmy and Mike are basically your diehard fans that take things to an extreme that seems kind of unhealthy. They have their well-defined rituals for attending the game, for finding their seats, and for just about everything when it comes to watching the game. The fact that everyone around them seems to follow their lead is enough to think that Boston has a kind of mob-like mentality when it comes to their sports, but unless it's a fight against a rival fan that's not likely to be seen in real life. As movies go this was pretty funny, but it got buried pretty quickly once it was out of theaters.
Celtics fans are just as loyal as any other fanbase, but you definitely don't want to push it.