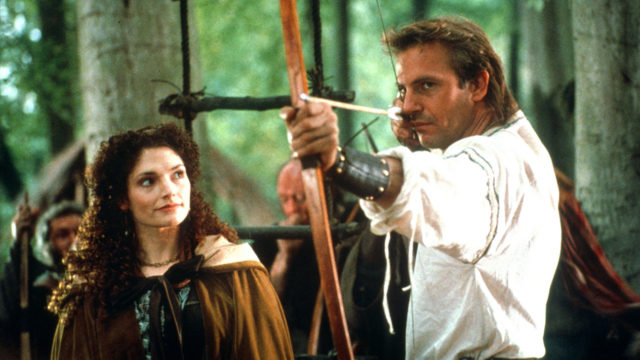 Sometimes a film's lack of success has to do with the story or plot, and sometimes it has to do with who's playing the lead. The casting of movies that don't go well can be chalked up to putting people into roles that they're either not fully comfortable with or just aren't ready to play. It's not so much that they can't at all, but that they can't for that particular film. Sometimes the director rolls the dice and goes with it, and sometimes they have to hide their face from the public when the movie is ruined because of who they decided to stand by when the film was all said and done with.
Not every casting decision is a perfect one.
5. Robin Hood: Prince of Thieves-Kevin Costner
Almost every movie you see Kevin Costner in he's playing a reluctant protagonist. He's been typecast for so long that breaking out of it is not only difficult, it can really stifle a movie. His horrible attempt at an English accent and his rather stilted way of delivering the dialogue in this movie didn't play well with the rest of it. He looked good when he wasn't speaking but the moment he had to talk things kind of went sideways.
4. Dracula-Keanu Reeves
Imagine a surfer bro trying to speak with an English accent and the part of Jonathan Harker in this movie is what you'd get. Keanu has definitely matured over the years and become a great actor but he was really miscast in this movie. Everyone else played their part moderately well to outstanding, but Reeves just kind of dropped the ball on his own character and didn't seem capable of picking it back up for the entire film.
3. Shanghai Noon-Owen Wilson
Owen Wilson is not a cowboy, he's not a bandit, and he's definitely not in sync with Jackie Chan in this movie. Everything he delivers feels wooden, while his comedy is more of a pleasant aside from the acting of the film. Jackie Chan is so charismatic that you can see he's trying, but it's almost as though Wilson didn't want to be on set for some of the scenes. It wasn't a bad movie really but it wasn't the best either.
2. Snow White and The Huntsman-Kristin Stewart
Kristin Stewart has basically the same approach to just about every role she plays it seems. You can defend her all you want but she seems to enter into every role with the same set of emotions whether she's playing a legendary princess or an angst-ridden teen that falls in love with a vampire. There's just not that much in her acting toolbox it seems.
1. Charlie and the Chocolate Factory-Johnny Depp
Gene Wilder was heard to say that he didn't like when people made remakes of his movies since it implied that he hadn't done it right the first time and that it was an insult. He kind of hit the mark on this one since Deep tried to bring a sense of perk to the role of Willy Wonka and only brought a whole lot of creepy that didn't settle right with a lot of people.
Whether the movies were total or just partial flops the main reason was that the cast just wasn't one hundred percent on target.