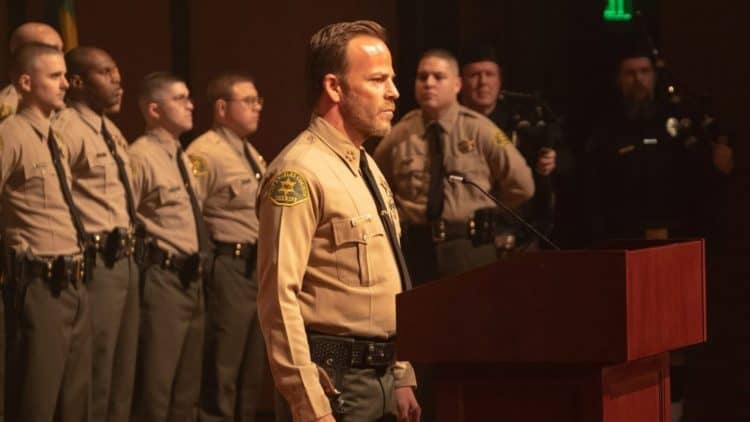 According to Jessie Mendoza at StarTattle, "Deputy" is a new TV drama that's both gritty and exciting. It's a police drama for modern-day viewers that's actually made with some classic Western spirit mixed with a large dose of authenticity. The first episode involved the L.A. County Sheriff dying rather suddenly. When he does, an old Wild West rule kicks in and Bill Hollister (Stephen Dorff) gets stuck with the job whether he likes it or not (and he really doesn't). He seems to have little in common with the underlings on his team who are not only highly-skilled but more tech-savvy than he is. However, they do have one thing in common and that is their dogged quest for justice in their city, which is Los Angeles, CA. According to Beth Heyn at Heavy, this is a project that started being developed back in October 2018. Fox greenlighted the "Deputy" pilot in January 2019 and the series was officially ordered in May 2019. The first show premiered 8 p.m. ET on January 2, 2020.
Here are five life lessons we can learn from Deputy:
1. Sometimes the old ways are the best ways
Sure, these days, we're all into everything high-tech and modern, however, there's something to be said for methods that are old and proven. And, Bill Hollister proves that in just about every episode. Not only does he still chase bad guys on horseback but he also sports some pretty old-school morals. He believes in having an approach to law enforcement that is no-nonsense all the way. There's no grey area between good and bad guys and he expects all of his team to understand that.
2. Politics is a dirty business
Well, OK, it's not like we don't already know this but it takes on new meaning in this show..However, the Wyatt Earp-like character of Sheriff Bill Hollister still believes that the best man should win. He's just now learning to accept the fact that, although he's the best man for the job, he's going to have to fight tooth and nail to defeat the other individuals who are in the running but clearly nowhere near qualified for the job. He quickly discovers that they play dirty and tells his lovely and very supportive wife, Dr. Paula Reyes (a trauma surgeon played by Yara Martinez) that he's decided not to run for Sheriff to protect her and their teenage daughter. She points out to him that they can take care of themselves and he owes it to the people of LA to run since he's, after all, the best man for the job.
3. Different is a good thing (so embrace it)
More and more these days, characters on both primetime TV and daytime soap operas are embracing the differences represented by the LGBTQ community. "Deputy" is one of them in the embodiment of a character who is very close to Hollister named Deputy Brianna Bishop (Bex Taylor-Klaus), who is a seasoned investigator whose newest assignment is as Hollister's driver and personal security detail. This character refers to himself/herself as "they", much like one of the central characters on the hit show "Billions", Taylor Mason (Asia Kate Dillon).
4. Positive Change should always be more important than politics & winning
Bill Hollister is a man who cares a whole lot more about being able to catch the bad guys than about how he plays departmental politics. Hh has a style all his own and it involves cowboy boots and jeans, not exactly the style for someone trying to win an election. In addition, he continues to drive his vintage Ford Bronco and prefers being a kick-ass sheriff rather than one who cares about what people think. His focus is always on the pursuit of justice and he does it with attitude to spare and a no-nonsense approach. In his mind, making positive changes to the landscape of the city of LA is much more important than winning the election. In fact, winning to him is just a means to an end. He knows that being sheriff for a longer period of time that his appointment allows means winning the election and that means that he can bring about more positive change.
5. Sometimes a story is just a story
In one episode of the show, Sheriff Hollister ends up comparing the press to a "pack of coyotes". Now, we know he doesn't care too much for the press overall, but when the undersheriff is found to have leaked the top-secret details of an upcoming raid, Hollister tells the members of the press that they don't really care about the truth but smell blood and start acting like coyotes chasing a wounded animal. To Hollister a story is just a story and not nearly as important as saving people's lives.
"Deputy" Cast
Most people who see the show "Deputy" say to themselves "Where have I seen Sheriff Hollister (Stephen Dorff) before?" Well, he recently portrayed a character called Roland West in the "True Detective" third season on HBO. Prior to that, he starred in a string of bad-boy roles, including "Immortals" where he played Stavros, and "Blade" where he played Deacon Frost. He's also known for playing:
"The Power of One" (character-PK)
"Backbeat" (character- Stuart Sutcliffe) ~ "Somewhere" (character-Johnny Marco)
He was also featured in roles in "S.F.W.", "Space Truckers", and "The Motel Life".
The other "Deputy" cast members include:
Deputy Joseph Harris (Shane Paul McGhie), Hollister's late partner's son and now a rookie deputy,
Deputy Rachel Delgado (Siena Goines),
Undersheriff Jerry London (Mark Moses), one competitor for the job of Sheriff,
Dr. Paula Reyes (Yara Martinez), Hollister's very supportive wife
Deputy Brianna Bishop (Bex Taylor-Klaus)
Deputy Cade Ward (Brian Van Holt), Sheriff's deputy and ex-Marine.
Deputy" Episodes
The following episodes have already aired:
Episode #1- January 2, 2010. "Graduation Day"
Episode # 2- January 9, 2020: "10-8 Outlaws"
Episode #3- January 16, 2020: "Deputy Down"
Episode #4- January 23, 2020: "10-8 Firestone"
Episode #5- January 30, 2020: "10-8 Black & Blue"
Episode #6- February 6, 2020- "10-8 Do No Harm"
Episode #7- February 13, 2020- "10-8 Search and Rescue"
Episode #8- February 20, 2020- "10-8 Selfless"
Episode #9- February 27, 2020- "10-8 Entitlements"
Episode #10- March 5, 2020- "10-8 School Ties"
Episode #11- March 12, 2020- "10-8 Paperwork"
Upcoming-
Episode #12- March 19, 2020- "10-8 Agency"
Episode #13- March 26, 2020- "10-8 Bulletproof"
OK, so the show has received mainly favorable reviews but you really shouldn't just take our word for it when you can simply tune in yourself to Fox at 8 p.m. ET. on Thursdays to see if you end up enjoying "Deputy" as much as everybody else does.
Tell us what's wrong with this post? How could we improve it? :)
Let us improve this post!