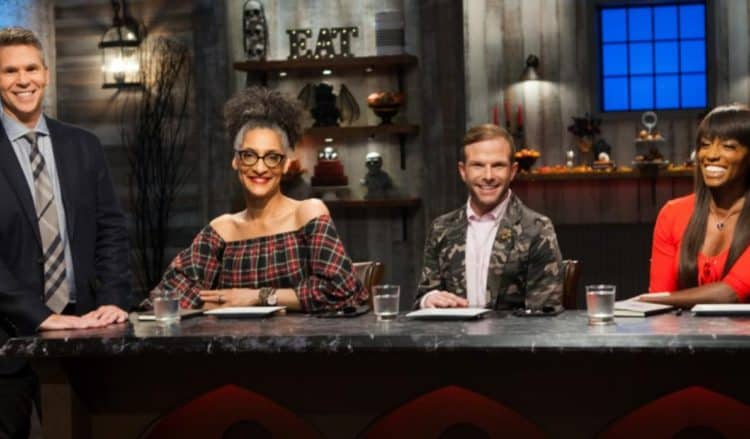 There is no point in watching a television show, film or any feature for entertainment only. A majority of television shows and programs have a lot of essential lessons that we can adopt and apply to fit circumstances in our lives. The situation is not different in "Halloween Baking Championship" as it displays significant lectures that can positively influence the lives of its viewers. The show which airs on Food Network is about talented bakers who attempt to bake the best Halloween-themed cakes and create Halloween-like background decorations in front of a panel of judges. It is currently in its eighth season and premiered on October 5th, 2015.
Celebrity chefs Carla Hall, Sherry Yard, and Ron-Ben Israel, served as judges in the series' first season while Richard Blais was the emcee. From chocolate cockroach shells to spider cupcakes, contestants compete to create the most grotesque Halloween cakes while eyeing the $25,000 grand prize. It airs on Mondays at 9 pm and crowns the Halloween Baking Champion at the end of the season. According to Storybook Treehouse, the show is a full meal course that fans of baking competitions and Halloween festivals should try watching. Here are a few lessons you might pick from the series.
The right attitude is the key to success
This statement may sound like a typical encouraging saying, but we can all admit that the right approach is crucial in propelling success. Even with the most conducive working environments, people who do not appreciate their jobs cannot hit a milestone in their professional careers. We can extract inspiration from Rudy's personality in the show. The New York City home bakery owner starts season one on a low note when his vanilla citrus cupcake fails to give him an advantage in the pre-heat round. Rudy loses the 'trick or treats' challenge to the 26-year-old Jason, who proceeds to the main-heat round with an added advantage.
His first performance did not derail Rudy, who believed he had what it takes to win the competition. He approaches the subsequent baking challenges with precision and passion as he is aware that his competitors are professional chefs. In the last episode, Rudy creates a post-apocalyptic haunted house cake that is set to compete with Jason's haunted house apartment cake. Rudy disclosed that seeing Jason's cake almost resembling his sharpened his perception and made him yearn to achieve the prize more. Rudy won the $25,000 cash prize and was crowned the first Halloween Baking Champion.
We should follow our dreams
According to Business and Tech, pre-eminent restaurateur Gordon Ramsey revealed that his cooking success was as a result of consistency and resilience to follow his dream. The 26-year-old chef motivates us to pursue our goals relentlessly too. The bakery owner in Baltimore, Maryland, explains how his love for cooking developed when he was still a kid.
Jason narrates how he started cooking since he was in his grandmother's house where he would play with dough and bake batman-shaped like cakes. Although he did not win, Jason was one of the fastest and competitive challengers in the program's season one feature. In another instance, a 35-year-old Washington resident called Audrey tells how she has been dreaming of having her own baking space. The mother of two states that she is on the show to win the money which she will use to acquire her dream car: food baking truck.
We should learn to overcome our fears
In many circumstances, we find ourselves in situations where we want to do something, but we shy off due to our insecurities and other worries. Fortunately for us, we can learn the art of conquering our fears from our living rooms thanks to this show. Its third season depicts seven bakers and chefs who showcase their skills to a panel of three judges. One of the competitors is Tyler Davis, a pastry chef at a local restaurant who turned his worst fear into a lovely passion. The Missouri native recalls being afraid of spiders when he was growing up, but now makes deserts which resemble spiders. Tyler confronted his fear for the insect when he decided to create a spider-shaped cake, and people loved it. The reception encouraged him to create more geeky deserts and landed him on the show as a contestant.
We can turn our passions into businesses
Discovering our talents and taking careers that follow our passion is not enough; translating that passion into an income-generating activity is the real deal. We can gain a lot from this show where a majority of chefs are running sole proprietorships established from their love for cooking. For instance, its fourth season displays Karl Fong, a young chef who is also a Chief Executive Officer of his pastry-making company known as Cakes by Karl. He recently established his pastry training center in San Francisco where he teaches both American and French cooking techniques. We find out in season two, episode one, contestant Brad has run a bakery with his wife for nine years. The Los Angeles resident is also a general manager of a local bakery.
Women empowerment
Man has been bound to be the carrier of the family's responsibilities for ages now. It is not until recently that women have been shouldering the responsibilities as more of them chose to become professionals instead of housewives. A notable example is the situation of a 36-year-old mother of five, Ashlee Prisbrey, who worked tirelessly to make it to the show and is ready to work harder to win the prize. Right before preparing her favorite caramel cupcakes, the Utah resident disclosed that her oldest three children have a condition called Asperger's syndrome. The disorder has impaired her children's ability to communicate and socialize effectively, creating the need for specialized care. Ashlee is working so hard to win to turn her children's lives around and reduce the financial load that comes with specialized care. In a male chauvinistic society, a woman who does all she can for her children is an outstanding example of a woman who fights for what she adores.