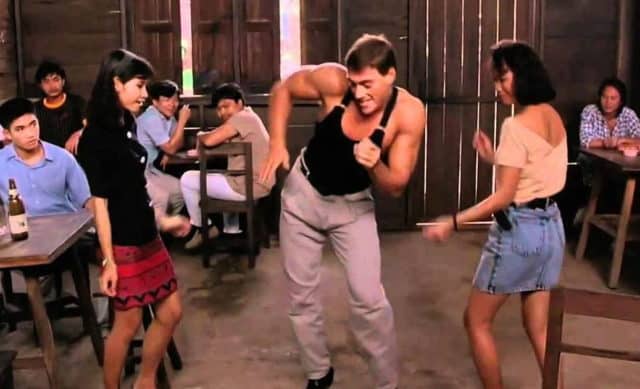 There are times when you just need a good dance number. There's no other reason except that it's just needed for hilarity, a good break, or just to spice up the energy a bit. In any case it can be a pleasant break of the normal film plot that can leave people wondering just what in the heck they're supposed to be watching. It's almost guaranteed to make them laugh or chuckle as the scene rolls on. Why? Because like music, dance is just another form of expression that can be serious, meaningful, or hilarious.
Here are some of the funniest dance scenes to ever hit the movie screen.
5. Steve Carell – 40-year Old Virgin
Try not to laugh too hard as you have to consider what it might be like to be an actual 40-year old man that has never had the pleasure of sex. Some people might say that the guy doesn't know what's he's missing, but others would argue that it's not all that hard if you don't think about it too much. And then the rest of us would likely roll our eyes and turn back to the movie. For Andy, it's the sudden realization that all this time he's been living without a part of life that could have, and does, make him feel like he's floating on air and needs to sing to the heavens about this wonderful feeling. We've all been there at least once or more, you can admit it.
4. Mike Meyers – Goldmember
So technically it counts as a dance number since the background dancers are shaking it and so are Mike Meyers and Verne Troyer. The song itself is just hilarious as Dr. Evil busts a serious rap while trying to figure out how Austin caught him in the first act, what's up with that? The parody of prison life, the hilarity of belting out a tune that was derived from Hard Knock Life, and the supposed tough guy attitude of Dr. Evil and Mini-Me just make this a classic clip that will continue gain laughs for as long as it remains on the internet. Which, you know, could be forever.
3. Paul Reubens – Pee Wee's Big Adventure
How such a simple dance became so popular we might never know, but it's stood the test of time and whenever the song Tequila comes on, you likely think of Pee Wee Herman. The movie was kind of ridiculous but still a laugh riot, and the man himself turned out to be a less than stellar person, but this one scene is what's no doubt etched into most of our minds when we think about Pee Wee no matter what. It couples the innocence of the character with the rough and tumble trip he had to go through to get what he wanted.
2. Tom Cruise – Tropic Thunder
Be honest, how many of you knew that was Tom Cruise before the end of the movie? I had to look at least twice to see it, but once I did the laughter didn't stop. When he decided to start grooving to Ludacris it got even funnier simply because anyone that knows Tom Cruise has surely realized that it's been awhile since we got to see him really bust a move. Classic, just awesome move.
1. Jean Claude van Damme – Kickboxer
Now you might wonder why this is number one, and I'll tell you. For one, it predates all but one of the other entries on this list, that being Pee Wee's Big Adventure, and two, it involves the lead character getting so drunk that he can barely move. Yet when the music gets to playing he gets to dancing, grooving, and then beating the living hell out of anyone that decides to threaten him. Can the man hold his liquor? Yes he can.
See? Sometimes dancing just tends to liven up the scene a bit. It can even provide some much-needed action to the story.