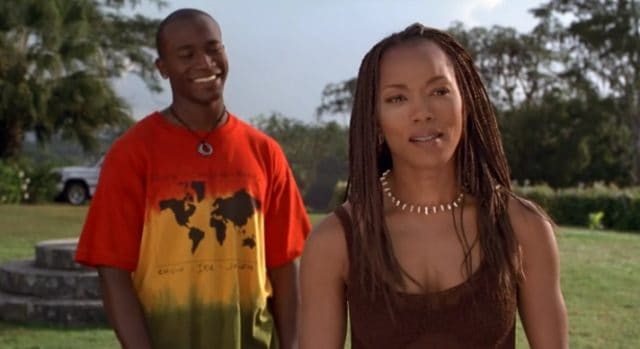 The age gap that exists between some couples is a problem for many people because in their mind it is no different than pedophilia. The problem with this line of thinking is that it really isn't. The age gap is a very real thing, but it is usually between two consenting adults that have shared interests and enjoy one another's company. There's bound to be a few generational issues that are hard to fathom at first, but so long as the couple finds a way past their own hangups and age discrepancies it's really no one else's business. So long as there's genuine attraction and a feeling that they share a very singular idea of what they want, then the problem becomes something that others must reconcile on their own.
In movies the problem is presented quite often as well. Here are a few moments in which you can see the issue.
5. How Stella Got Her Groove Back-Stella and Winston
Stella was a woman that desperately needed a change in her life. Now it wasn't that she really needed someone like Winston but it was fortunate that they found each other. The two of them came together in a way that was sorely needed and gave them both a different perspective that they didn't know would be so beneficial. How it started and what was expected likely wasn't how they thought it would end up.
4. Six Days, Seven Nights-Quinn and Robin
These two started out hating each other and not wanting to in the same vicinity, but being stranded tends to do things to people it would seem. Eventually you realize that the person you can stand is the one that you have the most in common with. This is why people that are so alike can in fact call in love even despite an age difference. They know what the other wants and can provide it in different ways.
3. Gangster Squad-Mickey and Grace
Unfortunately some relationships aren't so much built as they are dominated. Some men, and a few women for that matter, know just what they want and don't care if the other person gets what they want. In this kind of toxic relationship it's often seen that the younger person is a possession and doesn't get the chance to voice their own desires.
2. Entrapment-Virginia and Robert
This is kind of an oddball case simply because the relationship that formed was really more out of convenience than anything else. Working closely with anyone is going to give people a new perspective on each other and grant them the chance to get to know each other better. But when the younger partner is attempting to seduce the older it tends to give them a good look at themselves as well.
1. Harry and Marin-Something's Gotta Give
There is a reason why older men will date women that are so much younger than them. These women have less experience in life and while not as easy to please don't have the same expectations as older women, who have as the saying goes 'been there done that'.
Yes the age gap is real. But no, it should not matter to anyone except the two individuals that are together.
Save
Tell us what's wrong with this post? How could we improve it? :)
Let us improve this post!