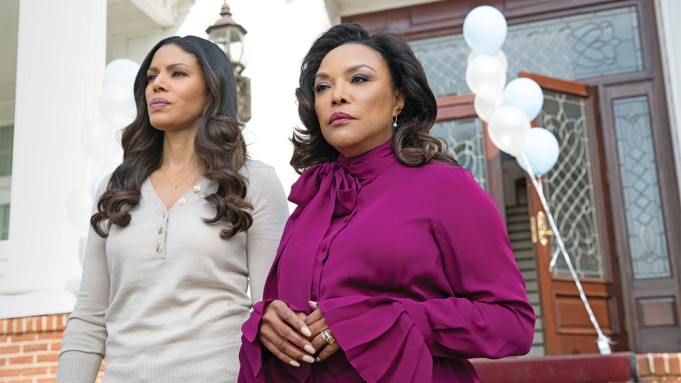 When Greenleaf premiered on OWN in the summer of 2016, viewers couldn't get enough. The series followed the lives of James Greenleaf (Keith David), the bishop of a megachurch, and his family. From the outside looking in, the Greenleafs seem to have it all, but it didn't take long for the cracks in the family foundation to start showing. Scandal and drama followed the Greenelafs throughout the series and there was truly never a dull moment. Sadly, however, the show ended after just five seasons. Although viewers hated to see the series go, they were excited about the possibility of a spin-off series. Although reports have indicated that a spin-off is coming, there haven't been any details as to when or what it will be about. However, we've come up with a few ideas of our own. Keep reading for five Greenleaf spinoffs that would make sense.
What We Know So Far About The Actual Greenleaf Spinoff
Ever since the series finale of Greenleaf, fans have been looking forward to the spinoff. However, as we mentioned earlier, there hasn't been a lot of details yet about the show. However, a few gems have been dropped that let viewers know that the show is definitely coming. During an interview with TV Line, Greenleaf's executive producer, Craig Wright, said, "I am working on it now as we speak. I am very excited about it, and I think to fans of Greenleaf that one of the most central things to the DNA of Greenleaf is the voice of Lady Mae [played by Lynn Whitfield]. And all I can tell you is that if you are sitting around waiting to hear Lady Mae preach again or waiting to hear Lady Mae tell Charity to put on her big girl pants and get her act together, well, we are working overtime to get you that story." In a separate interview with TV Line, Lynn Whitfield shared that she hadn't gotten any scripts yet, but she knows the show is in the works and she's looking forward to reprising her role. Other than Whitfield, however, it's unclear which of the other cast members will be returning for the spin-off. Although Bishop Greenleaf died at the end of the last season, there's still a chance he could appear in the spin-off depending on when it takes place. Since 2021 is almost over, it doesn't look like we'll be getting the spinoff this year as many people had hoped. Hopefully, it premieres sometime in 2022 because there are a lot of people who are looking forward to it.
Here are five Greenleaf spinoff ideas that would make sense
1. Lady Mae's Backstory
Lady Mae (Lynn Whitfield) was arguably one of the most interesting characters on the show. Most of the people who met her probably thought she had it all, but in reality, Lady Mae was always looking for something more. Although she was very proud to be the bishop's wife, she always longed to have something of her own and she was willing to do whatever it took to get it. Unfortunately, though, this often meant stepping over the people she cared about the most. While viewers were able to get some insight into her backstory throughout the series, it would be great to get the chance to learn more about her. For example, what was Lady Mae's life like when she was growing up? Plus, I think most people would love to get the tea on Lady Mae's affair and how she was able to hide it for so long. The only downside to a spin-off involving Lady Mae's life before Greenleaf would mean that Lynn Whitfield wouldn't be able to reprise the role. To be honest, it's hard to imagine anyone else bringing the character to life, but there are a few young actresses out there who may be able to do it justice.
2. Faith's Story
Even though Faith Greenleaf died before the first episode, her character played an important role in the series. Still, she was a very elusive figure since she was never really part of the show. For that reason, it would be nice to be able to learn more about her. So far, what we know is that she was the second youngest Greenleaf child who struggled with some mental health issues that ultimately led to her to suicide. It was later revealed that Faith had been molested by her uncle, Lady Mae's brother, Mac. A story centered around Faith would show the Greenleaf family from a different perspective and it would be interesting to learn more about the kind of person she was. It would also be cool to see the dynamic between the Greenleaf children with Faith still in the picture. That said, since Faith wasn't part of the original series, writers would have to put in some serious work to make her a character that viewers felt like they could invest in.
3. The Story Of How The Greenleafs Became So Powerful
When we're introduced to the Greenleaf family during season one, we see that they are extremely well off and they're the heads of a huge church. Later in the show, we also get some insight as to how they ended up with their beautiful estate. However, the show never really took the time to explain how the Greenleafs became so successful and wealthy. From what we can tell, it appears that Lady Mae and the bishop both came from relatively humble beginnings, so it doesn't appear that either of them came into their marriage with much money. A spin-off focusing on the early days of their relationship and their rise to power would definitely be interesting. Knowing more about Lady Mae and Bishop would also provide some context into some of their behavior in Greenleaf. After all, people don't just build mega-churches overnight. It would also likely lend itself to some good church drama which was one of the things that made Greenleaf so fun to watch in the first place. A spinoff like this would also allow for some new characters to be introduced which would give the show a fresh feel.
4. Lady Mae Starting Journey As A Minister
One of Lady Mae's biggest goals has always been to pastor her own church. This is something she was constantly hoping for during Greenleaf. However, no matter how much progress she made, there was always something to pop up and completely throw her off track. Despite everything she went through, though, Lady Mae always managed to find a way to continue rising to the top. Unfortunately, though, she always fell short of her goal to become a minister. After all the things she's had to deal with, I can confidently say that fans are ready to see Lady Mae get what she wants. A spinoff that followers her as she starts running her own church would be awesome. Realistically, this is probably what the spinoff will be about. Lots of viewers are very invested in Lady Mae's story and they would love to see how things pan out for her after the bishop's death. However, if producers do decide to go this route, they'll need to make sure that the spinoff isn't too close to the original. It's always important for spinoffs to have their own identity, especially when not much time has passed between the original and the spinoff series.
5. Grace's Life In New York
Grace (Merle Dandridge) was another character in Greenleaf who many viewers really enjoyed. In some ways, Grace was like the prodigal daughter of the Greenleaf family. After 20 years away, she finally returned home and the responses were definitely interesting. On one hand, her family was disappointed in the fact that she left to begin with. On the other, she was welcomed back into the fold with open arms – especially from her father. This caused resentment from her siblings who felt that their contributions to the church (and the family as a whole) were overlooked. These feelings grew even deeper when Faith became the Executive Pastor of Ministry. On top of that, Grace rocks the boat when she starts looking into her sister's death. She is ultimately the person who uncovers that her uncle Mac had molested faith and other young girls over the years. Over time, it seemed like Grace was really starting to adjust to life in Memphis. She was great at her job and she was building better relationships with her loved ones. However, it started to become clear that she really didn't want to stick around. During the final season, she gets her wish when she is offered a new job opportunity in New York. A spinoff following Grace's life in New York would be an interesting change of pace. It would also be cool to get glimpses of Grace's life through flashbacks.
Hopefully, a Grace-centered spin-off would also give viewers the chance to learn more about her son, A.J. During Greenleaf, there were several things that indicated that the person who claimed to be her son was probably lying.