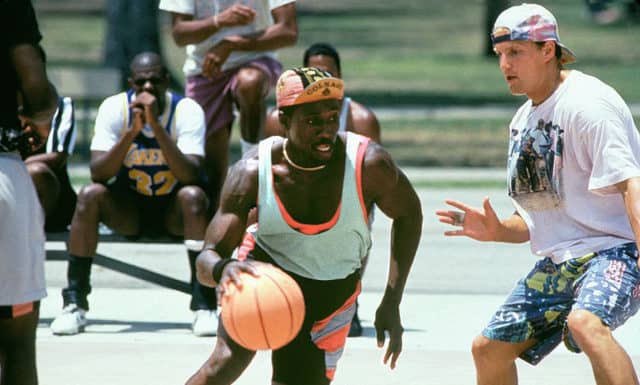 Wesley Snipes can be great in action movies and he can be pretty funny too. His more comedic acts seem to have taken place in his younger days however since as of now he's been in a lot more serious roles in the last several years. Even those have been able to incorporate a bit of humor now and again though since he's able to come through in such moments and make it somewhat special. He's acted alongside some of the most famous personalities in the world and held his own with action and humor alike, so it's not too hard to say that he's better than some have given him credit for in the past.
Here's just a few clips to make that point sink in a little bit more.
5. To Wong Foo, Thanks for Everything! Julie Newmar
I love the caption of this clip since it's the pure and unfiltered truth. A lot of folks had an issue with the fact that three of the biggest stars of their generation decided to take a chance and go for broke as drag queens. The movie didn't do all that great but at the very least it showed a side of Snipes, Swayze, and Leguizamo that we hadn't seen yet. Plus this scene is just too great.
4. Drop Zone
I doubt this scene was meant to be all that funny but it still came off that way since Snipes is playing a very cynical character that has no experience in skydiving and then gets jettisoned out of an airplane for being a jerk. Thankfully he lived through the experience, but he didn't seem too grateful. This is a definitely a case of a guy that had no idea what he was getting himself into.
3. Major League
Willie is one of the best characters on the team and yet he's also one of the weakest to start with. It turns out that he wasn't even invited to training camp, but when he shows what he can do he's given a spot right way. The only trouble is that being fast isn't enough, he has to be able to hit too. As the movie goes along he gets a lot better but somehow just gets more and more cocky. At least he's able to back it up eventually.
2. Expendables 3
https://www.youtube.com/watch?v=2sKEkx8hs1k
Jang-a-lang jang-a-lang. Matching him with Statham as the knife-thrower of the bunch is kind of a fun pairing but putting him with the rest of the Expendables, presumably as one of the original group, is even more interesting. I've heard tell that Stallone gave Snipes a chance to be in this movie when Snipes came to him with the request, otherwise he might not have been considered.
1. White Men Can't Jump
Sidney Dean is kind of a jerk but he's also pretty wise when it comes to knowing what street ball is about. He knows how to hustle and he knows how to conduct himself in a game, but when he meets Billy Hoyle his world gets turned upside down and together they have to find a way to coexist since by the end of the film it's pretty obvious that they're going to be around each other for a while.
Jang-a-lang.
Tell us what's wrong with this post? How could we improve it? :)
Let us improve this post!